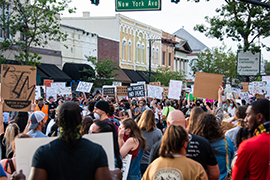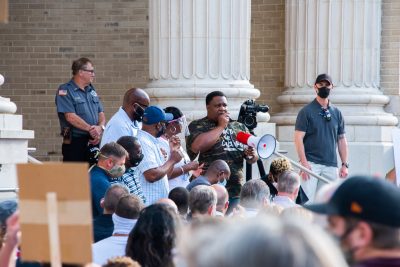 Hundreds of people, including members of the Stetson Community, gathered last week in downtown DeLand to peacefully protest the death of George Floyd in Minneapolis and police violence.
The protesters gathered outside the Volusia County Historic Courthouse on Tuesday evening, June 2, for speeches by protest organizers and city officials. The crowd carried signs – "I Can't Breathe" and "Police the Police" — following protests across the country since Floyd was pinned down by a Minneapolis police officer who kept his knee on the man's neck for eight minutes.

The demonstrators marched down Indiana Avenue to Woodland Boulevard, briefly shutting down traffic. They lined both sides of the road, waving signs at passing motorists.
In an email Sunday to students, faculty and staff, Stetson President Wendy B. Libby, PhD, wrote: "Yet again, we have seen people lose their lives to police or community intolerance. We have seen black lives taken. And we have seen people in cities and towns across our country erupt.
"This makes Stetson's values of social justice and understanding all the more critical. As educators, scholars and members of this outstanding learning institution, we should be able to name injustice for what it is and seek ways to combat and stand up to it, and take action," she wrote.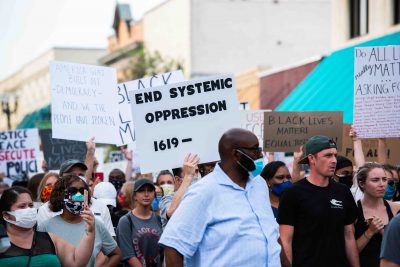 -Cory Lancaster