Stetson University in the News, June 6-12, 2020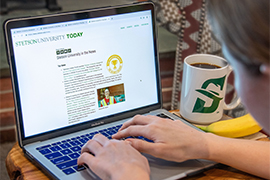 Top News:
• Stetson student Aliya Cruise was interviewed by Voice of America for a June 10 article, "On Racism, Young Americans Say Change Takes Effort," which appeared in news outlets around the world, including BrisbaneNews.net in Australia, Vancouver Star and Trinidad Times. A member of the university's Black Student Association, Cruise said: "We will still experience these problems if nothing changes. That's why the conversation and the fight must continue, and everyone is responsible to engage in that conversation."
• College of Law Dean Michèle Alexandre was mentioned in a June 11 posting from the Association of American Law Schools regarding a new Law Deans Antiracist Clearinghouse Project.
• Chris Ferguson, PhD, professor of psychology, was featured in Q&A with The West Volusia Beacon on June 10 entitled, "What's ahead for police?" about criminal justice reform as it relates to George Floyd's death. Ferguson said, "We've had historical problems with policing in the U.S. We've seen policing increase in militarization, and I think we're now seeing the consequences. There's certainly a needed course correction here."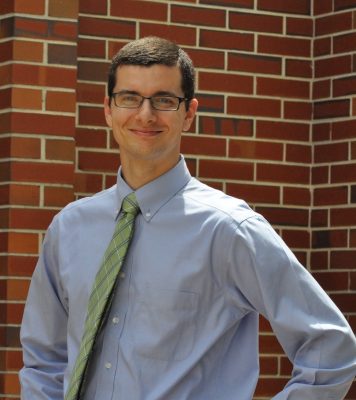 • Kevin Winchell, associate director of Community Engagement at Stetson, wrote an Opinion piece for the West Volusia Beacon on June 11 entitled, "Kevin Winchell: To create change, get out and vote — by mail."
• Asal Johnson, PhD, assistant professor of public health, was featured in The Daytona Beach News-Journal on June 9 in an article about rising coronavirus cases, "Florida's weekly coronavirus cases peak at 7,775 in a week." Asal was also mentioned in the Dayotna Beach News-Journal story on June 7, entitled, "1,180 new Florida coronavirus cases; 15 more test positive in Volusia."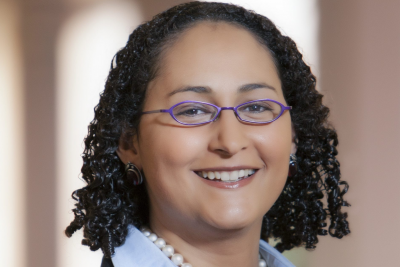 • Law Professor Ciara Torres-Spelliscy was quoted in a June 5 article on HuffPost called, "As They Scream Voter Fraud, Trump And His Press Secretary May Have Voted Illegally." The article was picked up by multiple Yahoo! News affiliates, including in Singapore, Australia and Canada.
• Jason Evans, PhD, interim executive director of the Institute for Water and Environmental Resilience and associate professor of environmental science and studies, was featured in The Florida Free Press story, "Recent Changes to Human Habits May Signal Improved Wildlife Viability," on June 10 about the impact that COVID-19 has had on natural ecosystems in Florida.
• Paul Croce, PhD, professor of history, was featured in a Casper-Star Tribune story on June 8, entitled "307 Politics: The parallels between 1968 and 2020," about attitudes of western, conservative states leading up to the 1968 elections.
Other News:
• Stetson student Stephanie Hanson was featured in The Garland Texan on June 11 in the article, "College student's project merges art, environment." Hanson is a recipient of the 2020 Udall Scholarship for work in environmental studies.
• Bud Hanson, MBA, executive director of Professional and Corporate Education (PaCE) and professor of practice, was featured in the June 8 edition of the Brevard Business News about PaCE launching 21 new online courses.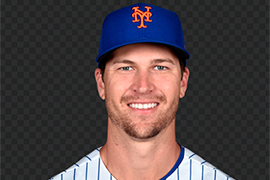 • Former Hatter star Jacob deGrom was featured in Sports Illustrated Online on June 11 in the article, "Every MLB Team's Biggest Draft Steal of the 21st Century." He was also featured in the June 8 article, "5 Best Jacob deGrom Moments to Remember the Anniversary of Mets Drafting Him," on 12up.com.
• Logan Gilbert and Stetson University were mentioned in the Seattle Times on June 8 in the article, "Mariners' advantage — picking early in each round — lessened in MLB draft shortened by coronavirus." And he was mentioned in the June 10 story in the Seattle Times, entitled "Mariners select Georgia starting pitcher Emerson Hancock with sixth pick in MLB draft," which also appeared in many other media outlets.
• Stetson University and its new Bartram Gardens & Trail were mentioned in "Explore Nearby States with These Easy Road Trips for Families from Atlanta, Georgia," on June 6 on TravelingMom.com.
• Stetson University was mentioned June 11 in the article, "Fla. Students Receive $185,600 in Scholarships," by FloridaRealtors.org.
• Law Professor Theresa Pulley Radwan was featured in a June 5 WTSP Channel 10 investigation for a story called, "Veterans owed thousands after tour company files for bankruptcy."
• Adjunct Law Professor Joe Bodiford was quoted in a June 5 Tampa Bay Times article called, "Defense seeks four trials in Seminole Heights killings."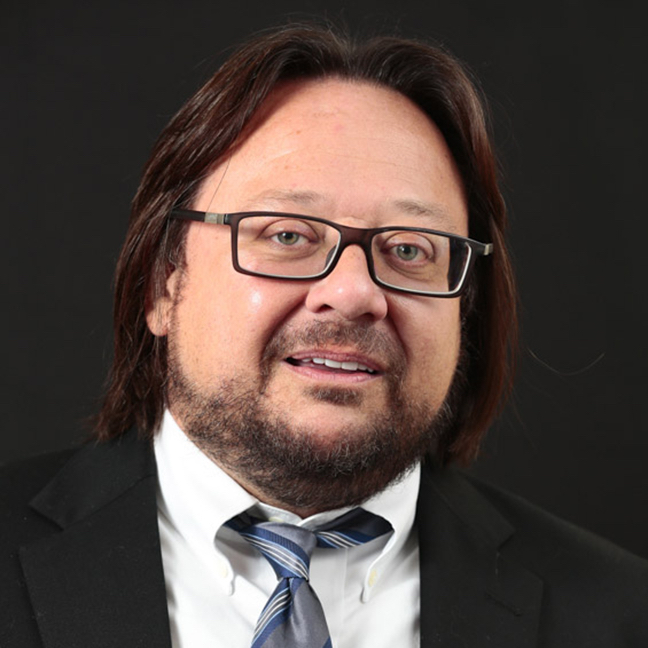 • Law Professor Peter F. Lake was quoted in a June 2 article on Inside Higher Ed called, "Federal Appeals Court Defines 'Fairness' in Title IX Policies."
• John H. Pearson, former associate vice president of academic affairs at Stetson, will retire as provost at Point Park University, according to the Pittsburgh Post-Gazette in the June 8 article, "Search for a new provost at Point Park University announced."
• Law Professor Rebecca C. Morgan wrote the following blogs for the Elder Law Prof Blog: June 1, "ABA Commission on Law & Aging;" June 2, "In Memory of Kenney Hegland;" June 2, "Social Security Trustees Report for 2020;" June 3, "Pandemic Scams;" June 5,"Medicare Trustees Report 2020;" and June 8, "Another Roundup of COVID articles."
• Law Professor Ciara Torres-Spelliscy's November 2019 Mercer Law Review journal article called, "From a Mint on a Hotel Pillow to an Emolument" was featured on the Legal Theory Blog on June 4. Her forthcoming American University Law Review article abstract for the article, "Elegy for Anti-corruption Law: How the Bridgegate Case Could Crush Corruption Prosecutions and Boost Liars" was mentioned on the CrimProf Blog on June 11. 
• The Kingdom of the Sun Concert Band has announced Julianna Tuttle was the first recipient of its student scholarship. She plans to attend Stetson in the fall, majoring in music education, according to an item on Ocala.com on June 7.
Alumni News: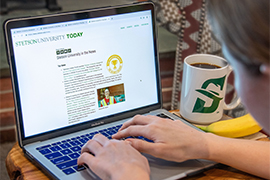 • The late alumnus Barry Griswell was profiled in the Des Moines Register on June 10 in the story, "From deprivations, chaotic childhood to highest-paid CEO, Barry Griswell worked to pay it back." Griswell earned his MBA from Stetson.
• Alumna Alison McKellar was featured in the Penobscot Bay Pilot in Camden, Maine, on June 8 in the article, "Camden Select Board candidate Alison McKellar."
• Alumna Alicia Libby has joined FirstHealth Cancer Services and Pinehurst Medical Clinic, according to The Fayetteville Observer on June 7.
• The Veterans Consortium announced their 2020 Equal Justice Works Fellows, which this year includes recent Stetson Law alumna Chesley Roberts. In September 2020, she will begin a two-year Fellowship with TVC working on special projects developed to increase access to justice for veterans in need. The press release announcing the Fellows was published in a variety of sources, including Yahoo! Finance. 
• Law alumna Bertha L. Burruezo was featured in Orlando Style Magazine's Orlando's Top Women in Law 2020.
• Law alumnus Matthew Snyder was named the executive director of the Wyoming State Advocates in Leadership, a statewide disability advocacy organization, according to a June 11 article in the Wyoming News.