Sharing Her COVID-19 Story to Help Other Students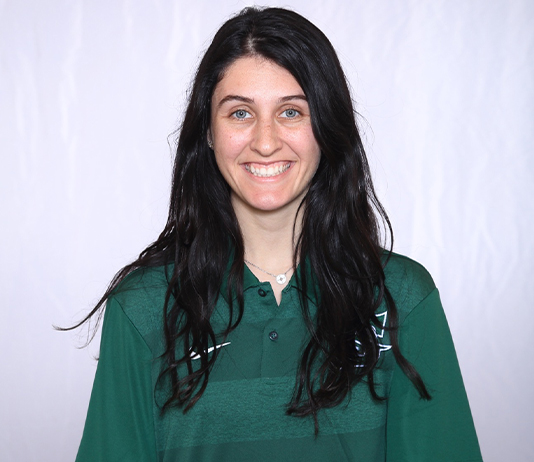 As Stetson prepares to welcome students back to campus, Hannah Churms has a message for them.
The rising senior ended up on "death's door" this spring after contracting COVID-19. She has since made a strong recovery and her doctors call her a "miracle child," she said.
But she still doesn't know how she contracted the virus or why the infection became so severe in a healthy 20-year-old with no underlying medical conditions. She wants to warn other students that the coronavirus can take a toll on anyone at any age.
"I think about it now and I'm very, very, very lucky to be sitting here talking about it," said Churms, a Sports Business major who grew up in DeLand. "I think with everything that went on, I have a story to tell and to share with people who really need it."
Churms will speak at a virtual "Vigil for COVID-19: Honoring the Lives Impacted by the Pandemic" on Wednesday, June 24, at 7 p.m. on Blackboard. She also will talk about the seriousness of the virus in an upcoming video, which Stetson students will be asked to watch before the fall semester begins.
The video will outline precautions to reduce the risk of contracting the coronavirus while attending Stetson, such as wearing face coverings and maintaining safe distancing, said Lynn Schoenberg, Dean of Students. It will also explain changes in residence halls and the Lynn Dining Commons, and for student organizations to minimize the risk of spreading the virus.
"Hannah's story to me is about resilience and perseverance," Schoenberg said. "I think it is very important to share her story with students in particular because it is easy to think that COVID is not as much of a concern for our typical, otherwise healthy college-aged student.
"Hannah and I are both hopeful that learning about her story will help students follow guidelines Stetson will have for them regarding things like physical distancing and limiting gathering in groups. We need to take this very seriously," she continued. "Hannah is a (amazing) Stetson student example of this."
A Stomach Bug
In early March, as Stetson students were returning from Spring Break, Churms started feeling a little sick. Her boyfriend returned from Spring Break on March 6. They went to dinner and afterward, she threw up. She thought she had a stomach bug or maybe it was something she ate.
But the nausea and vomiting continued. She developed a cough and then shortness of breath. She called a Telehealth doctor and was prescribed a cough suppressant, she said.
"When I was sleeping, it hurt to even lay down. I couldn't lay down flat at all, so I had to sit up in the middle of the night to breathe," she recalled.
The pain grew so intense that she called her mother at work on March 30 and said she needed to go to the hospital. By then, more than 5,000 people in Florida had tested positive for the virus and 71 people had died in the state.
She remembers telling her mother, Katie Churms, a teacher at St. Barnabas Episcopal School: "I can't breathe. It hurts so bad. It feels like my chest needs to be cracked open so I can breathe."
They arrived at AdventHealth DeLand hospital and Hannah quickly was ushered into the emergency room, barely able to stand, while her mother was asked to remain in the waiting room.
The doctor said he thought she had COVID-19, and this was confirmed when the test result came back positive the next morning. A chest x-ray showed her lungs were filled with fluid.
"At the DeLand hospital, they immediately sedated me and I was on a ventilator for six days and I don't remember anything," she said. "They airlifted me to the Orlando hospital and I was in the ICU there, as well."
Latched on to her Heart
On Saturday, April 4, she awoke and called her mom, who told her that she had been asleep for six days. When the medication wore off and she no longer felt "loopy," the doctors told her both her kidneys were failing from the infection. A cardiologist said the virus had latched on to her heart and then it also affected her lungs and kidneys.
And it would soon impact her brain, too. A few days later, she had surgery to put a catheter in her shoulder, which was needed for kidney dialysis. The next morning, she suffered three seizures – two grand mal seizures and a brief petit mal seizure – and was moved into neuro-ICU.
Not until April 16 would she finally be discharged and sent home – along with seven or eight different medications, including seizure medication. But soon her cough returned and she had trouble breathing. She returned to the hospital and remained there from May 15-19 with fluid in her lungs.
"They said they didn't even know that it could affect a young person the way that it affected me," she explained. "And I have no underlying health conditions at all. It grabbed on and didn't want to let go. …When I went back to the hospital, my infectious disease doctor told me that I was a medical treasure to our generation and that she wishes she could do tests on me for science."
By the time the ordeal was over, she had lost 20 pounds and weighed 95 pounds. She had received four blood transfusions in the hospital and would need dialysis three times a week.
"I didn't really think about it as much when I was in the hospital," she said. "It took me a long time to realize I was on death's door basically."
"Taking Precautions"
Her recovery has been going well in recent weeks. She had her final dialysis treatment on June 5 and believes her kidneys now can function on their own. By late July, she hopes to stop all the medications, including the seizure medication. She is grateful that none of her friends or loved ones contracted the virus. Her parents, for example, tested negative, although they might have been asymptomatic.
She is focused on finishing her spring coursework, which she missed during her illness. She also is taking a summer class and is enrolled for the fall, looking forward to seeing friends and fellow members in her Pi Beta Phi Sorority.
"It took a huge toll on my body physically, but I think that once I'm fully recovered, I should just be able to get back into the swing of things, and finish college and go right into it," she said.
As a sports business major, she hopes to work in marketing after graduation and build the fan experience during live sporting events. As a Marketing and Game Day Production assistant for Stetson Athletics, she likes to make the crowd happy and encourage fans to interact during games.
People tell her that now she has a story to share for the rest of life. She wants to use the experience to help others, educating them about the risks of COVID-19. She will speak about her experience at the June 24 vigil and even more in the upcoming video for students.
"I want to focus on the safety and seriousness of it in the video. I don't want to make it about me, per se, because I feel like I've gotten enough attention and spotlight," she said. "I think people just think that once everything reopens, everything is just going to be back to normal and it's not. I know I'm taking precautions."
-Cory Lancaster