New 'Safer Stetson' website focuses on health, safety plans for Fall 2020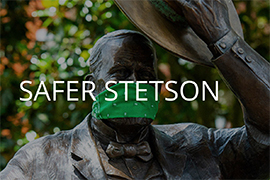 Stetson University has launched a new website, Safer Stetson, that provides Students, Faculty and Staff with the latest updates, resources and FAQs to protect their health and the safety of the campus community.
The easy-to-navigate website allows users to quickly find the information that they need for the Fall 2020 Semester, including measures designed to protect their health during the COVID-19 pandemic. The site replaces Stetson's Coronavirus Communication website, which was created last March.
On the new website, users can select the DeLand campus or the College of Law, and then find their audience group, whether Community, Students, or Faculty and Staff. The Community pages are open to the public, while students, faculty and staff must log in to access their web pages.
Other features, described in the graphic below, include: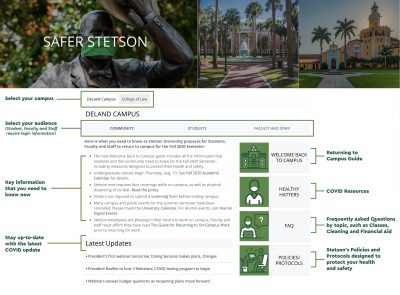 At the bottom of the website, users will find an Updates Archive with earlier announcements. And across the bottom of the site are helpful links and contact information for questions related to COVID-19, reporting a COVID-related safety concern, and for journalists wanting to reach the university's Media Relations staff.

Bookmark the Safer Stetson website and check back often as new information and features are added.