Stetson alumna Makeda Smith finds activism through art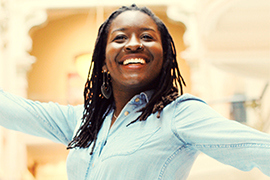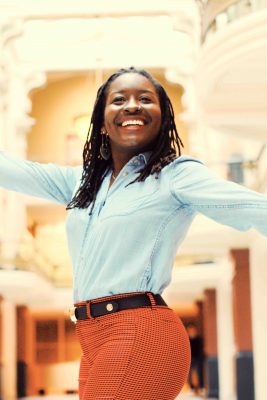 When Makeda Smith entered Stetson University in 2011 to pursue a degree in international studies, she was surprised to learn she would be required to take one art class.
"I had never taken an art class in my life," Smith said during a recent video interview. "Oh, I had the typical art class that every kid has in regular public school. But I was never formally taught anything. A lot of it was me teaching myself because I was just interested in it."
That one required art class turned into multiple studio art classes – enough for Smith to earn a minor with a concentration in ceramics. Her passion for art took on an unexpected, more prominent role this spring following the police killing of African-American George Floyd in Minneapolis and the resultant protests that erupted across the U.S. and even internationally.
Smith graduated in 2015 with her international studies degree, and minors in Spanish as well as art. After earning a dual master's degree in elementary education and in K-12 special education from Lesley University, she landed a job in Washington, D.C. through the Urban Teachers program. She currently is a third-grade inclusion teacher at Capital City Public Charter School in D.C.
Smith's art wasn't exactly on the back burner – in the summer of 2019 she founded SIO Ceramics, her wearable art business (which got its name from the first three letters of her middle name, Siobahn). But teaching "my crazy and awesome kids" was the focus of her life, Smith says, her face breaking into a broad grin.
Then came the Floyd killing.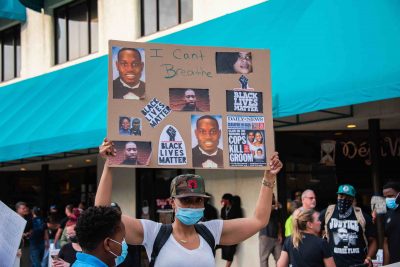 As a Black small business owner, Smith saw the sales and exposure of her SIO jewelry spike as people sought out Black-owned businesses to support in solidarity with the protests against police killings of African-Americans. Aware of the incongruity of personally benefiting from a tragedy, Smith decided to donate 50 percent of her June art sales to four social service/social justice organizations: Frontline Women DC, the Okra Project (which aids Black trans people), the Equal Justice Initiative, and Black Lives Matter DC. Her donations totaled $2,500, Smith says.
"I'm happy that my business is growing and getting visibility," Smith says. "However, it is not fun to think that tragedy has to happen in order to become visible. That shouldn't be the case. People should have access to Black businesses. They should know about them. Because of institutional problems, we understand that visibility is not going to be innate and it's something that has to be fought for."
Smith's most recent works, which she titled the Rise Collection, are inspired by Black female writers such as Toni Morrison, Audre Lorde, Bell Hooks, Maya Angelou and Zora Neale Hurston. Smith's earrings and pendants don't feature those writers' likenesses or any overt imagery from African-American culture, but each piece pictured on her Instagram account, instagram.com/sioceramics, is accompanied by a quote from one of the authors.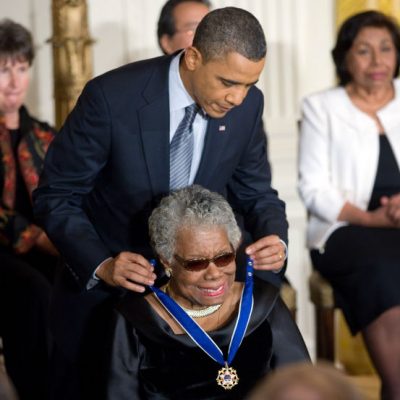 "Love recognizes no barriers," reads a quote by Maya Angelou. "It jumps hurdles, leaps fences, and penetrates walls to arrive at a destination full of hope."
"I deliberately made the Rise Collection because I think it's incredibly important to have hope and to be resilient, especially in a time like this where people's physical and mental well-being are so under attack," Smith says.
Smith is not against artists creating works with the iconography of the Black Lives Matter movement and the like. But, she said, "I'm not about trendiness. I'm about making things that are timeless, that you will keep, that you will want to pass down. I want to be authentic to my own personal experience. That's what the Rise Collection is."
Smith attributes her art career partly to "being defiant" of her mom, whose military career led Smith and her two younger brothers to be "bounced around a lot" as their family moved often across Florida and Georgia. Smith attended three high schools before graduating from the private Darlington School in Rome, Ga.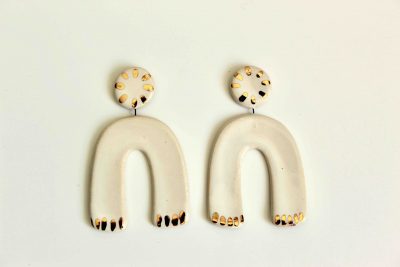 "My mom, who I respect so much, is very much like 'I want you to study something that's going to bring you a steady income,' " Smith says. She chose Stetson because of its "beautiful campus, small class sizes and I could study international relations. I was all about poli sci (political science), wanting to make a difference and change the world. I thought that would be the way I could do it."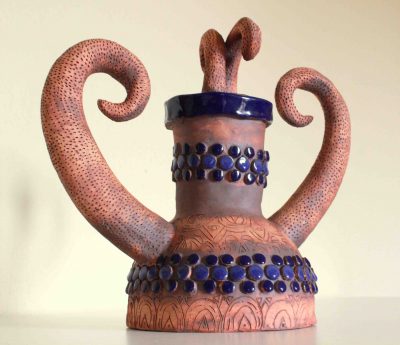 After taking that one required art class, "I just kept taking more, and my mom was like 'Do you actually need to keep taking these classes?' " Smith says. Her mom acquiesced when she realized her daughter was genuinely passionate about art.
Smith studied under two now-retired faculty: Gary Bolding, professor emeritus of Studio Art, and Dan Gunderson, professor and Artist-in-Residence. She confesses she took Gunderson's class "because a boy I thought was cute was going to take that class, too."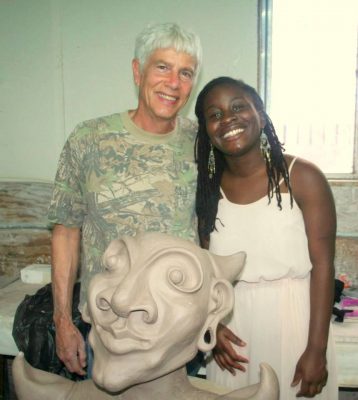 "She was a wonderful student," Gunderson says during a phone interview, noting Smith also served as his teaching assistant. "I kept pushing her. I have a tendency to use grades to incentivize students to lift their game up a little bit more, to push themselves. I'm trying to get a student to find themselves. She definitely had her own style, and it had nothing to do with me or any other students – it came out of her, and that's what I was looking for."
That style is most evident in what Smith calls her "Creeps."
"I don't make just jewelry — I do fine artwork too, the fun stuff," Smith says. "These Creeps are these otherworldly looking beings. They all have devil horns. Every time people look at them, they're like, 'Oh my God, Makeda is satanic!' I'm like, 'Actually I'm not.' All of them have very exaggerated features like big lips and big noses — all the Black features that people made fun of with blackface and minstrels and things like that."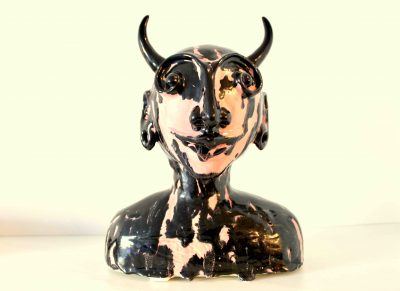 Gunderson says his former student's Creeps "come across more as jesters to me, with hats that are pointed. The gist of the jester is that he's kind of happy, kind of smiley. The eyes of her works are very sparkly. I think they are more of a happy-go-lucky kind of thing like a jester. They are definitely upbeat and more like her personality."
Smith says she wanted to be a teacher to bring "social justice issues and equity" to education, including diversity in curriculums. But now her art is beckoning.
"My kids (students) have a soft spot in my heart," she says. "But I would like to run my art business full-time. I would like that to be my long-term career."
— Rick de Yampert