Stetson University in the News, July 17-23, 2020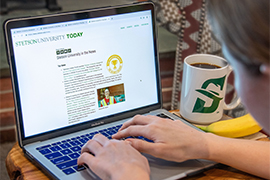 Top Stories: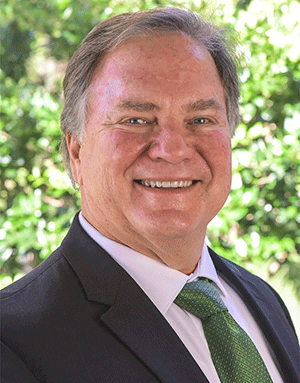 • Athletics Director Jeff Altier was quoted in The Daytona Beach News-Journal in a July 21 story entitled, "Fall sports at Stetson on hold for now." Currently, all athletic competitions have been delayed until mid-September. Altier added, "I can see a scenario where we don't see a decline in the virus on a statewide basis that allows us to go back to full-scale activity until later in the fall, therefore having us delay it and moving everything to the spring."
• Dean Michèle Alexandre wrote an opinion piece for The Haitian Times called, "The Time Is Now—Our Civil Rights Elders' Eternal Gifts To Us." It was also published on J'Ouvert Radio & News website.
• "Why Instagram Live has been such a hit in Nigeria" quoted Psychology Professor Chris Ferguson, PhD, in The World News on July 21 and Business Insider.
• Psychology Professor Chris Ferguson was quoted in the story, "Playing violent video games as a child does NOT lead to more aggressive behaviour in real-life, study finds," in the Daily Mail in the United Kingdom and many other media outlets.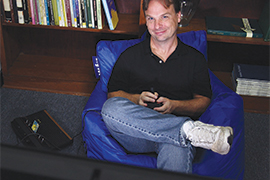 • "The Best Test-Optional Colleges" appeared on Best Colleges.com on July 22 and listed Stetson University as No. 4 in "Top 10 Regional Test-Optional Universities — South."
• Law Professor Louis J. Virelli III was interviewed on July 20 on Bay News 9 to discuss the U.S. Supreme Court's ruling on Florida's Amendment 4 in a segment entitled, "Supreme Court refuses to hear case on felon voting."
• Law Professor Ciara Torres-Spelliscy was quoted on Vox.com for a July 21 article called, "What's at stake if Trump gets to replace Justice Ruth Bader Ginsburg."
• Law Professor Louis J. Virelli III was quoted in the St. Pete Catalyst in a July 20 article called, "Are mask ordinances really against the Constitution?"
Other News: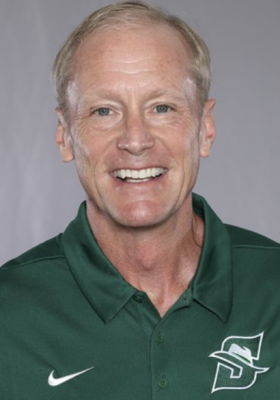 • "College football's efforts to play a safe 2020 season hindered by NCAA's 72-hour COVID-19 testing guidelines" quoted Head Football Coach Roger Hughes in MSN Sports and many other media outlets. Hughes said a donor has offered to fund in-season testing for players.
• "Stetson earns team academic award for beach volleyball" appeared in The Daytona Beach News-Journal on July 21.
• "Mets villain Chipper Jones dishes on Pete Alonso, Jacob deGrom and fanless baseball" appeared in the New York Post on July 21. Jones mentioned that his dad and his godfather (retired Head Coach Pete Dunn) both coached at Stetson.
• Law Professor Stacey-Rae Simcox and the comprehensive work of the Veterans Law Clinic were featured in the Florida Bar News on July 23.
• Law Professor Rebecca Morgan wrote the following blogs for the Elder Law Prof Blog: July 19, "Assessing Your COVID Risk To Go Outside When You Are Older?;" July 21, "Has the Time Come to Reinvent the Nursing Home? Or Change the Funding?;" July 22, "Visiting Family at SNFs-6′ Apart;" and July 23, "Reduced SNF Training Requirements Because of COVID."
Alumni News:
• Law alumna Rhea F. Law, chair of the Stetson University College of Law Board of Overseers and member of the Board of Trustees of Stetson University, is joining the Lions Eye Institute for Transplant & Research Board of Directors, according to a July 16 announcement in Tampa Bay Newswire.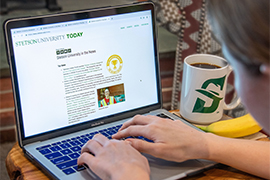 • Law alumnus Fred Piccolo Jr., the communications director for the Florida Speaker of the House, will move to a new role as the chief spokesperson for Gov. Ron DeSantis, according to a July 21 article in the Miami Herald.
• During an investiture ceremony on July 10, 2020, at Fort Myer, Virginia, Secretary of the Army Ryan D. McCarthy appointed law alumnus Luis Martinez-Monfort as a Civilian Aide to the Secretary of the Army, according to a July 20 article on the Army's website.
• The Legal Intelligencer announced that Amos Goodall has been given a Lifetime Achievement Award for 2020 as part of The Legal Intelligencer's 2020 Professional Excellence Awards series, per a July 18 article in The Express. Goodall earned an LL.M. (with honors) in Elder Law from Stetson Law in 2009.
• Law alumna Kaylee Tuck is running to represent Highlands County and the rest of District 55 in the Florida House of Representatives, according to a July 18 article in the Highlands News-Sun.
• Law alumnus Richard Rice was named to the Leadership Blount County Class of 2021, according to a July 18 article in The Daily Times.
• Law alumnus Sam Bookhardt is running for 18th Circuit Judge Group 25, according to Florida Today.