Updates on Student Housing, Course Pedagogies and Move-in Day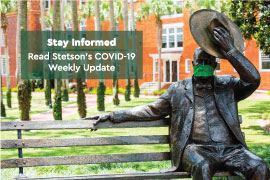 Weekly Update 10
Reminder: Webinars with President Chris Roellke, PhD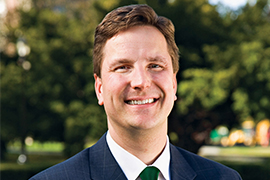 As a part of his accelerated "listening and learning tour," President Roellke is conducting a series of weekly live and interactive webinars for students, staff and faculty. The goal is to engage and update our community as ​the university moves toward the start of classes on Aug. 13. The next webinar is Thursday, July 30, 7-8 p.m. Additional webinars have been scheduled in August.
To register for the webinars, visit Messages from the President.
Watch the earlier webinars (held Thursday, July 16 and July 23) on the Safer Stetson website under Latest Updates.
Video on Guide to Returning to On-Campus Work
In addition to the Guide to Returning to On-Campus Work, the Safer Campus Task Force also is providing a video for employees. The video covers items such as Human Resources information; testing, symptoms and reporting health concerns; cleaning process and keeping your workspace clean; cleaning an area suspected of being exposed to COVID-19; prevention protocols and practices; visitors; resources and more.
Physical Barrier Guidelines and Installation Request Process
We are prioritizing the installation of physical barriers where there is an increased potential for close contact with others. Please refrain from making any temporary or permanent modifications to your workspace that may physically alter or damage university-owned property or furniture. All requests for changes to university property due to COVID-19 must be approved by the PPE Subgroup of the Safer Campus Task Force to determine if it meets university standards. Information on this process can be found on the Safer Stetson website under Policies and Protocols.
Tiers Overview
Stetson is using a tier system to help communicate to the community its overall mitigation strategy for COVID-19. The basic outline was shared previously and is now on the Safer Stetson website under the Healthy Hatters button. None of these efforts alone will help decrease transmission of COVID-19, but the combined impact will make a difference.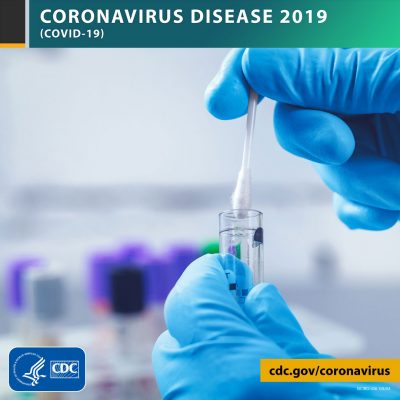 Stetson Student Return-to-Campus Asymptomatic Testing Program
Students should get a PCR diagnostic test for COVID-19 before arriving to campus. Your local health department website should have a listing of testing locations near you. You also can call your local PCP for suggestions. You need to find a location that will test without a referral for testing. Find more information on testing under Policies & Protocols on the Safer Stetson website.
Residential Capacity
Student bedrooms in residence halls will be operated with only one person per bedroom for the Fall 2020 semester. As risk levels in the environment have changed, we have determined that it is necessary to significantly reduce the occupancy of our residence halls and apartments this semester to all individual bedrooms. We also know that students will be spending larger amounts of time in their rooms due to limited activities on campus and some of the normal venues at which they might hang out and study. Individual bedrooms also give students needed privacy to fully participate in online/hybrid classes.
The process for the occupancy reduction will require a significant reassignment of students and a prioritization of who is able to live on-campus. This information is available online and will be sent directly to all students who have an active housing application. Knowing the increased requests for the ability to take all classes online, which is now an option, we are hopeful that everyone who wants to live on-campus this fall may do so.
The process for the occupancy reduction will require a significant reassignment of most students and a prioritization of who is able to live on-campus.
Our goal is to let students know if they will be assigned or on a waitlist no later than Friday, July 24.
Our goal is to have all new room assignments no later than Friday, July 31.
If you resubmitted your application and have changed your mind, it is no problem and there is no cancellation fee. Email [email protected] from your Stetson email account with that request or submit a residency exemption request through Housing Central (no documentation needed) and we will take care of it for you.

The deadline to request to live on-campus was Tuesday, July 21, 2020. If you missed that deadline, you can still log in to Housing Central and resubmit your housing application to add your name to the waitlist.
The move-in appointment sign-up is now available. All students living on-campus must select a check-in time for their curb-side check-in in order to move in this Fall. All students should get a PCR diagnostic test for COVID-19 before arriving to campus (see item above for more information).
Academic Course Schedules
On Friday, July 17, Provost Painter sent a note to students, staff and faculty regarding potential changes to the course schedule for undergraduate courses in DeLand. We expect to have the information that we need to add clarity to this issue by the middle of next week, hopefully Tuesday or Wednesday. Please note that should course times have to be adjusted, they will be adjusted for all undergraduate courses, regardless of pedagogy (face-to-face, hybrid and fully online).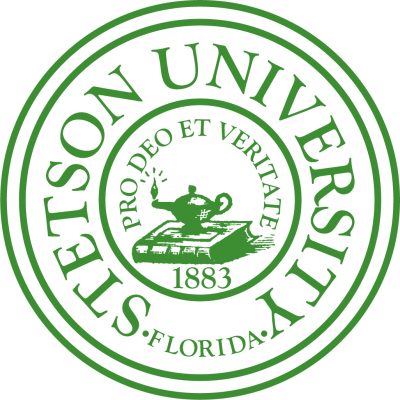 Course Pedagogies for Fall 2020
The registrar's office is working with each dean's office on identifying course pedagogies for classes this fall. At this point, we expect to identify the following course types, which will appear on students' schedules when they log onto My.Stetson.edu late this week.
FF — face to face (in-person instruction, only short-term remote instruction is available for these courses)
HY — hybrid (a blend of face-to-face and virtual instruction, with the option to be taken fully online)
OL — online (no in-person instruction, synchronous or asynchronous virtual instruction)
Student engagement is central to all pedagogies described above. Students registering for remote learning should choose OL courses where possible, only choosing HY options if no fully-online section is available.
At this point, we expect a good balance of OL and HY courses. Select courses which require face-to-face instruction (e.g. those listed as FF) are limited to classes where specialized, hands-on, experiential learning is required in order to satisfy the learning outcomes for these courses. In addition, a few multi-section courses that have fully online sections also have a section designated as FF, which will include in-person instruction. For course sections designated as FF, only short-term, virtual participation in those sections is available.