Rajni Shankar-Brown, PhD, wins Stetson's Most Prestigious Faculty Award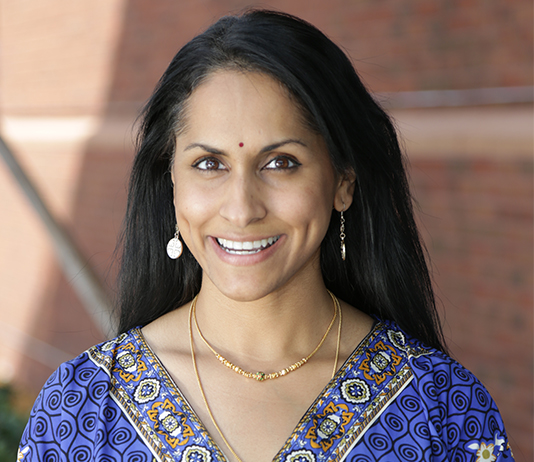 When Associate Voice Professor Craig Maddox announced the winner of the 2019-20 McEniry Award, he did not list the faculty member's professional credentials or scholarly publications or memberships in professional organizations.
After all, the William Hugh McEniry Award for Excellence in Teaching recognizes excellence in classroom teaching, he said.
"So, let's go to the source, which is the feedback written by students of this year's winner," said Maddox, DM, winner of last year's McEniry Award. "From those evaluations, it's clear that this colleague is a teacher of true distinction."
He read excerpts from the students on Wednesday night during a virtual, live-streamed Convocation ceremony: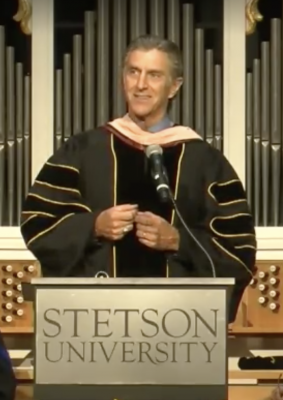 "Best professor at Stetson."
"Best professor I've had hands-down."
"Professor is outstanding," Maddox said, adding it was written in "all caps, four exclamation points."
"Best professor I've had during my four years of college."
"Highly impactful, the lessons we learned will be with us for life."
"This class pushed me to grow. This was a tough class, but totally worth it."
"This professor makes learning a priority and pushes all her students to their best. Wish I could take all my courses with this professor."
"I wish I could take more classes with this professor. The course was transformational for me and made my whole college experience worthwhile."
"Her passion for education and equity has inspired me so much, I'm changing my major to education."
This year's McEniry Award "most deservedly," he said, went to Rajni Shankar-Brown, PhD, associate professor and Jessie Ball duPont Endowed Chair of Social Justice Education.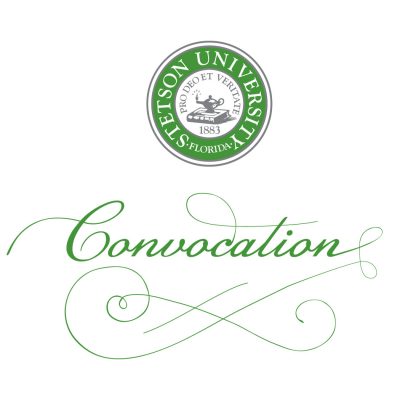 Shankar-Brown, who had been watching the live-streamed Convocation ceremony, unfortunately missed all that. Her screen had gone blank during Maddox's presentation, due to thunderstorms that hit the DeLand area.
"It was certainly suspenseful," she recalled afterward with a laugh. "Yet I felt myself delighted for the colleague about to be honored and looked forward to congratulating them once I learned their name. However, shortly after my screen went silent, I received a rainbow of text messages and emails on my phone sharing, 'Congratulations on the McEniry Award,' from wonderful colleagues and students alike, and I was immediately brought to tears."
Shankar-Brown is an internationally known scholar in social justice and educational leadership. She is founder and executive director of the Poverty and Homelessness Conference, and a member of the Executive Board of Directors for the National Coalition for the Homeless. She also serves as Co-Chair of Equity and Social Justice for the International Society for Information Technology and Teacher Education.
She is the 2013-2014 recipient of Stetson's Hand Award for Distinguished Faculty Achievement based on her engaged scholarship, equity-focused leadership, and community impact. Prior to arriving to Stetson, she received top recognitions in the University of North Carolina system including UNCW's Discere Aude Award for her outstanding mentoring of students and the Inclusive Excellence Award for her commitment to making equity and diversity a priority on campus and in the wider world, and her active efforts to promote inclusiveness and global belonging through teaching, research and service.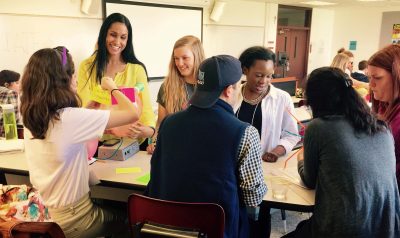 A former public school educator who has worked both in historically underserved communities in the U.S., including but not limited to urban, suburban and rural parts of North Carolina, and in communities overseas, she is a leading advocate for advancing equity and educational excellence, particularly for culturally diverse, low-income children, youth and families.
"Black and Brown communities have faced and continue to experience racial, cultural and socioeconomic oppression and exploitation in the United States and across the globe. We must affirm diversity and be co-conspirators in equity and justice. We must work together to build healthier communities and a better world," insisted Shankar-Brown.
Her "nominations were effusive"
The McEniry Award usually is presented to a Stetson faculty member during spring Commencement. But with this year's ceremony delayed due to COVID-19, the award was announced at Convocation, which marked the opening of the 2020-21 academic year.
Upon learning that she had won the top-teaching award, Shankar-Brown said her reaction was "Dhanyavad!" a sincere expression of deep thanks in Sanskrit.
"It embodies living gratitude and grace, translating to 'I am deeply grateful,' breathing gratitude into existence through heart-soul-mind-and-body," she explained. "I was also thankful to be able to watch the full recording with my family afterward without technical disruptions and to be able to share the link with my Amma (Mom) who brought me into the world, was my first and will always be my most treasured teacher. Dhanyavad. I am delighted and deeply honored to be selected as the 2020 William Hugh McEniry Award for Excellence in Teaching recipient."
Shankar-Brown also noted that while she never met Dean McEniry in person, she has felt a connection to him as he left Stetson in 1967 to be the Vice Chancellor for Academic Affairs at her alma matter, the University of North Carolina-Charlotte.
The McEniry Award was established in 1974 to honor the former dean of the university, who is credited with strengthening the faculty and academic standards, and elevating the prestige of the university. The primary criterion is excellence in classroom teaching, but other factors, such as intellectual growth, and service to students and the university, may be considered.
Each spring, a McEniry Promotion and Nomination Committee appointed by the Faculty Senate seeks nominations from faculty and students for the award. The committee reviews the nominations and prepares a summary report for the McEniry Selection Committee, which selects the winner.
This year's nomination committee noted that Shankar-Brown's "individual nominations were effusive and detailed. Many stressed her compassion, her dedication for social justice, and her work with the homeless."
As Maddox explained during this presentation, "Our anthem is Go Beyond. When I started looking at this year's winner, I went, 'Wow!' This person is the epitome of that Stetson anthem."
"Thankful to be an educator"
Shankar-Brown said she decided to join the Stetson community in 2013 largely because of the "university's mission and values, its legacy of extraordinary teacher-scholars, and opportunities for interdisciplinary collaborations." Shankar-Brown noted that she is continually inspired by her Stetson colleagues, across disciplines.
"Teaching is deeply rewarding, and it fills my soul with joy," she said. "As I often tell my students who are preparing to be educators, teaching is hard work, heart work and the best work. It is a profession that illumines pathways, expanding our capacity for human connectedness, imagination and dynamic transformation.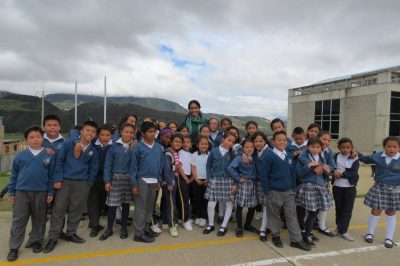 "I chose to be an educator because it is rooted and anchored in love, because it offers daily opportunities for lifelong learning, and because it serves as a powerful vehicle for social change. After decades of teaching all ages, children to adults, and having intentionally invested my full self into and for equity-centered education, I believe more than ever that teaching enables us to actively and collectively bend the arc towards justice. I agree with educator, philosopher and activist Paulo Freire who describes education as 'the practice of freedom,' and with social activist, feminist educator and writer Bell Hooks who writes, 'Learning is a place where paradise can be created,' " she said.
Shankar-Brown's work has taken her around the world, including Japan, the Netherlands, the Caribbean, Colombia and throughout her "motherland" India. In Bogotá, Colombia, for example, she taught arts integration and literacy classes at high poverty schools and collaborated with the Palace of Justice on human rights matters as part of an Education and Culture grant by the U.S. Department of State and with the Partners of the Americas.
And close to home, she has facilitated hundreds of workshops and taught model lessons on a variety of social justice topics including civic engagement, global education, leadership and literacy, including actively supporting K-12 schools and other institutions of higher education throughout the state of Florida. Her lessons are carefully crafted to promote critical thinking and agency.
"Truthfully, I often feel most whole when I am teaching, creating and growing alongside amazing students who exemplify hope as social change agents, educational leaders and solutionaries. My students – past, present and future – inside and outside of the classroom, fuel my spirit and inspire me every day. Teaching is a priceless and an astonishingly life-giving gift, one that is rooted in faith.
"I am thankful to be an educator, to have teaching interwoven in the fabric of my life and guiding my journey. Our children and their children deserve a better, more equitable and just world. Education and the immense power for good that it holds keeps me rising. Since they were little, I have often asked my son Valen and daughter Romila, 'How do you want to use your heartbeats?' My response: Live, love, create and educate with intention and joy — and for justice!" Shankar-Brown said.