Presser Award winner "embodies" excellence in the School of Music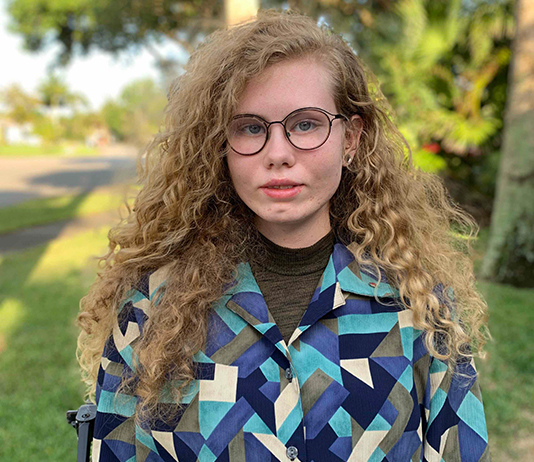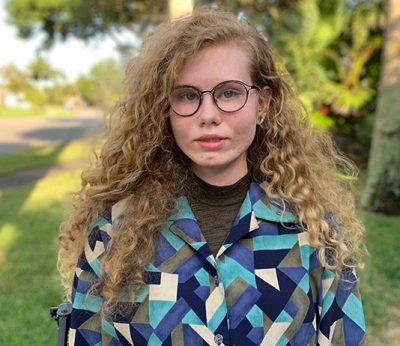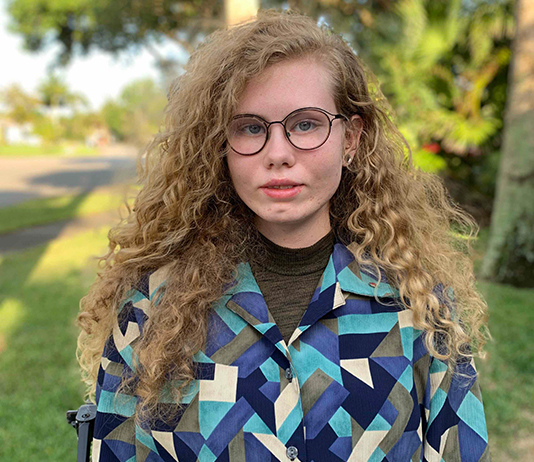 Senior Gracie Caggiano needs three to-do lists to keep on track and, to hear her schedule, it's no wonder.
A music composition major and mezzo-soprano, she is taking seven classes this semester. She's a tutor in music theory and soon will start teaching composition for Stetson's Community School of Music.
She spends an hour a day practicing for her voice and piano lessons, and an hour or two a day composing music. With a 3.9 GPA, she is a member of the national honorary musical fraternity, Mu Beta Psi, and also belongs to Stetson's chapter of the American Choral Directors Association.
She has a to-do list for homework, one for composition projects and another for her musical duo.
That dedication to academics and music led her to receive this year's Presser Undergraduate Scholar Award, the School of Music's highest honor presented to the outstanding music major prior to their senior year.
"I can think of no better recipient of the prestigious Presser Scholar Award," said Tim Peter, DMA, Dean of the School of Music. "Gracie has proven to be academically stellar, creative, musically passionate, and deeply respected by her Stetson student peers and the School of Music Faculty.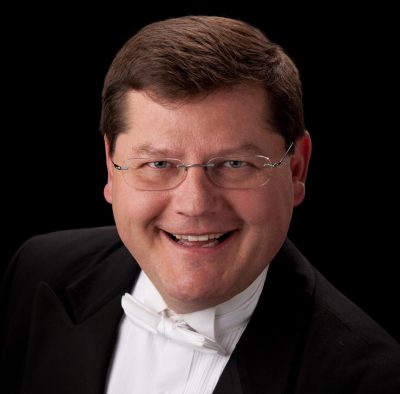 "As this award is annually voted by the faculty, we have all witnessed how Gracie embodies the qualities of excellence in music study, composition and performance," he said.
The award was announced in a virtual ceremony at the end of the spring semester. Caggiano, who comes from a musical family and started playing guitar at age 13, said she "was blown away" when she heard her name. "Honestly, I didn't know what to say.
"I felt very humbled to be honored by that many people and for them to see that much in me," she said during a Teams call. "For that many people to think you are deserving of this award, it was very validating of all the effort that I put into my work and my studies."
August Moon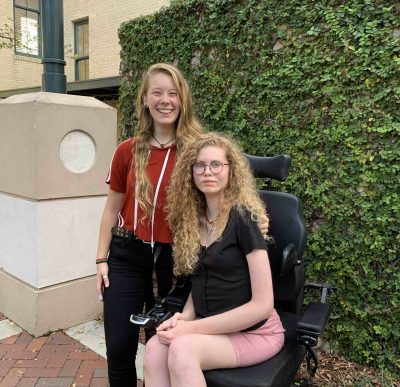 Now back on campus for the fall semester, Caggiano and fellow student Gracie Lookadoo are set to release the first album for their duo, August Moon. Caggiano sings, plays guitar and wrote five of the songs. Lookadoo, a Music Technology & Digital Arts major, wrote four songs and plays cello.
The two met during FOCUS orientation as first-year students at Stetson. Soon, the two Gracies learned they also shared the same birthday, Aug. 20, as well as a love of music.
"Three years later, we're best friends," Lookadoo said. "She's taught me more about both music and being a better person than anyone else in my life."
They plan to release the album, Corona Borealis, on Aug. 20, naturally, when it will be available on Spotify and other streaming platforms.
Lookadoo said the two began talking about an album during their first year at Stetson when Caggiano wrote a song called, "Personal Space," the first original song they played together. Over the past two years, the idea developed into a nine-track album that explores the types and phases of various relationships, from platonic to romantic.
"She has this way with lyrics. It's pure poetry," said Lookadoo, also the executive station manager of Stetson's WHAT Radio. "There are loads of people on campus who claim the title of singer-songwriter. There are some who have a talent for it, few who have refined the skill, and even fewer who are able to execute performances that are both musically and emotionally charged. She checks all the boxes.
"Her signature sound can best be described as "shimmering" or 'sparkly' – dissonant, but in a bittersweet way. Most importantly, Gracie is unafraid and unapologetic, and that confidence is one of many things I believe will make her the next big name in composition," Lookadoo said.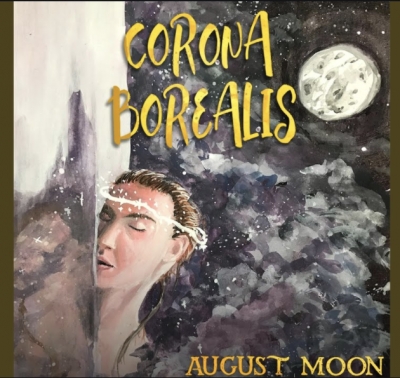 The two describe their album as "art house," a term that usually refers to a serious, artistic independent film that isn't a box-office hit. Caggiano said a professor used the term to describe their music after hearing the two perform live.
"We're making it our genre, to be art house, where we have this mix of all these other genres," said Caggiano, describing the music as acoustic-based, a mix of folk, jazz, blues, rock and pop, with guitar, cello, bass, drums and trumpet.
Added Lookadoo, "Art house is a film genre that usually refers to independent films whose concepts follow the vision of the creator, as opposed to the demands of popular media. In other words, art for art's sake. I think this describes Gracie's style immaculately. She creates for no other reason than she wants to, and she doesn't compromise her sound for the sake of popularity."
"A Key for Me"
Caggiano's parents are both musicians, and so are two of her three brothers, although she is the first in the family to receive formal musical training. Her brothers play guitar. Her father plays drums and has been in bands his whole life. Her mother is a singer and plays piano.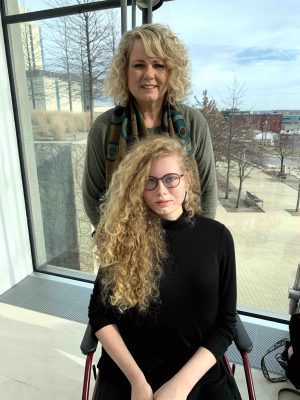 "She always tells me that she wanted to be a concert pianist and that she never continued with lessons when she was younger," said Caggiano, who grew up in Orlando and also lived in upstate New York for a few years. "But when she found out I wanted to do music, she was really encouraging about it because it was like seeing her own dream play out. I feel like it's kind of that way with both of my parents."
At age 13, just a few years after being diagnosed with a physical disability, her father gave her a guitar. She had been writing poetry since she was 8 years old and, with a guitar in hand, quickly realized she had a knack for songwriting.
"I always sort of felt that writing music or poetry is second nature to me. A melody comes into my head or a lyric, and then I sit there and work with it, refine it, so I feel like in a way it was something that I was always meant to do, it just took me a little while to find that exact niche," she said.
She played flute in high school, joined the choir and began learning piano. Two of her music teachers in high school encouraged her to explore music composition, which led her to apply to Stetson's School of Music.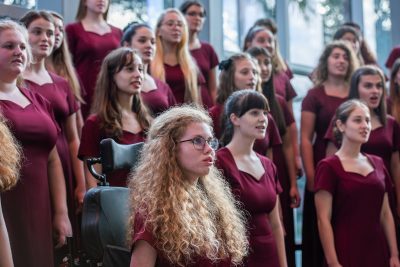 She now studies composing with Manuel de Murga, PhD, an associate professor of Music and Composition, and director of Composition. And she studies voice as her primary instrument with Karen Coker-Merritt, DMA, assistant professor of Music.
Her teachers and professors have instilled in her a love for teaching, which she hopes to pursue as a career. After graduating from Stetson in May, she plans to attend graduate school and eventually earn a doctorate to teach music at the collegiate level while still composing music.
And for that dream, being selected for the Presser Award was an important moment.
"Now that it's settled in, I've been thinking this really is a door for me," she said. "It's an honor that I think is recognized by all sorts of music schools and as a student who wants to pursue their studies after undergrad and go to grad school, it feels like a key for me to have this recognition attached to my name.
"I feel more confident about applying to grad schools, being able to say I was selected as a Presser Scholar when I was at Stetson. Because if my achievements here can be recognized, then maybe this grad school where I would want to apply might see the potential in me to accept me as a student there," she said.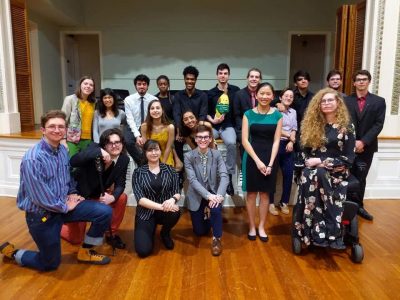 Exploring new ground
Caggiano was nine or 10 years old when she was diagnosed with muscular dystrophy. According to the Muscular Dystrophy Association, the term actually refers to a group of diseases that cause weakness and a progressive loss of muscle mass. The diseases are caused by a gene mutation that interferes with the production of proteins, which are needed to build and maintain healthy muscle.
Caggiano said she had never spoken as an advocate for people with disabilities – that is, until this summer. She was interviewed by Hatter Network for a story that coincided with Disability Pride Month in July and the 30th anniversary of the Americans with Disabilities Act (ADA) on July 26.
"It was something that I was a little bit of afraid of before because I don't want to come off as not being grateful," she said, "but I had to recognize that asking for help and asking for accessibility is not necessarily being ungrateful. It's like advocating for yourself and for your community."
Her interest in advocacy began a few semesters ago when she started researching the Disability Arts Movement of the 80s and 90s. Artists and activists campaigned for more civil rights for the disabled, helping to secure passage of the American with Disabilities Act in 1990 and a similar law in the United Kingdom in 1995.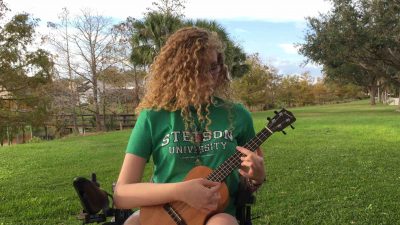 She said she wanted to "take that next step into that sort of advocacy for the disability community." Although she never explored the topic directly before, she can see her disability experience was often interwoven in her music.
"I write about a lot of emotions and I think some of those emotions may have stemmed from what I was experiencing with being diagnosed with a disability and seeing my body change because I do have a disease that causes my muscles to waste away. My body does change constantly," she said. "I think some of those emotions in the songs came from things like that."
"I feel like this disability arts community is resurrecting now and that's helping to push for advocacy in general in the United States, so I would like to be able to write some compositions or songs to help — use art as a tool for that advocacy. That's probably going to be my next step in exploring this new ground."
-Cory Lancaster