Students Move into Residence Halls and 4 Local Hotels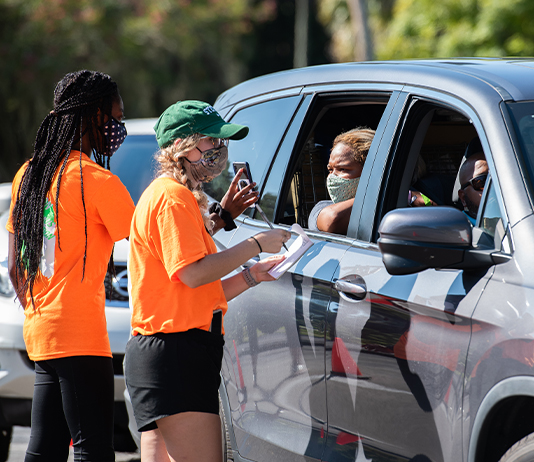 Grace Asleson graduated from high school a semester early and enrolled at Stetson University last January. Two months later, she was back home in Chicago, finishing classes online due to COVID-19.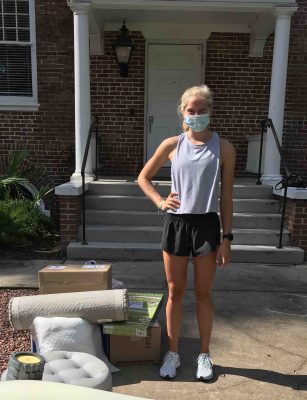 She returned to Stetson over the weekend, moving into Chaudoin Hall and excited to start the Fall 2020 semester, despite the ongoing pandemic.
"I feel like I have a lot of trust in Stetson," said Asleson, a Business major and member of Stetson's Volleyball team. "They know what they're doing in terms of keeping everyone safe.
"And so, my parent weren't necessarily concerned with me going back to school just as long as I remember to wear the mask and keep distance and follow all the rules," she added.
Residence halls opened for new students on Friday and Saturday, Aug. 7-8. Unlike past years, students were given appointment times for a drive-thru check-in to reduce the crowd size on campus and help maintain safe physical distancing. Returning students will arrive through Wednesday, Aug. 12, and classes begin Thursday.
First-year student C.J. Davis was happy to arrive and settle into Gordis Hall, he said. A linebacker for the Hatter Football team, he expects to start training next week, even though the Pioneer Football League has suspended the football season for the fall semester.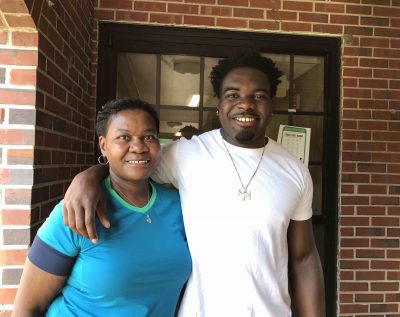 "I was ready to come up here and play football," said Davis, a Health Sciences major. "If I wasn't playing football, I could stay and do school at home, do online."
His mother, Regina Davis, said she has talked to him about following the safety precautions, recommended by the Centers for Disease Control and Prevention (CDC), such as wearing face coverings and washing his hands frequently. 
"He knows how to stay safe," she said. "He's been practicing — for what? – four or five months now."
For added safety during the pandemic, Stetson switched to single-occupancy rooms in the residence halls and expects to fill its approximately 1,250 rooms on campus with students by Wednesday. Other students are staying in four area hotels – the Courtyard by Marriott, the Comfort Inn & Suites, the Hampton Inn & Suites, and the Holiday Inn Express & Suites DeLand South.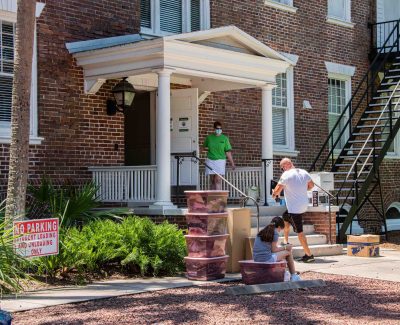 "We had about 1,500 students request housing on campus," said Lua Hancock, vice president of Campus Life and Student Success. "So, we have about 200 students in hotels as of right now and then the rest on campus, and anybody who wanted a bed at this point we've found them a bed."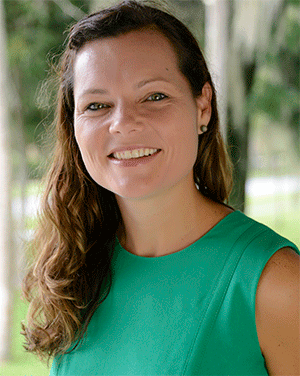 Stetson has offered students a choice of taking classes in person, online or in a hybrid class format. About a quarter of students elected to take classes completely online. A quarter will be commuter students and about half will live on campus, she said.
The university is optimistic about fall enrollment and student retention, the number of students who return to continue their studies from one year to the next, as opposed to transferring elsewhere or dropping out. Hancock believes Stetson's COVID planning for the Fall semester, which began in earnest in April, played a role.
"Retention right now of first- to second-year students is the exact same as it was last year," she said. "They want to be here. They want to be a part of the experience. We tried to do all the webinars over the summer, the small parent meetings, the parent Facebook and I think it makes a difference. They feel committed. They didn't want to go anywhere else."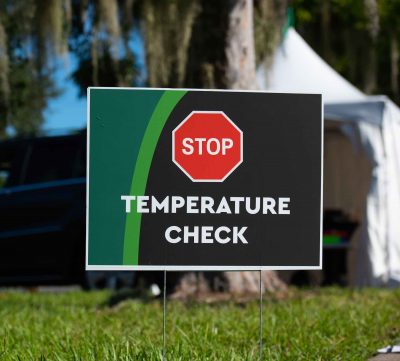 Several parents who were helping their children move in over the weekend agreed that Stetson's COVID policies and protocols provided reassurance that the campus would be safe.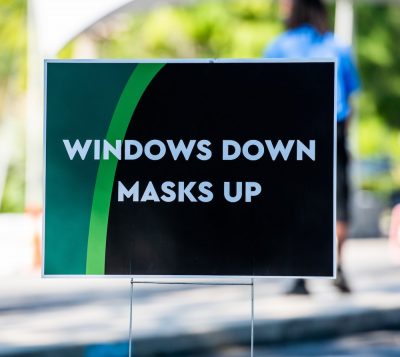 "I'm very impressed with everything that they're doing," said Joseph O'Donnell of Massapequa, New York, who was helping daughter Maeve move into Emily Hall. "It's a little unusual what they did when they gave us the option to go or not to go. I like that. I'm very comfortable with that they're doing."
O'Donnell said he and his wife know their daughter prefers a classroom learning environment. "She finished her last semester of high school online. She hated it. It's not for her," he said.
Maeve, an aquatic and marine biology major, said she missed the social aspects of school while taking classes online. She felt liked she missed out on a lot of things during her senior year and wished it had ended better.
"I know I'm taking a risk by not just locking myself up in my room at home, but I think it will be okay," she said. 
Asleson, who finished the spring semester online in Chicago, said she prefers to take in-person classes, too. Her classes for fall semester are all hybrid formats, with a mixture of online and face-to-face classes.
"I just love being in class, in person, with the professor," she said. "I just find it easier to learn that way. And it's just one step closer to being back to normal."