'The Power of Community:' Helping Others during COVID-19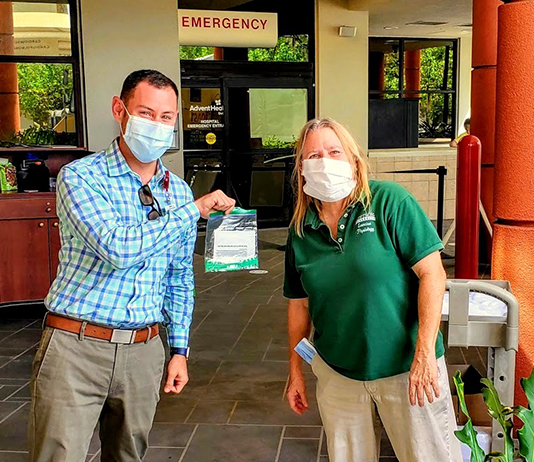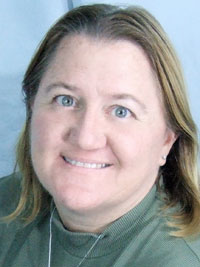 During the early days of the COVID-19 pandemic, Michele Skelton, PhD, associate professor of Health Sciences, wondered if Stetson's Innovation Lab could address the nationwide shortage of personal protective equipment by producing it for students, former students and their colleagues working on the front lines in area healthcare facilities.
"I have students working in the ER right down the street at AdventHealth in DeLand," Skelton said. "My alums are PAs (physician assistants), doctors and nurses who are working locally, and I was like, 'Is there anything we can do for them?'"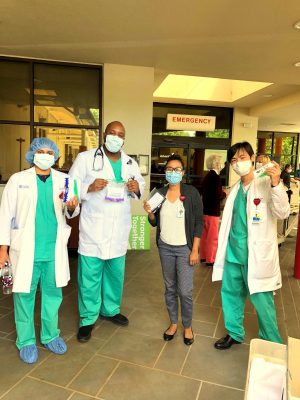 Skelton contacted Susan Ryan, the Betty Drees Johnson Dean of the duPont-Ball Library and Learning Technologies, who told her regulatory and liability issues prevent Stetson's Innovation Lab from producing medical-grade PPEs. Then Skelton came across a story of a Boy Scout in Canada who started 3D printing "ear guards" – small, notched pieces of plastic that hold the elastic bands of a mask, rather than stretching them around one's ears.
"Our healthcare workers are having to wear their masks so long, for eight- to 12-hour shifts," Skeleton said. "They're saying they have ear sores. They have headaches."
Making ear guards might be a way to help, Skelton surmised.
Initially, area healthcare workers and first responders were provided with ear guards. Now, students, faculty and staff returning to campus this month will have less mask-induced ear fatigue thanks to a months-long, mass production of ear guards by a Stetson ad-hoc team that included Skelton, Ryan and two Innovation Lab workers: technology specialist Tony Ganus and night library technology specialist Chris Finkle.
Their combined efforts led to the creation of 1,500 ear guards donated to area healthcare providers and first responders, and 6,000 ear guards that will be distributed, along with a mask and hand sanitizer, to the returning Stetson community.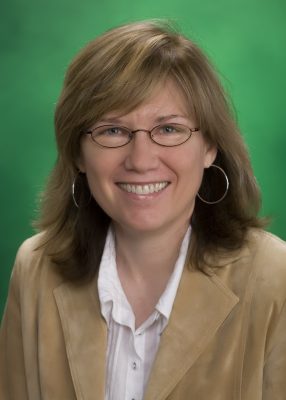 The Innovation Lab, housed in the duPont-Ball Library, includes 3D printers, soldering stations, power tools and a CNC router (computer-controlled cutting machine) that allows students, faculty and staff to create projects for classes, labs, research projects or just for fun.
Ryan noted 3D printers can create objects from metal, wood and even chocolate and other food, but Stetson's 13 printers, including two $25,000 models, mostly utilize plastics. The lab has been used by entrepreneurship students to create prototypes for products. Chemistry students create molecular models. A music student created a percussion instrument at the lab. Retired art professor Dan Gunderson used the lab to produce some of the toy figurines in his creations.
Skelton's anatomy and physiology students use the lab to "print anatomical and pathological 3D organs," she said.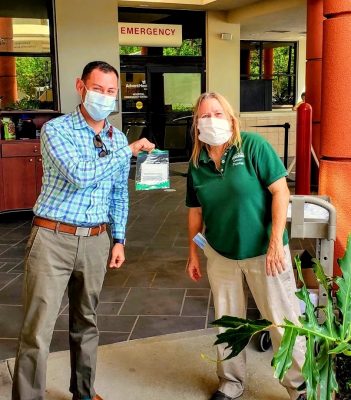 But the mass production of the ear guards was "on a scale that has certainly never happened here before," Ryan said.
After hitting upon the idea of producing ear guards, Skelton contacted her former student Chris Riccard, who earned his Health Science degree from Stetson in 2008, and who is now an MD and hospitalist at AdventHealth in Daytona Beach: Would ear guards help him and his colleagues?
"He said, "This would be great because we have to wear these masks all the time — we never get to take them off,'" Skeleton said.
Skelton, through her classroom instruction, was familiar with thingiverse.com, a website that provides primarily free, open-source, user-created, digital design files. After finding an ear guard template, she contacted Ryan, who set the Innovation Lab's tech specialists, Finkle and Ganus, into action.
The duo modified the original template, including adding the word "Stetson" or the Hatter "S" logo to the ear guards to be distributed to the university community, "and literally within a couple of days they were printing out prototypes," Ryan said.
Production began in March. After the initial tweaking of the printers' settings, the machines could produce an ear guard in approximately 10 minutes.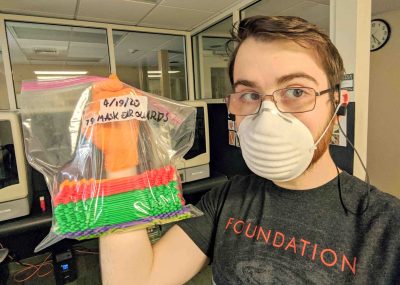 "Printers are not always 'Set it and forget it,' " Finkle said. "You're pushing a flexible plastic filament into a 400° little piece of metal, and there's always the risk that something will go wrong – that it will clog up, that it won't extrude properly. So you do have to be conscious of that and any errors that might arise."
The ear guards "were pretty simple prints," Finkle said. "They didn't tax the capabilities of the printers that much."
From March through April, and June into July, Finkle would go to the Innovation Lab three times a week for about six hours at a time, and "fire up between six and eight printers" to print the ear guards, he said. Meanwhile, Ganus took a printer to his home, which allowed him to "produce almost as many as I was just from that one printer because he was running it seven days a week," Finkle said.
The duo didn't keep records of the time spent on the project, but Finkle estimates that "if we're talking just man-hours, hundreds – if we're talking printer hours, then possibly up to 1,000."
"We did have the advantage that the library is closed right now, unfortunately, so we could run all the printers," Ryan said. "If students had been using the printers it would have been tough to do 7,000 of anything. But my guys figured out how to maximize the speed and they took on this challenge. I'm just so impressed with them and how well they carried this out."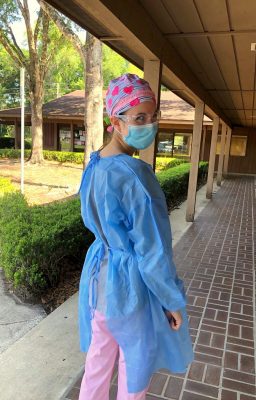 Ear guards were distributed to two area AdventHealth campuses, two Halifax Health campuses, an Orlando Health campus, the DeLand Fire Department, the DeLand Police Department, the Reedy Creek Fire and Rescue Department, the Orange County Sheriff's Office, and the FloridaWild Veterinary Hospital.
Kelsey Barnett, a PA-C (physician assistant-certified) with Family Health Source in DeLand and a 2014 Stetson Health Science graduate, "was the first person to try out the ear guards, and she wrote me back and said, 'This is great, this is so helpful,' " Skelton said. "I just came up with this idea – the people in the Innovation Lab took it and ran with it. The library gets a lot of credit for doing such a spectacular job."
The ear guards, Ryan said, "are a small thing, but it does give people some relief. And if you can bring a little bit of relief in times like this when everybody is stressed and anxious, then why not?"
"It seems like all the healthcare workers really appreciated them," Finkle said. "I hope the ear guards will improve masking compliance on campus. I'm really hopeful it will help keep people safe in the fall."
Ryan cited her Stetson colleagues Skelton, Finkle and Ganus, the people who contribute 3D design templates to open-source websites, and donor Betty Drees Johnson, whose contribution funded the Innovation Lab's founding in 2013. "That's the power of community," Ryan said.
— Rick de Yampert