Weekly Update about Convocation, COVID Testing and more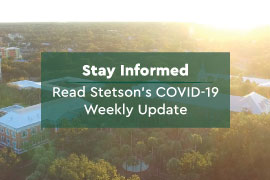 Webinar Advisory

President Roellke's webinar on Thursday, Aug. 6, featured Lorenzo Brown, president and CEO, AdventHealth DeLand, Stetson University's health care partner. Brown explained how AdventHealth is managing its COVID-19 response across its Florida hospital and health care system and its support for Stetson University in Volusia and Pinellas counties. Michèle Alexandre, dean of the College of Law, also joined the panelists as President Roellke discussed how the university is preparing to safely welcome students back in DeLand and Gulfport.
Speakers:
Christopher F. Roellke, President
Lorenzo Brown, President and CEO, AdventHealth DeLand
Dr. Joe Smith, AdventHealth DeLand
Lua Hancock, Vice President of Campus Life and Student Success
Lynn Schoenberg, Dean of Students
Michèle Alexandre, Dean, College of Law
Webinar videos and transcripts will be posted on the Safer Stetson website under Latest Updates by the end of each week.
President Roellke's next Weekly Webinar
Thursday, Aug. 20, 1-2 p.m.
Register now.
Opening Faculty and Staff Meeting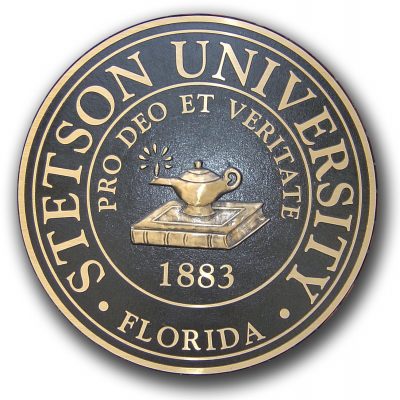 Remember to mark your calendar for the Opening Faculty and Staff Meeting. You can register here or below.
Opening Faculty and Staff Meeting
Wednesday, Aug. 12, 9-10:30 a.m.
Presenters:
Invocation
Sensei Morris Sullivan
Office of Religious and Spiritual Life
Welcome
President Christopher F. Roellke, PhD
Welcome from the Board of Trustees
Maureen Breakiron-Evans, '76
Chair, Board of Trustees
Intro New Academic Year / Who is Stetson?
Noel Painter, PhD
Provost and EVP
Safer Stetson
Lua Hancock, EdD
Vice President, Campus Life and Student Success
Safer Spaces
Bonita Dukes
Associate Vice President of Facilities Management
Co-Chair, Safer Stetson Task Force – DeLand
Lynn Schoenberg, EdS
Dean of Students
Co-Chair, Safer Stetson Task Force – COL
Terri Radwan, JD
Professor of Law, College of Law
Planning & Principles for moving forward (20 min)
Christopher F. Roellke, PhD
President
Register link: https://attendee.gotowebinar.com/register/4025123361761276171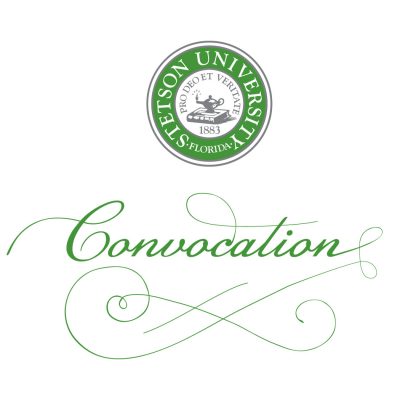 Convocation Next Week
Convocation, which signifies the formal opening of the 2020-2021 academic year, will be held Wednesday, Aug. 12, 5-6 p.m. All students, staff and faculty are asked to participate. The event will be live streamed on the Stetson Broadcast Productions channel on Ustream.tv at:
https://video.ibm.com/channel/stetson-broadcast-productions
COVID-19 Testing on DeLand Campus
Family Health Source will be on the DeLand campus Aug. 12 and 13 to provide diagnostic nasal swab PCR testing for any student, faculty member or staff member who would like to be tested. Testing will take place from 8 a.m. – 4 p.m. in the Rinker Field House (Hollis Center). Testing is strongly encouraged for all Stetson community members even if you are asymptomatic.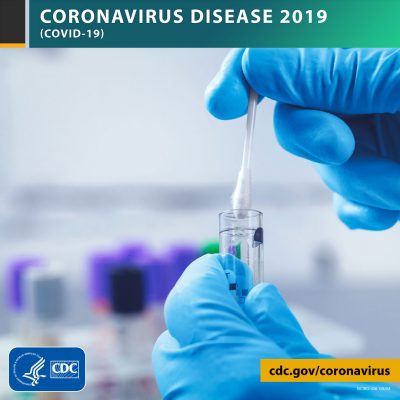 Test results are expected within 5-7 days. We understand that results from the last testing session on campus took significantly longer than expected. We believe these issues have been fixed by our partner Family Health Source switching to a new lab, LabCorp, which is guaranteeing quicker results. Results are still helpful for us to assess community rates of COVID-19. To receive your results, please create an account here.
If you would like to be tested, please follow the steps below:
Go to the pre-registration link with Family Health Source at the following link:

This link is utilized to gather data elements on individuals served by Family Health Source. Functioning as a nonprofit that is funded entirely by grants, they are mandated to gather this information for funding purposes. Family Health Source operates as a medical care provider and your information provided is protected by HIPPA.

Select your testing date and time:
Day of testing:
Appointments will respect physical distancing and masks are required.
The test is done at no cost to the individual and testing is highly encouraged at this time even if you are asymptomatic. If you have health insurance, you will be asked for your insurance card.
Please bring personal, photo identification.
Go to the testing location at your designated time. Do not come early.
Test will take approximately 5 minutes.
For more information on testing, please read the COVID-19 Testing FAQ on our Safer Stetson website or contact Christina Kulpa at [email protected] or 386-822-7033.
Student Life & Belonging
Campus Life & Student Success champions community, well-being, learning and success through your journey at Stetson. To help get you started, they have provided answers to your frequently asked questions as a way to kick start your Fall 2020 semester. Visit the FAQs on Safer Stetson and see Student Life & Belonging.
Additional cleaning and sanitizing supplies
Additional cleaning and sanitizing supplies are available through the Purchasing Warehouse. If a department or individual would like to request additional cleaning and sanitizing supplies, the request should be made through the building coordinator. The building coordinator will then obtain the supplies from the Purchasing Warehouse. The department and/or individual making the request will need to provide an account number for the cleaning and sanitizing supplies to be charged to.
International Travel
All Stetson-sponsored international travel is significantly restricted through the end of the calendar year 2020. The university cabinet, which includes vice presidents, the athletics director, deans and the President, are responsible for defining required travel for their areas and questions should be directed to them. International travel must be registered with the Office of Risk Management a minimum of 15 business days prior to departure. To register your travel, send an email to [email protected], including the dates and locations of travel.
Using Everbridge App to Help Mitigate the Spread of COVID-19
We will be using an application from Everbridge to provide an additional layer to our COVID-19 response plan to keep us informed about the overall health of our community. Android users can find the application on Google Play and Apple users can find it at the Apple Store. After you download the app, search for Stetson and you will find "Stetson University." After you select "Stetson University," you will be able to log in with your Stetson email credentials.
Everbridge will allow you to send a daily "Wellness Check" before you come to or move about campus. You will receive a reminder message each day to complete the Wellness Check and your responses will remain confidential. Find more information on the app and how to complete your Wellness Check on the Safer Stetson website under the Healthy Hatters button. See Other Resources, Everbridge App.
If you don't have a smartphone or don't want to download the app, then you can get an in-person wellness check each day at the Wellness Station in Rinker Welcome Center. Go to the atrium facing Palm Court. After hours, visit Public Safety for your wellness check.
Student Video
Students are asked to watch a Student Re-population Video that highlights various campus partners and many of the changes you will see on campus this fall. We ask that you take the time to watch this video, so that you are informed and can do your part in helping keep our campus safe. To gain access into common spaces on campus, you will need to confirm that you watched the video through the Everbridge app. The video will take 40 minutes to watch.
COVID-19 Positive Test Results on Safer Stetson
Beginning Aug. 5, Stetson will be reporting numbers of positive test results on the Safer Stetson website rather than emailing results. The site will not include any personally identifying information. Stetson University has committed to informing the community of positive COVID-19 tests. More information about on-campus, asymptomatic testing is available in this update (above) and on the Safer Stetson website under the FAQs button. See COVID-19 Testing.
Student Employment Information
The Student Employment team is committed to supporting students. Please reach out to [email protected] with any questions you may have. Our office will be open from 10 a.m.-2 p.m. beginning Aug. 3. In good weather, the "office" will be a tent stationed outside of the HR office. In poor weather, students can come to the Student Employment Office entrance of the HR Office on the side of the building adjacent to the driveway and parking lot.
In an effort to promote physical distancing, most fall student employment positions will be virtual. For those roles that cannot be completed virtually (Hollis Center, Library, Hand Art Center, etc.), there will be position-specific protocols for safety. Supervisors are currently submitting their plans for safer on-site work for approval.
Current student employees should reach out to supervisors for details about their positions. If a student position is on-site and you are unable to work on site for whatever reason, please email

[email protected]

.
Students are encouraged to review openings on HatterJobs and apply using the job-specific instructions. Reach out to the position supervisor to find out if the position is virtual or on-site.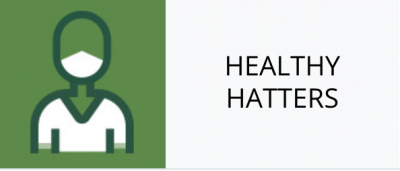 More information on student employment is available on the Safer Stetson website under the Healthy Hatters button. See Other Resources, Student Employment.
CDC Change in Terminology
The CDC has changed its use of "direct" and "indirect" exposure to someone with COVID-19. They are now using "close" and "community exposure."
Close Contact: Closer than six feet to a positive person for over 15 minutes, with or without facial covering.
Examples: Talking to someone right next to each other without a mask; sharing a cup of coffee.
You will be asked to self-quarantine for 14 days from encounter with a positive person.
Community Exposure: All other known exposure to a positive person.
You will be asked to continue to self-monitor and physical distance.
Department Break Rooms
Departments with break rooms or communal food/beverage stations should consult CDC guidance for regular sanitizing of communal spaces, as well as maintaining safe distancing among those using the communal spaces. Some recommendations for communal food/beverage stations from the CDC include: modifying the station to maintain physical distancing of at least 6 feet, staggering break schedules to maintain distancing, provide individually packaged single-serving snacks rather than communal products, avoid shared food, such as birthday cakes or donuts, use of no-touch trash cans, and frequent disinfection of high-touch surfaces (such as faucets, drinking fountains, microwave or refrigerator handles, coffee maker or microwave buttons).
In addition, departments should utilize disposable serving options over reusable serving pieces (e.g., no departmental mugs even if they are washed between users). Departments may work with Facilities (in Gulfport or Tampa) or the Warehouse (in DeLand) to obtain cleaning supplies. Hand sanitizer, wipes, and other cleaning supplies should be provided and readily available at each food or beverage station; signage should be posted reminding users of the need to clean the area before and after use.
FOCUS Orientation
FOCUS Orientation will be held on Sunday, Aug. 9, through Wednesday, Aug. 12. FOCUS is a four-day comprehensive orientation program designed to help new students have a successful transition to life at Stetson University. All first-year and transfer students with less than 24 credits begin their First-Year Seminar during FOCUS. This opportunity allows students to connect with their faculty and begin adjusting to Stetson University's academic rigor right away. During FOCUS, students will meet daily with FOCUS Orientation Leaders, either in person or virtually.
Each new Hatter has already selected if they would like to participate in orientation in person or virtually. Those who have not selected one of these options will be automatically enrolled into a virtual schedule. To find the virtual and in-person orientation schedules, visit www.stetson.edu/focus.
duPont-Ball Library Opens Aug. 10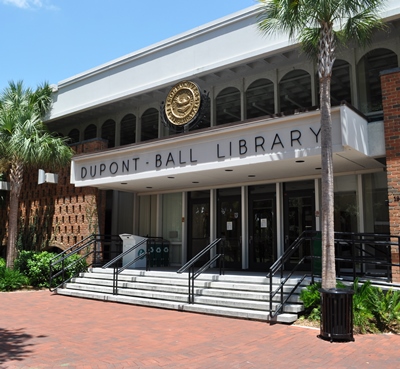 The duPont-Ball Library will open Monday, Aug. 10, 8 a.m., with a limited capacity of 25 people. The occupancy will increase to 50 people on Thursday, Aug. 13. Access will be by Stetson ID card-swipe, and all users will check in with a library greeter who will track occupancy. Appropriate face coverings must be worn inside the building, and furniture, which has been placed to ensure safe physical distancing, should not be moved.
Library Hours:
Monday-Thursday: 8 a.m.-10 p.m.
Friday: 8 a.m.-6 p.m.
Saturday: 11 a.m.-6 p.m.
Sunday: 11 a.m.-10 p.m.
Access to library collections and services is available to the Stetson community whether you are on campus or off campus this semester. For more information or questions, please contact the library at [email protected] or 386-822-7138, or visit the website.