Stetson University Uses New App to Mitigate Spread of COVID-19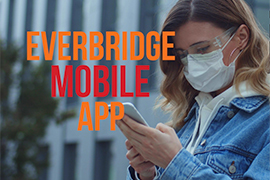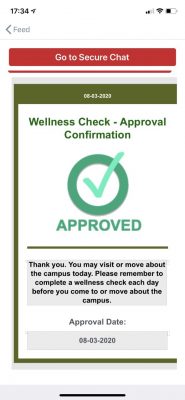 Stetson University will use a new mobile app this semester to help reduce the spread of COVID-19 by having students, faculty and staff conduct a daily Wellness Check before coming to or moving around campus.
Once members of the Stetson community download the Everbridge App, they will receive daily reminders to complete the Wellness Check, answering yes or no to questions about the virus and its symptoms. All answers will remain confidential.
Based on their answers, users will receive a "Green Screen," saying they are approved to come to or move about campus. A "Red Screen" says they are not approved to come to or move about campus. Instead, they should contact Stetson Health Service and report any symptoms of COVID-19 via the "Report Your Symptoms" button on the app.
"It is critical that our students, staff and faculty utilize this app, so that we can do our part in keeping the campus safe," said Christina Kulpa, associate director of Wellness and Recreation on the DeLand campus.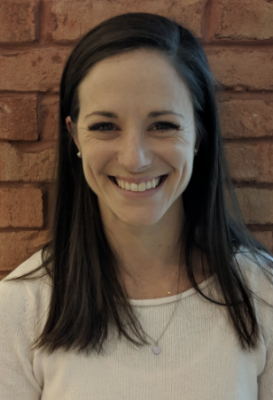 "The daily Wellness Check will allow you to assess any sick symptoms you may have. It's important that we assess these possible symptoms daily, so that if you become ill with COVID-19, you are able to take the steps needed to manage your illness in collaboration with Stetson Health Service," she said.
Only one Wellness Check is required each day. After submitting answers, users will receive the green screen or red screen within 1-3 minutes, said Michael Pridemore, director for Public Safety and Emergency Management coordinator for the Stetson College of Law.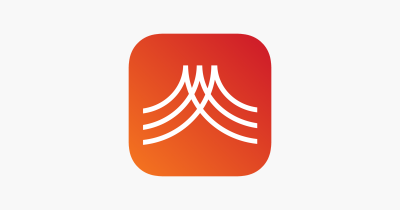 To download the app, visit the Google Play Store for Android users and Apple's App Store for iPhone users. Once the app is downloaded, search for Stetson. You will find "Stetson University," select it and log in with your Stetson email credentials.
"The Everbridge Mobile Safety App adds just another layer to Stetson University's COVID-19 response and to keep us informed about the overall health of our community," said Pridemore, who worked with a Stetson team for several weeks to develop and test the app's messaging.
Checking in at Wellness Stations on Campus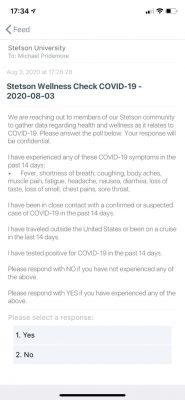 The app provides other features, in addition to the wellness screenings. Students will find educational videos relating to COVID-19 and community expectations, including Stetson's Student Re-population Video. Students must confirm that they have watched the Re-population Video on the Everbridge app in order to access common spaces on campus.
Students, faculty and staff will be required to display their green screen or red screen to an attendant at Wellness Stations set up on the DeLand and Gulfport campuses. If anyone does not complete the Wellness Check prior to coming to or moving about the campus, they can complete it at the wellness station.
The green screen, which they receive for completing the Wellness Check, will be required for entry to some buildings on campus to include the CUB and Hollis Center. Other buildings/departments and faculty members may also choose to utilize the green screen to allow entrance into the classrooms and spaces.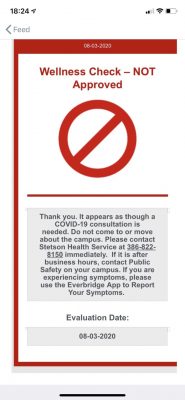 If someone does not have a green screen when attempting entry, they may answer the Wellness Check on the app or by email or text. If they do not have access to a smartphone, they will have to proceed to the South Entrance of the Rinker Welcome Center, the centralized Wellness Station on the DeLand campus, to receive clearance. If they get a red screen, they will be asked to consult with Stetson Health Service by phone and not enter the space.
Student workers stationed at a Wellness Station on each campus will be trained and available to assist with the app if anyone is having trouble downloading or navigating through it. Stetson is also adding a support phone number and email feature.
All Stetson University guests are required to check in at the Wellness Station at the south entrance of the Rinker Welcome Center for a screening prior to going to their destination. Once cleared, guests will receive a badge for the day.
Hosts are expected to provide guests with details on where to access the screening, ask that guests be prepared to wear masks during their time on campus and let the guests into their space upon arrival.
Francisco Ortiz, director of Public Safety and Emergency Management Coordinator, said the Wellness Stations are set to open beginning Monday, Aug. 17, from 8 a.m. to 4:30 p.m. Monday through Friday. After hours, visitors/guests will be directed to Public Safety for screening.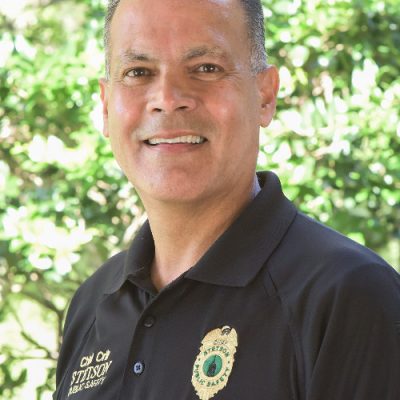 On the app, students will find Stetson's Student Re-population Video. The video also will be sent out and made available via text and email, highlighting campus partners and many of the changes that students will see on campus this fall. Everything covered in the video can also be found on the Safer Stetson website.
Students are asked to take the time to watch the video, also located at https://youtu.be/z-YBAt1flLI, to stay informed and do their part in helping to keep the campus safe. The video will take 40 minutes to watch. Always remember, your actions matter in helping prevent the spread of COVID-19.
Bluetooth-Proximity Technology Aids in Contact Tracing
The app utilizes Bluetooth-Proximity (GPS data is not used) to record close contacts with other members of the Stetson community who also are using the app. This will help in case contact tracing is needed due to a potential exposure to the virus.
This Bluetooth-Proximity allows the Bluetooth in user's mobile device to collect random keys from other users in close contact, which is defined by the Centers for Disease Control and Prevention (CDC) as being within six feet of physical distance of someone for fifteen minutes or more.
No personally identifiable information is shared by the app. All of an individual's "close contact keys" are maintained on their device for 14 days. The keys drop off after that. If a member of the Stetson community tests positive for COVID-19 and uses the app to self-report to the university, the keys on their device are sent to Stetson Health Service and exposure notifications are made to those who possibly were exposed. They are not told when, where or with whom they may have been exposed.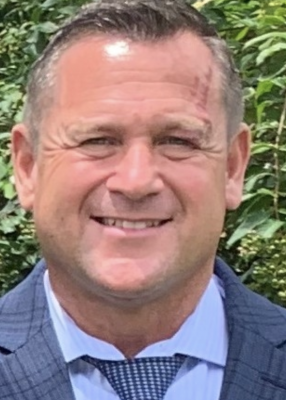 "The use of Bluetooth-Proximity for use in contact tracing is new technology. However, Everbridge has been a global leader in Critical Event Management and is currently used by the state of Florida's Division of Emergency Management," Pridemore explained. "We were looking for a vendor that could provide a solution to assist us with screening, education and tracing, and Everbridge was able to do that."
The app adds another layer of protection to Stetson's policies and protocols designed to reduce the spread of COVID-19. These include wearing face coverings, maintaining safe physical distancing of at least six feet, and providing extra cleaning and disinfecting by Stetson custodial staff.
"All of our actions make a difference in keeping our campus safe," said Kulpa with Wellness and Recreation. "Utilizing the daily Wellness Checks is a layer for us to assess our personal actions and how we can react if we find ourselves with symptoms of COVID-19. It is our responsibility as a community to be aware of our actions and reactions in keeping our community safe."