From softball to scalp care, Sherrel Sampson '07 finds her bliss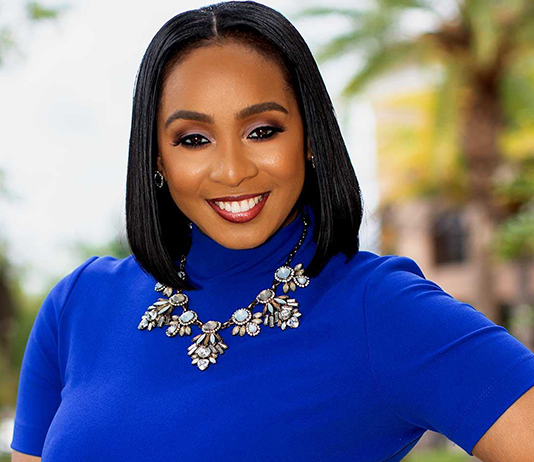 Six years ago, Stetson marketing grad Sherrel Sampson was an executive at a cosmetics company, but she couldn't find any product in the marketplace that would soothe her scalp.
Sampson had eagerly donned her batting helmet as an all-star member of Stetson's championship softball teams in 2006 and 2007. But also, she says, "I love getting my hair done and styled and just kind of beautifying myself. One day I got my hair done and my scalp was on fire. It was itching out of control. So my husband looked at me, because I was in the process of brainstorming a company, and he said, 'Why don't you create something for that?' "
Sampson partnered with chemists and organic experts and, realizing that "I am my own customer," went to work developing natural, plant-based, scalp-care products. In November 2015, she launched her company Canviiy and its signature ScalpBliss collection of botanically derived scalp treatments.
Today Canviiy products are in 200 Target stores nationwide, and the company has partnered with the Moffitt Cancer Center in Tampa and with Dufry, a global travel retailer with operations in 63 countries. Canviiy has been highlighted in Essence and Black Enterprise magazines.
In the wake of the civil unrest and Black Lives Matter protests following the police killing of George Floyd, efforts to express solidarity and address economic disparity have led to initiatives to spotlight Black-owned businesses. Numerous such endeavors have featured Canviiy, including listings in Allure and Shape, two beauty/health magazines.
Also, music superstar Beyoncé recently released a Black business directory on her website, beyonce.com, which highlighted Canviiy and included a photo of Sampson.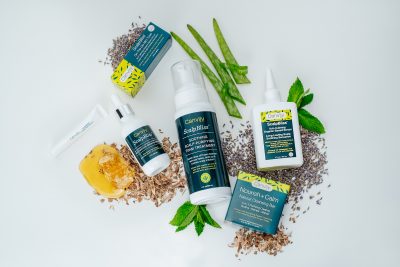 Sampson has journeyed quite a way – literally and figuratively – from her days growing up in Nassau, the Bahamas, where her mother and family still live.
After earning an associate degree from St. Petersburg College in Florida, where she was an academic All-American in softball, "I wanted to go to the best university that I could in Florida," she says. "I had heard that Stetson was the 'Harvard of the South' and that really was my deciding factor to go there."
Sampson, who continues to live in Tampa, laughs hardily when she recalls her initial phone conversation with softball coach Frank Griffin, who is entering his 25th year at the helm.
"We always sort of laugh at the conversation," Sampson recalled. "He said I was a 'hardball' because I told him I had very little resources from my family background, and if you're not interested in giving me a full ride, I don't want to waste your time. He came back and said, 'If I didn't want to give you a full scholarship, I wouldn't be calling you.' "
As Sampson pursued her marketing degree at Stetson, with a goal of becoming a brand manager at a multinational firm, she played left field for the softball team, leading the Hatters in batting average, steals and triples, including placing in the top 10 nationally in the latter category during her junior year.
"I was a slapper," she says of her hitting style. "They would underestimate me and come up a little close and then I would hit it over their heads. That was fun times."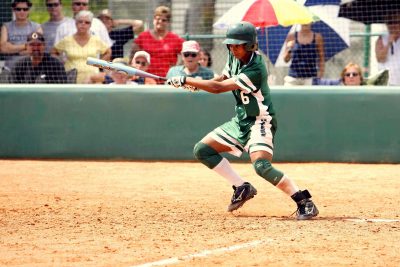 During her two years at Stetson, the softball team won the 2006 Atlantic Sun Conference regular season championship and the 2007 ASUN tournament, resulting in Stetson's first NCAA tournament appearance. Sampson twice won the Bob Gillies Award, named for the late Stetson assistant coach and given to the softball student-athlete who embodies the "Four D's:" dedication, determination, desire and discipline.
J.J. Payette, who was Sampson's teammate during the 2006 season and one of her coaches for the 2007 season, says those Four D's "are exactly why Sherrel was a successful student-athlete and is now a successful business woman. She was a wonderful teammate, always encouraging and positive. She pushed herself and others to be their best. She did it with love, honesty and humility.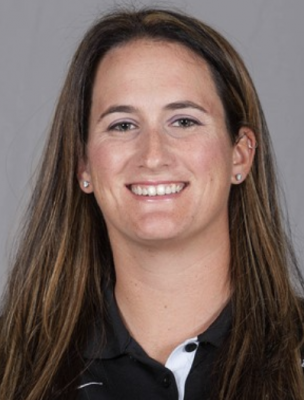 Payette left her coaching position in June 2019 to attend the Barry University Dwayne O. Andreas School of Law in Orlando, while remaining involved with the Stetson Alumni Board of Directors. "Sherrel empowers and uplifts those around her. Yes, she was an extremely talented softball player, but her aura and energy made her even better. Years after she graduated, we — the coaching staff –would sit around and say 'You know what we need right now — a Sherrel.' I am not surprised by Sherrel's success. I imagine she runs her company just like she co-captained the 2007 team, with love and championships."
Sampson's goal after graduating in 2007 was to become a brand manager at a multinational firm, such as Procter & Gamble, L'Oreal or Estée Lauder, she says. She landed a job as a marketing executive at a software company, but the owner acquired a cosmetics brand and asked her to "spearhead" the company, thus vastly expanding her duties and experience.
After a time Sampson had what she calls her "aha moment — do I go work for L'Oreal or P&G, or, since I know the blueprint now, build a company myself?"
Her burning scalp that day after getting her hair done set her on a quest, and Canviiy was born.
"Five years ago, scalp care was kind of the red-headed stepchild of the beauty industry," she says. But her research led her to believe that not just Black women but all women, whether they were getting their hair styled or suffered from eczema, psoriasis or other conditions, could benefit from a natural-based scalp conditioning product.
The Canviiy name "is based on my Stetson marketing background," Sampson says with a laugh. "I brainstormed about 100 brand names. The root name comes from 'canvas.' "
The company website, canviiy.com, defines the word as "the harmonious balance of your inner beauty and your exterior canvas."
"There have been a lot of ups and downs in terms of traction," Sampson says of founding her company. "I think any founder would agree there's always that hesitancy of, 'Are they going to like the product and ultimately buy it?' I think the biggest and toughest challenge in the entrepreneurial journey is trial – getting people to actually try the product. So, the strategy for us was if we can just get people to try it, then we are 90% there – they are going to like it and love it and ultimately buy it.
"That's why we took a grassroots approach in the beginning of going to different festivals and shows, and showing up at farmers' markets. You kind of have to take a grassroots approach unless you just have an unlimited budget," she said.
Sampson acknowledges that Canviiy has "received a great amount of support through the civil unrest that is going on right now," which has led to both increased orders and exposure in the marketplace. The canviiy.com website addresses the subject under the heading, "The Blackout: An Economic Protest to Balance the Scales of Economic Inequality."
As for the recognition by Beyoncé and her website, Sampson says: "That was a really exciting moment for us to know that Queen Bey herself was giving us her seal of approval as an emerging brand."
What are Sampson's future goals?
"I'm a pretty spiritual person," she said. "I've never been 100% motivated by the temporary things, whether it's beauty, fame, etc. I would love to leave a legacy, to go back to the Bahamas and really drive economic development and give people the chance that I was given. I'm thinking about this every day. I was lucky and blessed enough to come to the United States and build a life and a career and a business that people only dream about. So, the question is how can I give that gift back to others.
"I have tons of ideas. My overarching vision and my goal in my life is to allow Canviiy to build a platform where I can have influence, so ultimately I can change the lives of others. This is just an avenue to bless others," she said.
— Rick de Yampert