Stetson's Health Guidelines Remain in Place after Florida Reopens
Safer Campus Task Force Updates
Florida moves to Phase 3
Florida Gov. Ron DeSantis issued an executive order Sept. 25, removing all remaining restrictions on businesses because of the coronavirus pandemic and prohibiting local governments from collecting fines related to pandemic-related mandates, such as mask requirements. However, Stetson University maintains requirements including face coverings, group size and visitation restrictions.
Thanks to the efforts of our community, Stetson University determined to move the DeLand campus to Tier 2 last Friday, Sept. 25. You have shown great commitment to the health and safety guidelines needed to ensure our ability to deliver the best Stetson learning experience possible. This move allows for greater freedom and is supported by recent downward COVID-19 trends and campus data; however, out of an abundance of caution some pieces of the original plan will not be implemented until the campus meets additional milestones.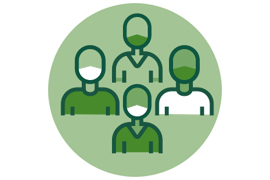 The university will continue to monitor various measures, including Volusia County's active cases, and consult with our AdventHealth partners to ensure we safeguard the health and welfare of our community. As Stetson transitions to Tier 2, we ask the community to please continue to follow all established safety guidelines, including facial coverings, physical distancing, group size limitations, reporting symptoms and hand washing. The success of our plan depends greatly on the continued responsible actions of our students, faculty and staff.
Latest COVID-19 Test Results
Asymptomatic On-Campus Testing
Sept. 14-15 – 128 student-athletes and Athletics staff, 1 positive, 0.78% rate
Sept. 15 – 93 rapid antigen tests, 0 positive, 0% rate
Sept. 16 – 176 PCR tests, 0 positive, 0% rate
Sept. 21 – 115 student-athletes and 34 Athletics staff, 2 positive, 1.34% positivity rate
Sept. 22 – 221 rapid antigen tests, 1 positive, 0.45% rate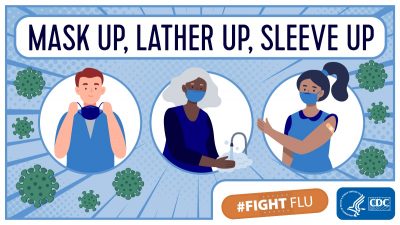 Flu Shots
Because COVID and the flu have a lot of symptoms in common, it is more important than ever to get your flu shot. According to Florida Department of Health protocol, if someone tests positive for something like the flu, they should still be tested for COVID-19. They will take a PCR test and isolate until results come back. Decreasing your chance of getting the flu helps protect you against having to isolate while awaiting COVID-19 results when you actually have the flu. Prevention of flu also boosts your immune system, which protects against getting sicker if you become infected with another virus or bacterial infection. For more information, visit the Centers for Disease Control and Prevention.
Stetson is offering 300 free flu shots to any Stetson student. A flu shot clinic for students only will be held on Friday, Oct. 9, 8 a.m.-1 p.m. in the Rinker Field House. Please sign up for an appointment here.
Stetson has worked hard to provide employees with access to flu shot options that are affordable and convenient. If you are covered under Stetson's Cigna health insurance, there are several no cost options available to you. Stetson will also be offering on-site flu shots this fall for those who are unable to set up shots through their doctors or pharmacies. We are currently negotiating with vendors on dates, times and locations. Specific details will be announced in the coming weeks.
Rapid Antigen Testing on DeLand Campus
Through our partnership with AdventHealth and CentraCare, Stetson will be offering free rapid antigen COVID-19 testing every other week on-campus. Testing will take place from 8 a.m.-4 p.m. in the Rinker Field House in the Hollis Center and is available to students and employees. This testing is not mandatory, but highly encouraged for the safety and wellbeing of the entire Stetson Community. Sign up here for your appointment!
Appointments are scheduled one testing date at a time. Testing dates are Tuesdays, Oct. 6 and Oct. 20; and Wednesdays, Nov. 4 and Nov. 18.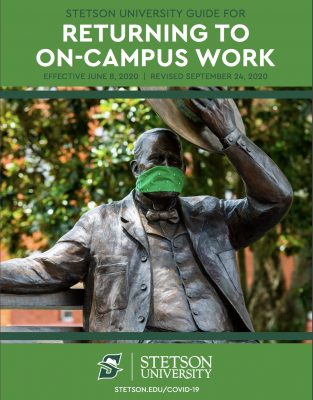 Returning to On-Campus Work
As Stetson continues the transition to having more people physically present on our campuses, the health and wellbeing of our employees and students are of paramount importance. Our phased return-to-campus plan was designed to safely reintegrate staff, faculty and student employees who have been working remotely back to the on-campus environment. Employees must be free of any symptoms potentially related to COVID-19, or have had evaluation and clearance through the return-to-campus process, to be eligible to report to on-campus work. Daily screenings remain required through the Everbridge app. As Tier updates and policy revisions are made, the return-to-work plan and guide continue to be updated. The Guide is available here.
Everbridge Contact Tracer App
The Everbridge Contact Tracer app aids Stetson Health Service with contact tracing, which is an extremely vital portion of our wellness plan. To be effective, the app must be on and running in the background (only 3%-4% battery usage per day) allowing the app to keep track of all close contact (within 6 feet for >15 minutes). On Apple devices, the Everbridge app does not need to remain on, but the separate Everbridge Contract Tracer feature must be on to track this data. All COVID-19 self-reports will be done on the Contact Tracer app so that all exposure events can be transmitted to Stetson Health Service to initiate contact tracing procedures to keep our community healthy.