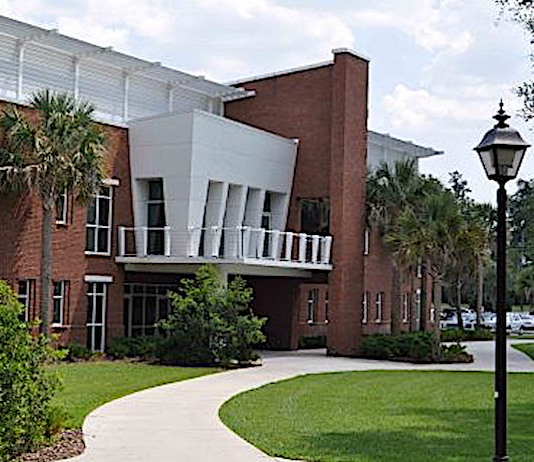 Note: The new Brown Hall for Health and Innovation will bring together departments and programs of Environmental Science and Studies, Health Science, Public Health, Sustainable Food Systems, and Counselor Education. Subsequent articles will spotlight programs and plans for Brown Hall in each of those areas. (Shown above is the existing Sage Science Center.)
The donation was the largest single gift in the history of Stetson — $18 million from Hyatt and Cici Brown, longtime trustees and financial supporters of the university. It was in April 2018, and the initial plan for the giving centered on the construction of a new health sciences building and expanding related programs on the DeLand campus.
That day, then-President Wendy B. Libby, Ph.D., noted the donation came as the Sage Science Center, originally constructed in 1967 and expanded in 2009, was operating close to capacity and could limit the university's ability to broaden its science programs and meet the growing demand for graduates in these high-paying fields.
Also, Libby cited, the donation would enable the university to pause and reflect about what could come next.
Libby's words at the time: "It enables us to take a step back and ensure we have the right planning and programing to support science and health education for the good of our students as they seek higher-paying jobs and entry into the best graduate schools in the country, as well as for our community and the growth of West Volusia."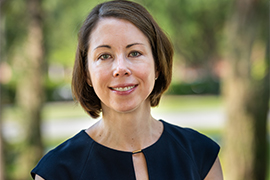 Recently, College of Arts and Sciences Dean Elizabeth Skomp, PhD, who arrived on campus in July 2019, reaffirmed that thinking. "The planning process for the Cici and Hyatt Brown Hall for Health and Innovation has spurred creative thinking about fruitful collaboration that will create opportunities for our students, enrich our community, and help us realize the full potential of the Browns' generous gift," Skomp said.
Today, that next is on the way.
While design plans are ongoing on the physical structure of the building, details are emerging about of the components that will result inside. Some of those components already are in place.
Introducing the Center for Community Health and Wellness Across the Lifespan, encompassing three distinct components: play and creativity in counseling; stress management and resiliency training; and brain fitness.
Certainly, the Center for Community Health and Wellness Across the Lifespan, dubbed CCHWAL, isn't the only initiative that has developed since the Browns' donation announcement was made. Yet, it is emblematic of the very first discussions about what the future of health/science education could look like at Stetson.
In other words, widely collaborative and interdisciplinary.
The center is being chiefly architected by four professors: Leila Roach, PhD, associate professor of Counselor Education; Matthew Schrager, PhD, associate professor of Health Sciences; Sarah Garcia, PhD, assistant professor of Psychology; and Jesse Fox, PhD, assistant professor of Counselor Education.
Broad Education Impact
Back during that promising 2018 announcement, Hyatt Brown, a former Speaker of the Florida House who joined Stetson University's Board of Trustees in 1981, spoke about Stetson continuing to be one of the leading economic engines of West Volusia — helping to attract the better-paying jobs that come with an educated workforce, particularly in fields of health and science.
Stetson Provost and Executive Vice President Noel Painter, PhD, pointed to increasingly popular areas of study on campus, including the majors of computer science, environmental sciences and studies, and physics.
In turn, the Center for Community Health and Wellness Across the Lifespan will focus on both those jobs and those careers by pooling resources throughout the College of Arts and Sciences.
"The thought was that we could all bring different strengths to the table in terms of collaboration, and set up some really innovative interdisciplinary programs," said Roach, who came to Stetson in 2005.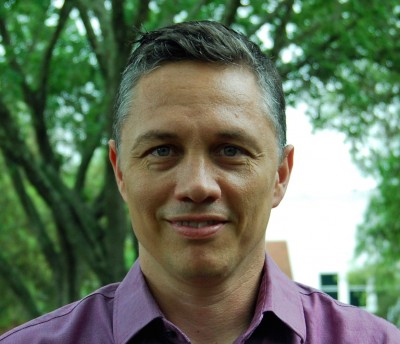 Schrager believes the synergy extends to the community outside the campus in Volusia County, which can be served by Stetson through learning and health care services.
"I think we'll be able to make it a reality, and the new [health and innovation] building is a huge boost to that idea, where we can design the space the way we want it," he said. "… I really feel like there's been a need for a center that would bring community members in to help with education, but also to let them have the opportunity to be involved in research with our students."
As such, Stetson would provide needed education to students as well as provide needed health services to nearby residents.
Notably, among the leading community needs in Volusia County are Adult & Youth Behavioral Health; Aging-related Issues; and Child & Adolescent Issues — as identified (by category) in the 2019 Volusia County Community Health Needs Assessment, sponsored by AdventHealth, Halifax Health, Volusia County and the Florida Department of Health in Volusia County. In addition, the list of needs includes reduced-fee services.
The Center for Community Health and Wellness Across the Lifespan will target those needs.
Inside the Center
Roach, a licensed marriage and family therapist, is helping to advance a collective effort of the psychology, health sciences and counselor education departments. In particular, she will develop and run the patient caregivers support program, a new component of the plans for a Brain Fitness Academy.
"Caregivers are an often-neglected population, and there's quite a bit of stress," Roach noted. "The stress is overwhelming, and it's often very isolating, to take care of a person who has dementia."
Master's-level students, on the way toward becoming licensed mental health counselors or licensed marriage and family therapists, would serve as interns, facilitating the support group. In concept, while patients of the academy are visiting the campus, their caregivers would be available for their own support in the program.
Additionally, as part of Stetson's Play and Creativity in Counseling certificate program directed by Page Thanasiu, PhD, an associate professor of Counselor Education, master's students will work with young children and adolescents, counseling them through the use of play, creativity and expressive arts.
Garcia, leader of the Brain Fitness Academy, is a geriatric neuropsychologist, specializing in dementia and degenerative processes of the brain during aging. While at the University of California – Los Angeles during an internship year, Garcia had helped to run a similar program under the supervision of Gary Small, MD, director of the UCLA Longevity Center and universally revered for his expertise.
Although dementia, for example, is not curable or reversible, its progression can be slowed, resulting in "more better days," explained Garcia, who has been at Stetson since fall 2017.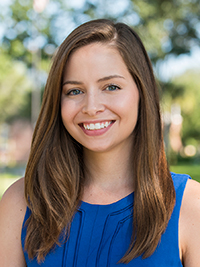 The minds of students would be strengthened, too, she added, echoing the general sentiment about the center.
"We already know that employers look at what experiences you have outside the classroom when they look at recent college graduates. … But these new programs that we're incorporating, on campus and with a variety of professors and a variety of community members, you don't get this type of experience at an undergraduate level," Garcia said. "Our students will be able to begin gaining these advanced skills and these advanced experiences as soon as they walk in the door at Stetson."
Schrager, at Stetson since 2009, has spent much of his career exploring the normal aging process and how interventions can be achieved to improve the quality of life in elderly and those suffering from dementia. He will help lead the Brain Fitness Academy.
In the classroom, Schrager teaches courses in human anatomy/physiology, the physiology of aging, exercise physiology, biomechanics and research methods — all important aspects of brain fitness. As such, helpful strategies consist of mental, physical and social activity, each of which has been shown to benefit the brain. Schrager also studies the effects of the built environment, such as neighborhood infrastructure, where people can safely walk and bike.
Fox oversees the stress management and resiliency training lab — the SMART lab, for short — using "very practical skills that are evidence based to manage stress throughout the day," he said.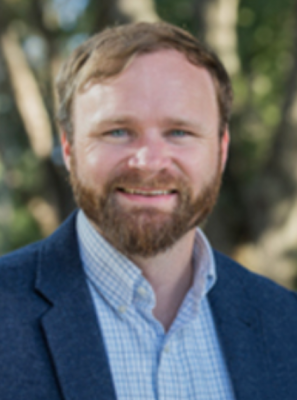 The lab collects biofeedback, picking up stress signals such as breathing and heart rate, and employing a manualized program that teaches patients how to bring breathing and heart rate into alignment. One can then practice those skills throughout the day.
"Think of stress as a primary vital sign, just like when you go to a doctor and you get a temperature reading, your heart rate and blood pressure," Fox said. "Stress relates to so many other health problems, both psychological as well as physiological."
Fox had started a counseling research lab at Stetson two years ago; the SMART lab is an outgrowth of that initiative. And already, a relationship has been built with the counseling department at The Ohio State University and its similar lab to share data and information, essentially establishing multisite consortium across universities.
"My dream is that our lab is a place that spearheads interdisciplinary research and practice — that focuses on evidence-based models, supporting them through practice as well as data analysis," added Fox, who has been at Stetson for three years.
Plans, indeed, are taking shape. Programs are starting. Centers are emerging. Aspirations are becoming reality. It's happening.
"Our hope," concluded Schrager, "is to use this center as a springboard and just go outward and involve more people on campus — students, faculty and staff — and involve the community, of course. I think this is just the beginning."