Same Tune, Different Vibe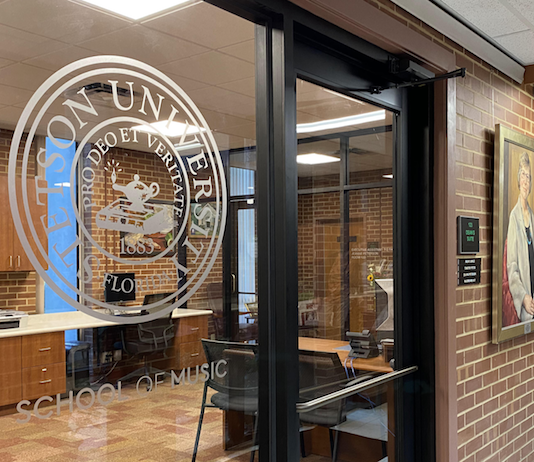 In 1970, The Beatles introduced the world to "Let it Be," and singer Edwin Starr released "War." Both songs remain resonant today.
The first computer chess tournament took place in 1970, unofficially launching a sector of cyberspace, while the first Earth Day was celebrated, helping to make environmentalism mainstream.
Meanwhile, Tina Fey and Kelly Ripa, two entertainers with particular pop-culture appeal these days, were born.
And that same year Stetson in DeLand opened a grand new building to house instruction, practice and performance for music students.
Call it lasting power 50 years later.
Quite apparently, that's the case with venerable Presser Hall, following what School of Music Dean Tim Peter, DMA, dubbed its 50th Anniversary Renovation Project.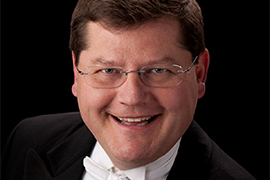 During this spring and summer, as the pandemic quieted the campus, the buzz of construction work went literally (and virtually) unnoticed. Even still today, the renovation is marked by subtlety. Yet, indeed, there are differences, as well as a new vibe — changes worthy of celebration befitting a half century of tradition, Peter said, if only it weren't for COVID-19.
"When you walk in the building now, it looks like it was built this way in 1970!" Peter asserted. "We took great care to make it look like this was its original design."
First, a little history, courtesy of a 2014 dissertation ("History of the Stetson University Concert Choir") by Gregory William Lefils Jr., now holder of a doctorate degree and a visiting assistant professor of choral music education at Stetson.
Since 1883, music has been an important part of the curriculum of Stetson. For years, the center of activity at the School of Music was housed in historic DeLand Hall, the oldest building on campus and the oldest building of higher education in Florida.
Then came Theodore Presser Hall.
Presser Hall was a three-story complex housing 37 practice rooms, five large classrooms, four rehearsal rooms, a complete music library and listening booths, 16 faculty studios, and the Dean's administrative offices. Classes began in the new building on Jan. 6, 1970.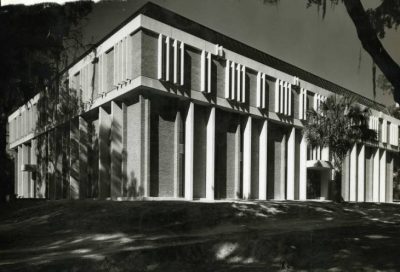 At the time, Ethel Fisher, instructor of piano, commented, "The new building surely is a dream come true. We've been needing it for 50 years. This music school has made much progress since I came here [in 1921], and I am confident that its future will be even brighter."
Those words rang true for many years.
By 2007, however, overcrowding became too much to handle, and in January 2008 construction began on a new 8,000-square-foot music building, the Mary B. McMahan Hall.
Subsequently, Presser Hall never received a significant renovation — until now and, in part, thanks to an old friend.
Coincidentally in 1883, Theodore Presser, with $250 in cash, began publishing a music magazine in Virginia. The immediate success of that magazine for piano teachers prompted him to move into larger publishing facilities in Philadelphia a year later. Ensuing success led to the establishment of Presser Foundation in 1916 and, since then, the foundation has helped to fund student scholarships and the construction of music facilities.
Stetson's Presser Hall is one such facility, with Stetson becoming one of only a few universities outside of metropolitan Philadelphia that benefits from the foundation's generosity. The Theodore Presser Co. is among the largest music publishing and distribution enterprises worldwide.
As reported in Stetson University Magazine's Spring/Summer 1970 issue, the dedication of the $1 million building was made during Homecoming weekend on Feb. 28, 1970, with "Presser Foundation and University dignitaries as dedicatory speakers."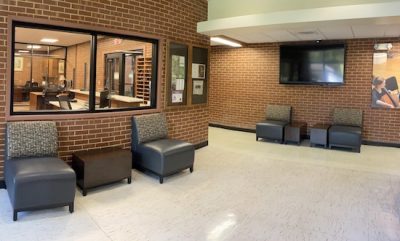 That relationship still is strong. For the 50th Anniversary Renovation Project, the Presser Foundation assisted again, contributing $75,000 to the much-needed overhaul, which already had been budgeted (approximately $500,000) long before the pandemic.
The work was completed in early August.
Walking the halls of renovated Presser Hall in October, Peter often recited the renovation theme: safety and accessibility.
"It's nothing real fancy," he said. "The entire project was anchored in that philosophy: safety and accessibility. And then an outgrowth of that [thinking] was 'openness' and 'welcoming.'"
To start, all six of the building's bathrooms were completely renovated and relocated. "If anyone has ever done a plumbing and a bathroom project, it was a huge undertaking. It's never a glamorous project to do bathrooms, but both safety and accessibility were essential to the bathrooms," Peter commented, citing the need for ADA compliance (Americans with Disabilities Act of 1990).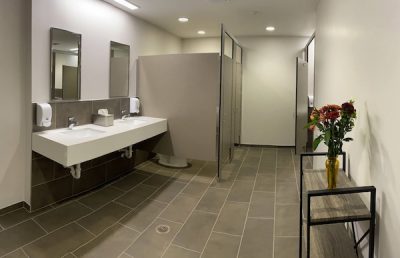 Among the notable challenges was figuring out the bathrooms on the third floor, which didn't line up with those on the first and second floors. At issue was stairwell placement. "The effort to make these bathrooms work with the whole plumbing system was just incredible, with what they had to do," he continued.
"It was a complete 'gut job.'"
Further, since the building was "under this major mess," the decision was made to "retool a couple of other things related to the openness and welcoming spirit."
The result is a new look for the front office and music admissions area, highlighted by glass walls and airy work spaces that feature new cabinetry, carpet, walls and door frames (since doors had to be moved). Also, two new faculty offices were built in, along with an ample student lounge and technology/lab areas, and greater storage space. Additionally, as an example of enhancing accessibility, a classroom space was reconfigured — eliminating the need for students to go through one classroom to get to another.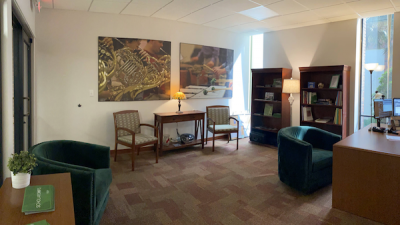 All the while, the "architectural integrity of 1970" was celebrated, Peter said. That meant Presser Hall's angular, boxy exterior remained unchanged.
"That's what was being designed at that time," Peter explained about the structure. "But we really wanted to celebrate any renovations that would maintain that architectural integrity. … We weren't going to modernize it. Fortunately, that clean-line look — kind of a Bauhaus look — is back. (Generally, Bauhaus design combines aesthetics with everyday functionality.)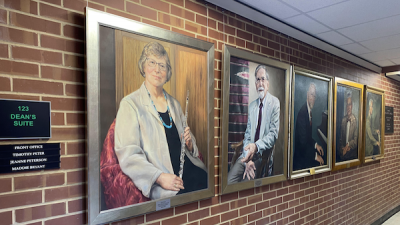 "If we moved a wall, we put the wall back with the same materials. If we re-addressed the shape of a space, we kept the clean lines."
Peter emphasized the expert use of recycled bricks, carefully harvested and cleaned, with the craftsmanship especially evident where doors and walls were removed and relocated using the original bricks. His words: "Can you believe how they tied it together? I was blown away."
Finally, there were two other updates recently supported by the Presser Foundation, including the 2016 remake of Tinsley Hall, an ultra-busy, first-floor rehearsal and performance room. That effort encompassed greatly enhanced acoustics plus new oak flooring, theatrical lighting and technology. In 2018, there was acoustical safety work done in the third-floor student practice rooms. Peter includes those recent projects as part of the anniversary renovation.
In the end, Peter, a choral conductor of national note, raised his arms as if in mid-performance and concluded: "It's a wonderful new space."