Stetson University in the News, Oct. 3-9, 2020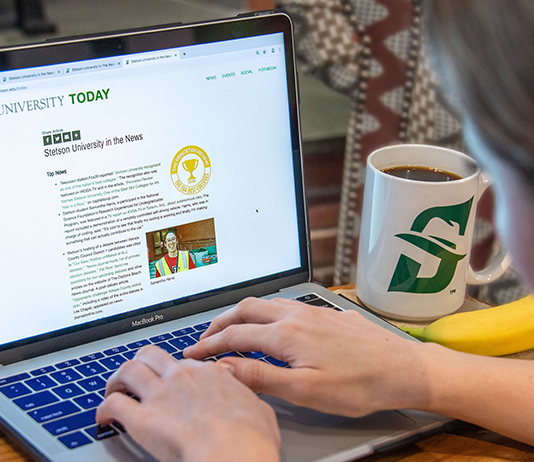 Top Stories:
• Associate Professor and Chair of Economics Alan Green, PhD, was quoted in the West Volusia Beacon article, "What can we afford to pay? Voters face minimum-wage question," on Oct. 7. "If it passes, the amendment will impact the labor market and prices for some goods and services," Green said. "It will help workers at minimum-wage jobs, but may make it a little harder to find those jobs. Prices may increase some for some products, but widespread inflation is not likely from this increase."
• President Christopher Roellke, PhD, was mentioned on WESH-TV Channel 2 on Sept. 28 in the news segment, "Virtual meetings concerning racial injustice on campus."
• Stetson University was mentioned in the Hometown News on Oct. 8 in an article about cases of COVID-19 in Volusia County. Stetson has had five cases, the article said.
• Stetson was mentioned in The Daytona Beach News-Journal on Sept. 30 in the article, "New details in state COVID report: See how many cases are in your school."
• Assistant Professor of Psychology Laura Crysel, PhD, was quoted in the Oct. 5 GQ article, "Why Trump's COVID Diagnosis Was Peak Schadenfreude." The article discusses the public reaction to President Trump's COVID diagnosis. "If we perceive someone as being responsible for their own downfall," Crysel says, "we tend to experience higher schadenfreude."
• Stetson student Carlye Mahler was interviewed by NPR Marketplace on Oct. 1 for the report, "Disney+ now lets you watch with others on different devices." The segment also was aired on WHYY-FM, WYPR-FM and many other outlets.
• Stetson student Bryson Pritchard was mentioned as a finalist in the 2020 Collegiate Inventors Competition in the Fat Pitch Financials article, "2020 Collegiate Inventors Competition Finalists Show Future of American Innovation," on Sept. 29. The article also appeared on Markets Insider, Pittsburgh Post-Gazette, Buffalo News and dozens of other outlets.
• Psychology Professor Christopher Ferguson, PhD, was quoted Oct. 7 by Verywellhealth.com in the article, "Can you offset the effects of screen time?"
• Nathan Wolek, PhD, professor of Digital Arts and Music Technology, was quoted Oct. 2 in the Daytona Beach News-Journal article, "Learning to listen: Blind, low sighted students benefit from Atlantic Center program."
• Professor of Computer Science Hala ElAarag, PhD, was quoted in a Zippia article titled, "Professors weigh in on current job market trends," on Oct. 9. 
• Valrie Chambers, PhD, Associate Professor of Accounting, was listed as the editor of several articles in The Tax Adviser, including "Timely filing from foreign countries," "Resolving IRS hardships with the Taxpayer Advocate Service,: and "A possible second financial crisis for business owners."
• Law Professor Ciara Torres-Spelliscy was featured in the latest episode of Netflix's Explained, called "Whose Vote Counts?" 
• Law Professor Peter F. Lake was quoted in an Oct. 5 article in The Legal Intelligencer and Daily Business Review called, "Trend Shows Judges Refusing to Dismiss Cases Against Universities Demanding COVID-19 Refunds." 
• Professor Alan Green was also quoted in a WalletHub article titled, "Which Party Is Better for the Economy? – WalletHub Study," on Oct. 7. 
Other News:
• Law Professor Luz Nagle was quoted in an Oct. 9 article in the Tampa Bay Times called, "Turkish CentCom officer will go to Turkey to answer for wife's false imprisonment." 
• Law Professor Louis J. Virelli III was quoted in an Oct. 6 article in the Tampa Bay Times called, "What the potential death of the Affordable Care Act means for Florida." 
• Stetson Law's work, led by Law Professor Royal Gardner and Erin Okuno, on an amicus brief before the U.S. Supreme Court was featured as part of the Oct. 8 episode of NOVA Now podcast called, "Science in the courtroom." 
• Law Professor Ciara Torres-Spelliscy collaborated with the Miami Herald for a report called, "Election Ad Decoder." 
• Law Professor Ciara Torres-Spelliscy was quoted in an Oct. 8 segment on MarketPlace called, "How did the Biden campaign create fly swatter merch so quickly?"  
• Law Professor Robyn Powell was mentioned on the HealthLaw Prof Blog on Oct. 8 for her forthcoming article in the Washington Law Review called, "Applying the Health Justice Framework to Address Health and Health Care Inequities Experienced by People with Disabilities During and After COVID-19." 
• Law Professor Rebecca C. Morgan wrote the following blogs for the Elder Law Prof Blog: Oct. 2, "National Guardianship Ass'n Releases Guardian FAQ on COVID:" Oct. 5, "New GAO Report: Retirement Security for Women;" Oct. 6, "The Aging of the US;" and Oct. 7, "How Does Your State Rank in Providing Long Term Care Services?"
Alumni News:
• Alumnus and former Hatter star Donald Parham was mentioned by XFL Board in the article, "Donald Parham becomes the first XFL 2020 play to score in the NFL," on Oct. 4.
• Alumnus Basyle "Boz" Tchividjian was featured in the West Volusia Beacon article "DeLand lawyer aims at sex abuse in churches" on Oct. 7.
• Alumna Ida Duncan Wright was featured in the ClickOrlando article, "Here's who is running for school board seats in Central Florida." Wright is the incumbent chairman of the Volusia School Board.
• Law alumna Gitanjali Clark joined HCI Group, Inc., an InsurTech company, on Oct. 7, as reported in the Business Insider article, "HCI Group Welcomes Gitanjali Clark and Bob Lopes to its Board Observer Program."
• Alumnus Jim Pappalardo was featured in a Hometown News Volusia article titled, "Election 2020: Municipal candidates from throughout Volusia County." Pappalardo is running for the Council Seat 2.
• Law alumna Kimberly N. Rubino joined Farr Law Firm as an associate attorney in the Punta Gorda office, according to an Oct. 5 announcement.
• Law alumnus and Tampa Partner Mark Connolly at Shumaker, Loop & Kendrick, LLP, presented at the Florida Coalition for Children 2020 Virtual Conference on October 1, 2020, on "Best Practices for Child Welfare Risk Management."