Updates on Contact Tracing, Visitor Screening and COVID-19 Testing
Safer Campus Task Force Updates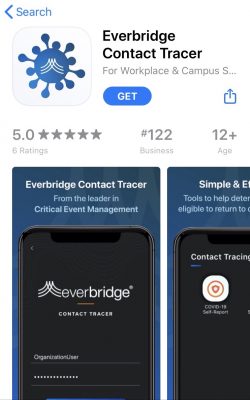 Everbridge App FAQs
Stetson University is using applications from Everbridge to provide an additional layer of protection to its COVID-19 response plan. Everbridge provides the opportunity to send us a daily "Wellness Check" before you come to or move throughout campus. The app also aids with our contact tracing by using Bluetooth to communicate with other app users in close proximity. If the app senses users are within six feet of one another for 15 minutes or more, it shares a random key between the devices. These keys disappear in 14 days and no personal identifiable information or GPS data is shared. If an app user self-reports they have tested positive for COVID-19, these keys are shared with tracing staff to notify those in close contact who may have been exposed and what precautions to take. We highly encourage all students, faculty and staff to download the app(s) as they are an extremely vital portion of our Safer Stetson plan.
Android users can download the Everbridge app to receive the daily "Wellness Check" to assist with contact tracing. Because of Apple's requirements, iPhone users must download both the Everbridge app and the Everbridge Contact Tracer app. Download the app today at Google Play or at the Apple Store.
Downloading the App
Step 1: Android and iPhone users: After you download the Everbridge app, search for Stetson and you will find "Stetson University." After you select "Stetson University," you will be able to login with your Stetson email credentials. Everbridge will provide you with an opportunity to send us a daily "Wellness Check" before you come to or move about campus. Android users must keep the Everbridge app open in the background.
Step 2: iPhone users only: After you have downloaded and opened the Everbridge app, download its companion Everbridge Contact Tracer app. Apple required this to be two separate apps, so iPhone users must follow this step to turn on the contact tracing function through Everbridge. After you download the Everbridge Contact Tracer app, select "Single Sign-On." You will be prompted to enter the single sign-on key phrase, which is "Stetson2020." You will then be prompted to enter your Stetson email username and password. Select "OK" to enable Bluetooth. Apple users must keep the Contact Tracer app open in the background. To do this, open the app and swipe up to remove it from the screen. The app is now running in the background. Download the Everbridge Contact Tracer app today at the Apple Store.
For the latest information about the app and contract tracing, see the Everbridge App FAQ page here.
Campus Visitor Screening
As part of Stetson's Tier 2 protocol, campus visits are restricted to necessary visitors only. Campus hosts are responsible for communicating the current visitor policy to their guests prior to the guest's arrival on campus. This includes informing visitors that they will not be permitted on campus if they are experiencing COVID-19 like symptoms or have a known COVID-19 exposure. "Visitors" refers to all guests of the university, other than postal carriers and delivery drivers, and external vendors who are permanently assigned to work at a Stetson campus.

All visitors must check in at a centralized Wellness Center and show a valid photo ID. A COVID-19 screening, including a brief questionnaire and a non-invasive temperature check is required for all visitors. Visitors will receive color-coded day badges or wristbands and are required to display them on their person. Visitors to campus buildings are required to practice physical distancing including:
Staying at least 6 feet (about two arms' length) from other people whenever possible.
Not gathering in groups larger than 10 at the College of Law and 30 at the DeLand Campus.
Wearing masks or face coverings on all Stetson University campuses, including in all indoor and outdoor spaces.
The university cabinet remains responsible for defining what is a necessary visitor for their areas. Questions on what is necessary in each division, school and college should be directed to the supervising university cabinet member. Details are available here.
Latest COVID-19 Test Results
Asymptomatic On-Campus Testing
Sept. 21 – 115 student-athletes and 34 Athletics staff, 2 positive, 1.34% positivity rate
Sept. 22 – 221 rapid antigen tests, 1 positive, 0.45% rate
Sept. 28 – 236 student-athletes and Athletics staff, 2 positive students and 4 positive employees, 2.54% positivity rate
Sept. 30 – 180 PCR tests, O positives, 0% rate
Flu Shots
According to Florida Department of Health, COVID-19 and the flu have a lot of symptoms in common, so it is more important than ever to get your flu shot.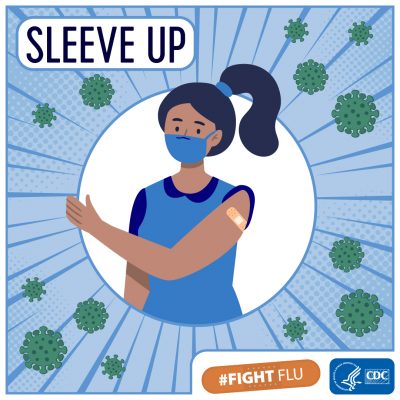 Students: Another free flu shot clinic will be offered in early November. Please look out for sign-ups and details for that event soon. If you are an established patient at Stetson Health Service (have been seen by a provider before) you can set up an appointment today for your flu shot! The cost is fully covered by most insurances. Local Publix and CVS also are providing flu shots that are free with most insurances.  
Employees: Stetson has worked hard to provide employees with access to flu shot options that are affordable and convenient. If you are covered under Stetson's Cigna health insurance, there are several no cost options available to you. Stetson will be offering on-site flu shots this fall for those who are unable to set up shots through their doctors or pharmacies. We are currently negotiating with vendors on dates, times and locations. Specific details will be announced in the coming weeks.
Rapid Antigen Testing on DeLand Campus
Through our partnership with AdventHealth and CentraCare, Stetson will be offering free rapid antigen COVID-19 testing on Wednesday, Oct. 20. Testing will take place from 8 a.m.-4 p.m. in the Rinker Field House in the Hollis Center and is available to students and employees. This testing is not mandatory, but highly encouraged for the safety and wellbeing of the entire Stetson Community.  Sign up here for your appointment!
Appointments are scheduled for one testing date at a time. Future testing dates include Wednesday, Nov. 4, and Wednesday, Nov. 18.