Honoring the Past, Serving the Present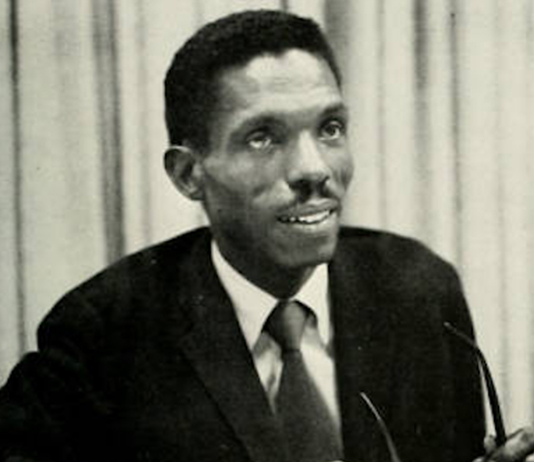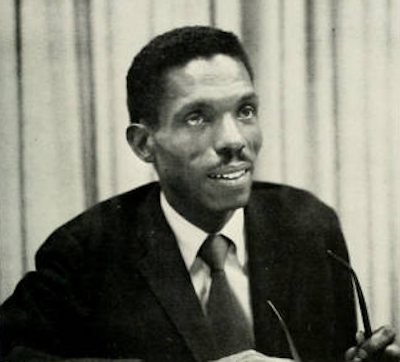 George R. Williams Sr. is a name that isn't likely to resonate among alumni, even those from several decades ago. Yet, as the saying goes, the more things change, the more they stay the same.
Williams shines as a beacon of goodness, especially these days.
Just read these descriptions of him by Steve Christensen '91, whose first job as a student worker was under Williams' guardian eyes in the university's career and development office.
"He was a treasure. He was brilliant," described Christensen, who was a bit older than most classmates when he arrived at Stetson in 1989. "He was just historically loving. And groundbreaking.
"Every student was a valuable resource to him. And he treated them all very, very well. … He would sit there as long as you wanted to talk.
"He always found a way to include people and to solve problems in dramatic ways.
"You never had any inclination that he would be anything other than respectful, helpful in trying to correct the circumstance without anger or destruction or negative feelings."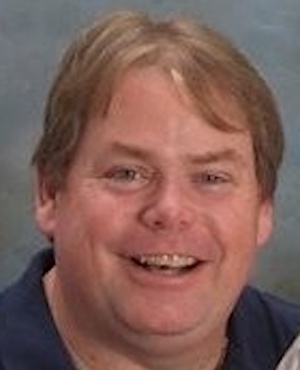 Years later, Christensen would help Stetson initiate a scholarship in the honor of his friend and mentor that continues today, just as America continues to wrestle with the issues of racial and social injustice also witnessed those many years ago. The scholarship is intended to be awarded based on financial need and academic excellence to high school students of color.
At the time of the scholarship fund announcement, taken from the pages of the Stetson Cupola's summer 1990 issue, then-President Douglas Lee, PhD, commented about Williams: "He has allowed no obstacle to prevent him from achieving his potential as an educator or as a person, and by his example, he has been an inspiration to countless young men and women of all races and creeds."
Now, the fund is called the George R. Williams Sr. Endowed Scholarship Fund.
Williams, with a bachelor's degree in chemistry from Tuskegee Institute in 1949, was the first African American to receive a master's from Stetson (in guidance and counseling), earning the degree in 1964. In 1971, after 17 years with the Volusia County School Board, he joined Stetson as director of career planning and placement, becoming the first African American staff member. His wife, LaBerta Williams, worked in the admissions office. In 1991, Williams retired from Stetson, and two years later he died at age 68.
That's only part of his story.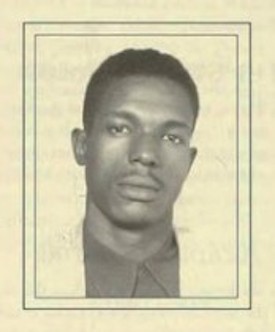 A lifelong DeLand resident, Williams suffered from polio, which greatly limited his mobility. He used leg braces to get around the Stetson campus. Yet, his presence was cordial, his approach was highly professional and his impact was profound.
Earlier, despite challenges, he graduated as salutatorian from then-segregated DeLand High School, dreaming of becoming a chemist. Instead, he became a fixture in higher education, first as a counselor in the newly integrated DeLand High and on to Stetson before also serving as the first African American on the Daytona Beach Community College Board of Trustees, among other places.
Williams almost always was dressed impeccably, recalled Christensen, who retold the story about a rare exception. On a three-day weekend, Williams and a friend went crabbing. That time, Williams wore some grubby clothes with suspenders. His friend sat him down on a bench in front of a store while he ran in to get chicken necks for bait. Then along came a red-faced, barrel-chested old white man who walked up to George and said, "Good morning."
The man took out $3 and stuffed it into Williams' shirt pocket. Williams simply nodded his head and thanked him kindly. He didn't snarl at him and say he was an administrator at Stetson with an advanced degree. He simply acknowledged an act of kindness.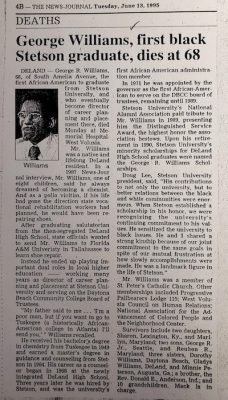 In essence, Williams was a shining light during a dark, turbulent time of national and local racial tension — in settings that aren't too distant from what are being seen today.
Christensen also remembered Williams' funeral. It was at a DeLand church filled with community leaders, law enforcement personnel and a host of other local officials. When there was a "call to testify," dozens of people rose to their feet and described how Williams helped them when they lost a job or got evicted, didn't have enough to feed their kids, or would have dropped out if not for his encouragement.
"You don't realize the impact that people have until you see their funeral. It was staggering," Christensen said.
"George was giving and a leader who truly cared and whose connections were widespread."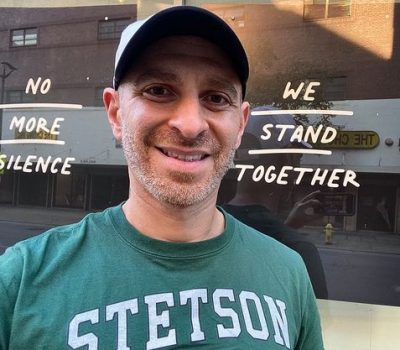 Luis Maldonado '01, a member of Stetson's Board of Trustees, never met Williams. Nonetheless, such stories inspired him to honor Williams with a recent Facebook request. Maldonado commemorated his own birthday with a pledge to support the George R. Williams Sr. Endowed Scholarship Fund. Also, Maldonado urged his friends to make a pledge.
The fund's lack of donations "struck a chord with me," Maldonado said. "If we as a community care about this issue [racial injustice], what are we doing?"
"The visibility is needed. I had no idea who Mr. Williams was and that this fund has tried to be endowed for as long as it has. But it's now time. If not now, when?"'
Editor's note: For more information or to donate: George R. Williams Sr. Endowed Scholarship Fund. Special thanks to Stetson University Archives.