College of Law Recognizes Nearly 300 during December 2020 Commencement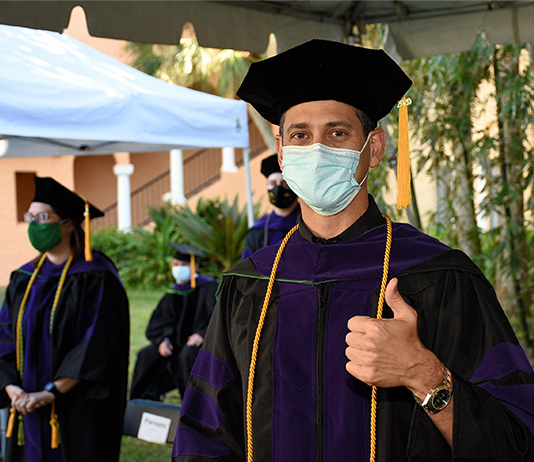 On Saturday, Dec. 5, 2020, Stetson University College of Law celebrated three separate commencement ceremonies recognizing graduates from three classes: December 2019 Class, May/August 2020 Class, and the December 2020 Class.
Commencement may have looked different this year, but the staff at the College of Law worked hard to ensure students had as close to a traditional ceremony as possible. The events were held outdoors with limited attendance to follow CDC guidelines on physical distancing. Other safety protocols included a face mask requirement for all attendees and wellness screenings prior to entering campus.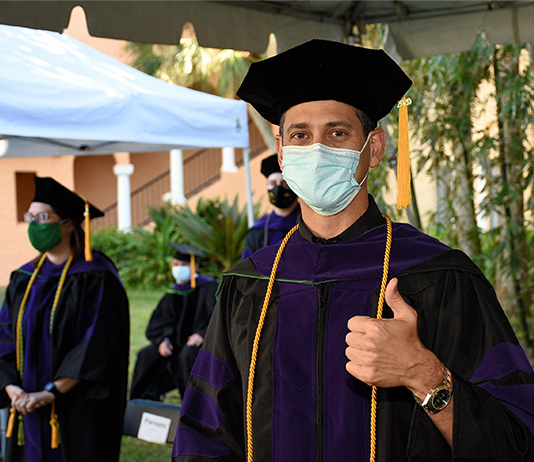 In some ways, the changes were par for the course for the Class of 2020. Rachel Wise, outgoing Student Bar Association president, said their class – having begun law school during Hurricane Irma and finished during worldwide shutdowns from COVID-19 – had "become experts in adapting to change."
"After perhaps one of the most memorable years in history, and three years learning how to truly master change, we emerged together today as graduates ready to enter the legal profession and make positive change," Wise said in a pre-recorded speech.
Stetson University College of Law Dean Michèle Alexandre said the graduates showed resilience and grit as they dug deep to overcome every hurdle placed in their path this year.
"I am so proud of who you are as humans, scholars, and legal minds," she said. "In answering the call to become an attorney, you are beginning your purpose in life. You now have the tools to be change agents and justice warriors who can transform the world."
Lori Baggett, JD '02, the managing shareholder of the Tampa office of Carlton Fields, delivered the commencement address during the 11:30 a.m. ceremony. She was also recognized with an Honorary Doctor of Laws degree for her award-winning legal work, leadership in the community, and ongoing dedication to the College of Law.
"I'm sure a lot of us feel like we've been bludgeoned by chance," Baggett said, but noted when graduates are faced with adversity, they should look for things they can control.
"You have agency over your life."
Baggett explained that deliberate intent plus substantive action can lead to success, but success would look different for each of them – they should define it themselves, create their own happiness, and make their mark on this world. Then, they have an obligation to share that success with others by giving back to their communities.
The students already have a foundation in volunteerism, as Stetson Law has a pro bono requirement for graduation. The December 2019 and May 2020 graduates volunteered more than 34,000 hours of community service.
Stetson University President Christopher F. Roellke, PhD, called on them to continue to incorporate agency, empathy and, most importantly, kindness, as they embark on their professional lives.
"Please add kindness to your practice," he said.
-Ashley McKnight-Taylor