DeLand Campus Moves to Tier 2 and COVID-19 Testing Updates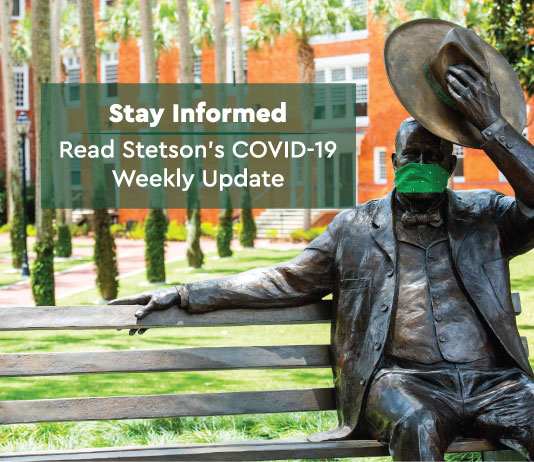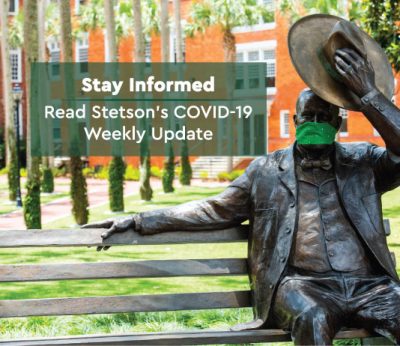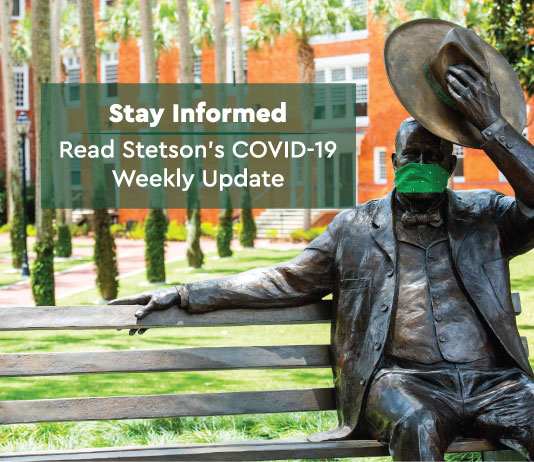 Safer Campus Task Force Updates 
DeLand Campus Moves to Tier 2 
Our thanks to the DeLand Stetson community. You have shown great commitment to the health and safety guidelines needed to ensure our ability to deliver the best Stetson learning experience possible. Our community COVID-19 infection rates are significantly lower than local and state rates. We ask for your continued vigilance to keep yourself and our community safe. 
In our ongoing consideration of community physical and emotional health, Stetson University has determined the DeLand campus will move to Tier 2 on Thursday, Jan. 28. This move allows for greater freedom and is supported by recent low positivity rates in the Stetson community since the return from winter break. The positivity rate as reported in Volusia County (9.93% last week) and the state (9.35% last week) are much more concerning than our on-campus numbers. This data should serve as a reminder to be vigilant about your safety precautions, and we ask you to consider avoiding bars, restaurants, or gatherings with large and/or unmasked crowds that could pose a danger to you and the Stetson community. The university will continue to monitor various measures, including Volusia County's active cases, and consult with our AdventHealth partners to ensure we safeguard the health and welfare of our community.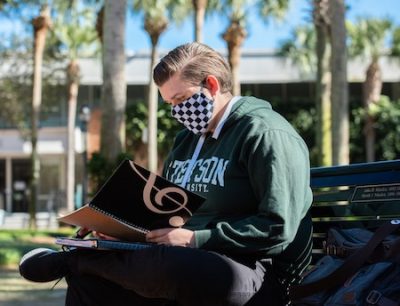 Please keep in mind that additional movement up and down in the Tiers is always possible based on trends and results. For more information, refer to Stetson's five-phased, tiered-approach document. Please also keep in mind that the College of Law will announce any changes for the Gulfport campus separately. COVID-19 cases on the Gulfport campus also have been very low. Pinellas County positivity rates last week were at 7.7%. 
DeLand Tier 2 changes: 
Residential living 
Only one Stetson guest will be permitted in a room at any time. All present must wear appropriate face coverings. Non-Stetson and overnight guests in residence halls and apartments are strictly prohibited. 
Opening community kitchens for one occupant at a time. 
Opening lounges and community spaces for limited occupancy. All present must wear appropriate face coverings and practice physical distancing. 
Break rooms and tabling 
Department and building break rooms and common office spaces will open with occupation limits to ensure physical distancing. These areas are only open to members of the department or building. This change does NOT apply to residence halls. 
Tabling is now permitted with revised restrictions. Distribution of limited items is permitted with gloves. 
In-person meetings 
In-person meetings under 15 minutes with face coverings and at least 6 feet of physical distancing are allowed. Larger and longer duration meetings should continue to meet virtually even when participants are co-located in order to avoid person-to-person interactions. 
In-person group size increases to a maximum of 30 individuals for registered and approved non-academic meetings or gatherings. Non-registered and non-supervised student gatherings remain limited to 10 or fewer individuals. 
Audiences of 30 or less are now permitted for School of Music and College of Arts & Sciences events and performances. Audiences may comprise 10 pre-approved, pre-screened family members and 20 screened campus community members. No receptions are permitted. 
Snacks are allowed at gatherings with specific limitations, including attendees will remain in seats and 6 feet apart from one another and individually pre-packaged items and bottled drinks must be used. 
We ask departments, offices and individuals to review Tier 2 requirements to ensure they are aware of all necessary adjustments. If a department or work group is able to meet the operational needs of Tier 2 while still alternating on- and off-campus work, the department head may approve continuing some remote work arrangements. However, if on-campus work is required, work groups will need to enact other ways to keep physically distanced.  
As Stetson transitions to Tier 2, we ask the community to please continue to follow all associated safety guidelines, including facial coverings, physical distancing, group-size limitations, reporting symptoms and hand washing. The success of our plan depends greatly on the continued responsible actions of our students, faculty and staff.  
Tiers vs. Phases: Athletics Students and Staff 
Due to NCAA requirements, Stetson Athletics adheres to its own phase system for athletic activity and outlined in their Plan for Resocialization of Sports. Most of Athletics is in Phase 2 of its plan and Men's and Women's Basketball teams are in Phase 3 for conference play, which requires rigorous screening and testing of all student athletes based on the increased contact risks and overall health of each team. Students athletes must have a minimum of two negative tests before participating in sports practices or competitions. Additionally, each member of the team, including coaches, participate in weekly PCR testing. Although Athletics-specific phase designations allow for larger group meetings and practices, student athletes and staff are bound by the same university tier requirements outside of Athletics program activities. More details can be found at gohatters.com. 
New International Travel Restrictions 
New travel restrictions from the White House and Centers for Disease Control and Prevention to mitigate the spread of COVID-19 may affect Stetson students returning from international travel. Beginning on Jan. 26, a CDC-issued order requires all air passengers arriving to the United States from a foreign country to get tested no more than 3 days before their flight departs and to present the negative result or documentation of having recovered from COVID-19 to the airline before boarding the flight. The new guidance states we are required to comply with CDC recommendations that travelers get tested 3-5 days after travel and stay home or otherwise self-quarantine for at least 7 days after travel even if the traveler has a negative test result. If the test result is positive, Stetson policy requires test results and any potential symptoms must be reported at www2.stetson.edu/reportit. Community members with a positive test result will need to isolate for 10 days from the positive test date or the onset of symptoms. They must be 24 hours fever and major respiratory symptom free to end isolation. If the traveler opts not to test 3-5 days after travel, they should quarantine for 10 days after travel. For the latest travel guidance, consult the CDC website. Visit the White House website to read the entire Executive Order.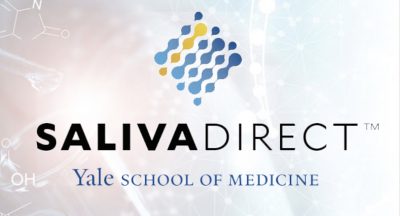 COVID-19 Testing 
Asymptomatic Testing: The Safer Campus Task Force is happy to announce regularly scheduled SalivaDirectTM PCR-based COVID-19 testing on campus. Testing will be offered on campus throughout the spring semester. SalivaDirect PCR-based testing will be free for students, faculty and staff with a Stetson ID and no insurance is required. 
The SalivaDirect PCR-based testing differs in several ways, including: 
Community members cannot eat or drink for 30 minutes prior to their appointment, with the exception of water. Using toothpaste or mouthwash as directed does not affect the outcome of this test. 
The test will require a 1 ml saliva specimen instead of a nose swab. 
Test results will not be available the same day. The medical lab will post the results in a Stetson online portal and emails individual participants within 24 to 48 hours of when the test was taken. 
Below are upcoming testing dates for Spring 2021. Testing will be provided every Wednesday, 8:30 a.m.-3:30 p.m., through May 5 in the Rinker Field House, Hollis Center. Registration closes at 5 p.m. on the Tuesday prior to the testing date. Walk-ins will not be permitted. 
Wednesday, Feb. 3: Click here to register. (Deadline to register is Tuesday, Feb. 2, at 5 p.m.)
Wednesday, Feb. 10 
Symptomatic Testing: Stetson Health Service offers rapid antigen COVID-19 nasal swab testing for symptomatic students and employees. Appointments must be scheduled and there will be a $35 visit charge for this testing. If the rapid antigen test is positive, the individual will receive a PCR test charged through insurance or referred to an off-campus option for those without insurance. 
I forgot my appointment time. How can I verify when I signed up? 
You will receive an email upon registering for an appointment date and time in addition to a reminder email the day before your testing date. 
Should I get tested? 
Yes! All students, faculty and staff should strive to be tested on a regular basis even if you do not have COVID-19 symptoms. Testing is one component of our campus mitigation strategy that will help limit the spread of COVID-19 within our community. 
How will I receive my results and how long will it take? 
PCR test results will be emailed directly to the email address provided during the sign-up process in 24-48 hours from the date of testing. 
What if I can't make the on-campus testing but want to be tested? 
During the spring semester, Stetson students can get a free rapid antigen test at any CentraCare location. You MUST provide both of these required forms in order to get tested. You can make an appointment online here (select the option for COVID-19 Testing). If you receive a positive result, you must contact Stetson Health Service at 386-822-8150 immediately and begin your isolation period. 
For more information, visit the COVID-19 Testing page or see Frequently Asked Questions on the DeLand Campus FAQ page. Please address questions and concerns to the Screening and Testing Subgroup at [email protected].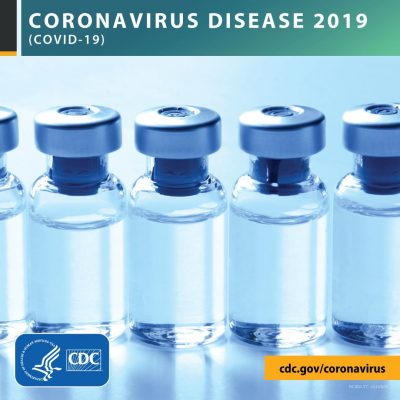 COVID-19 Vaccination 
Volusia County, in partnership with the Florida Department of Health (DOH), is holding COVID-19 vaccination events for Florida residents age 65 and older at the Volusia County Fairgrounds in DeLand. This week's vaccination appointments are full. For updates on future vaccination events, visit the Volusia County website, follow Volusia County Emergency Management on Facebook and Twitter, download the Emergency Management phone app and text "VolusiaReady" to 99411 to sign up for CodeRED. 
Stetson University is currently working on acquisition, planning and implementation of COVID-19 vaccination for our community. In the meantime, we strongly recommend that individuals who qualify to get vaccinated do so at their earliest opportunity. Additional information regarding COVID-19 vaccines can be found at the CDC website. 
COVID-19 Policy Violations 
The Report a COVID-19 Policy Violation form is available for anyone in the community wanting to report a concern for a fellow community member (faculty, staff, students) not following current Stetson University COVID-19 guidelines. The form is available to access on the Stetson Report It website. Concerns reported regarding faculty and staff will be directed to human resources on the individual's respective campus, and concerns for students will be sent to Office of Community Standards (DeLand) and Assistant Dean for Student Affairs (Gulfport). 
Please note: There is a community expectation to report any symptoms of illness to Stetson at www2.stetson.edu/reportit. For more information regarding Stetson's coronavirus policies and mitigation protocols, visit the COVID-19 Policies webpage.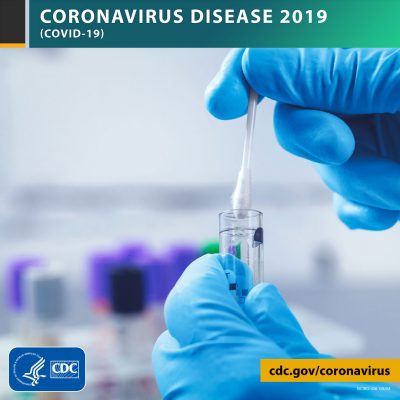 Latest COVID-19 Test Results 
Asymptomatic On-Campus Testing 
Jan. 22 – 37 rapid antigen tests of student-athletes and Athletics staff, 0 positive, 0% rate 
Jan. 21 – 36 PCR tests of student-athletes and Athletics staff, 1 positive, 2.8% rate 
Jan. 21 – 379 PCR tests, 1 positive, 0.26% positivity rate 
Jan. 20 – 21 PCR tests of student-athletes and Athletics staff, 0 positive, 0% rate 
Jan. 19 – 25 PCR tests of student-athletes and Athletics staff, 2 positive, 8.0% rate 
Jan. 18 – 21 PCR tests of student-athletes and Athletics staff, 0 positive, 0% rate 
A full list of Stetson University's test result statistics is available on our COVID-19 Tracking page.