Amid pandemic, Stetson approves lowest tuition increase in 33 years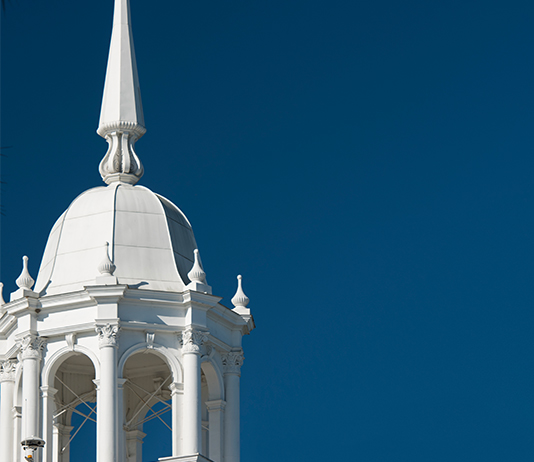 All of us individually, as well as Stetson University, have experienced a global event unlike any other in our lifetimes. University faculty, staff and students have gone above and beyond to manage their response to this pandemic, emphasizing safety, kindness, empathy and agency. Given our ability to operate safely with many safety guardrails, our faculty and staff take pride in enabling our students to continue to progress toward their academic goals.
During these past 11 months, Stetson has emphasized safety over resources. In so doing, the university lost revenues with fewer students in housing and classrooms, requiring the need to reduce costs as well as consume more of the institution's financial resources, which were taken from prior year surpluses and future endowment accumulations.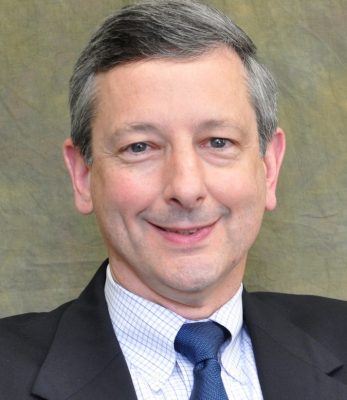 Although the 2020-21 budget year will continue through June 30, budgeting for 2021-22 has started. Recognizing that the tuition increase for the 2021-22 academic year needed to be as low as possible for our students and their families, the University Board of Trustees has approved a tuition increase of 2.65%, the lowest in at least 33 years.
For residential students, the increase will be less than 2.5% overall for the 2021-22 academic year including tuition, housing and meal plan.
"There's definitely a desire to have the least burden on students and their families while recognizing that there are significant costs and revenue losses for the university that need to be rebuilt over the course of time," Executive Vice President and Chief Financial Officer Bob Huth said.
In prioritizing safety over resources, for example, the university: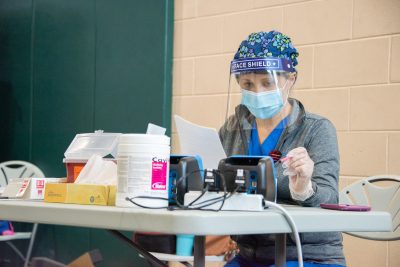 Changed to single-bed occupancy in residence halls, reducing students' risk of contracting the coronavirus and resulting in $7 million less revenue.
Invested $1.2 million in new technology, including lecture capture/streaming technology, to support online and hybrid classes, and in air purification systems in classrooms to remove viruses in the air.
Spent $1.2 million to provide free, ongoing COVID-19 testing for students, faculty and staff, as well as wipes, sanitizer, face coverings and many other COVID-related expenses.
Given these higher costs and lost revenue, the university reduced operating budgets and instituted cost-cutting measures, including:
Imposing a hiring freeze, effective April 1, 2020.
No salary increases for faculty and staff for 2020-21 and no retirement contributions to them since Sept. 1, 2020.
Cut in half the university's facility renewal and replacement funds (approximately $3 million), used for maintenance and upkeep on campus, resulting in a deferral of these costs to next year and beyond.
The financial impacts of COVID-19 have been softened for Stetson and its students by additional revenues from the university's endowment and the federal government.
For the university's DeLand campus, $1.7 million of federal CARES Act funding and $1.4 million additional endowment support has aided students whose families have been impacted financially by the pandemic. In addition, Stetson alumni and other donors have contributed nearly $700,000 to COVID-19 emergency funding for students in DeLand and at the College of Law. (See related story: "Stetson gets $1.7M for students affected by COVID-19.")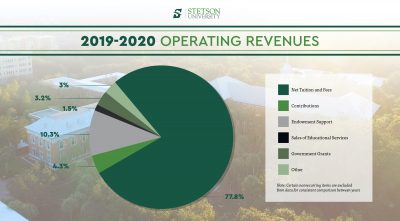 "Very few students pay the full cost of tuition and there has been significant additional financial aid provided as a result of the CARES Act, as well as spending more from the endowment, increasing the planned distribution from 4.6% to 6.1%," Huth said.
But Huth cautioned that dipping into the endowment is not sustainable and would reduce the funding available for future generations of Stetson students, who are entitled to "intergenerational equity." The university will need to drop its annual spending from the endowment to 4.5% over the next two to three years to maintain the relative value of the endowment for future students.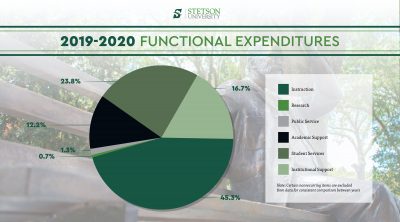 "Students ought to know that, as the university prioritized safety over resources, we've made some significant cuts that are felt by employees as well as operating budgets and we've stretched to pull monies from the past and actually the future," Huth said.
The university has avoided involuntary furloughs or layoffs of employees. Salary reductions may be needed for faculty and staff, but the university has been able to stave them off at least through Jan. 31, Huth said. The university hopes to prevent any salary reductions this year but cannot guarantee they might not be needed in coming months.
A major crisis, like the pandemic, impacts people quickly and requires a few years to recover. The university will need several years to rebuild its budget, too, and the tighter "budget belts" now in place will be released slowly. Huth has asked budget managers to start their budget process for 2021-22 by using this year's reduced operating budgets and only requesting additional funds for the most vital items.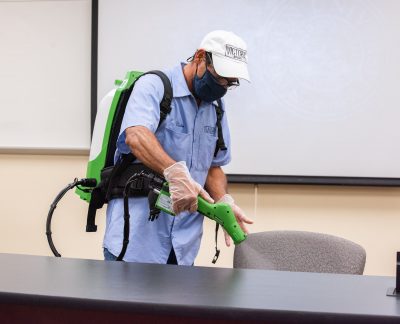 In discussing the university's finances during the pandemic, Huth wanted to recognize the contribution of one of Stetson's greatest assets – its employees. He gave "a shout-out to our custodians and Public Safety officers who are on the front lines of keeping us safe."
He commended faculty for pivoting from face-to-face instruction to online and hybrid classes. And he thanked staff members for taking on extra work during the current hiring freeze, which has left some positions open.
"Everybody stepped up," Huth said. "It's important for the university to let our community know that everyone has been very engaged in keeping the campus safe and allowing students to continue to make progress toward their degrees."