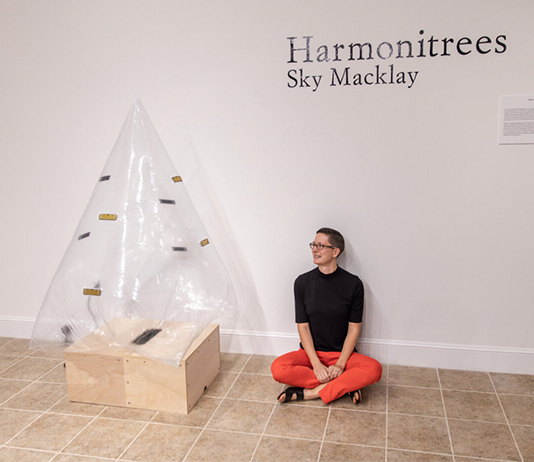 Late in the fall semester, Stetson's Department of Creative Arts and the Homer and Dolly Hand Art Center brought artist and composer Sky Macklay to campus. Macklay's visit included an exhibition of her musical sculptures called, "Harmonitrees."
While seeing is believing, hearing the exhibition might even be better, according to James Pearson, director of the Hand Art Center, which is located on campus.
"Each Harmonitree is outfitted with harmonicas that play a specific chord," Pearson noted. "And with multiple Harmonitrees activated at the same time, the combination of chords creates a unique harmonic experience."
In addition, Macklay afforded Stetson another special engagement. Macklay enlisted Creative Arts Professor Chaz Underriner, PhD, to compose a musical piece that utilizes the Harmonitrees in a performance.
In turn, Underriner and Macklay reached out to School of Music Dean Timothy Peter, PhD, to see if any School of Music students were up to the challenge of performing alongside inflatable sculptures. The collaboration resulted in a seven-minute performance — "bringing together artist, professor, student and musical sculpture that has to be heard to be believed," Pearson commented.
By going to the Hand Art Center website, one can view and hear the installation, as well as see an interview of Macklay conducted by Underriner.
Student performers included Destin Beaumont, Christopher Rodriguez, Kris Villota, Nathan Clifford, Olivia Corporon, Zaria Grave and Grace Lookadoo.