Racing Toward Career Growth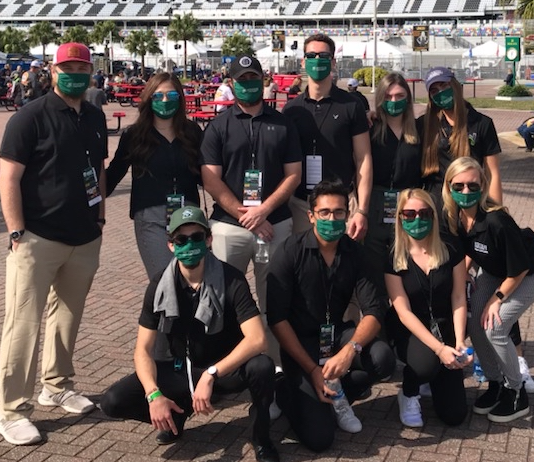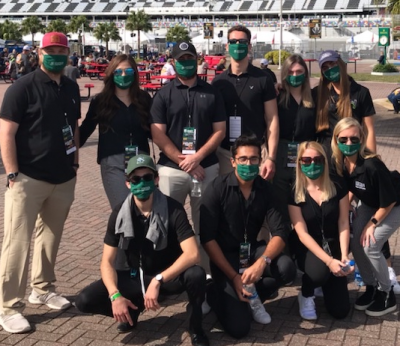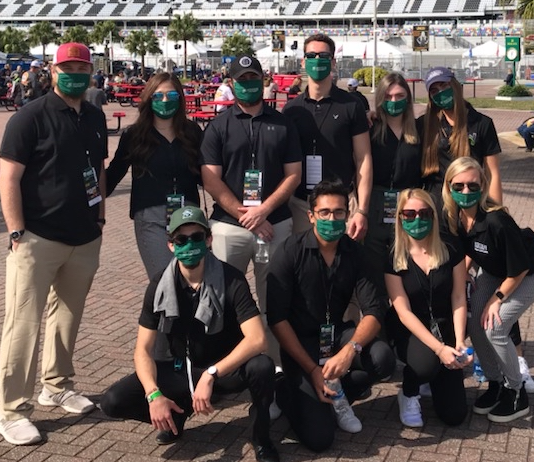 Michael McDowell obviously was the biggest winner at Daytona International Speedway earlier this month, as McDowell crossed the finish line first in the iconic Daytona 500.
Yet, for 20 Stetson students of sales and marketing, being at the world-famous 2.5-mile trioval was pretty special, too. Those students received the opportunity to experience the business of NASCAR (National Association for Stock Car Auto Racing) up close and professionally.
And, at the end of their weeklong hands-on training, which included four signature races and culminated with the Daytona 500, while the students weren't given championship trophies, they left with true industry insight.
In essence, the students had their own course to navigate — not from behind the wheel, but in the shadows of NASCAR sales pros.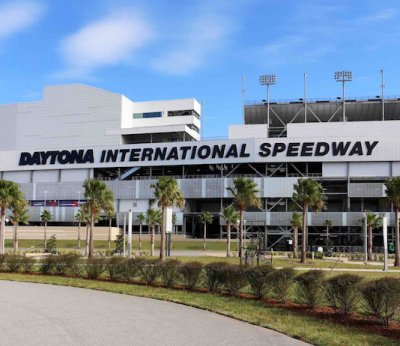 "This endeavor that the NASCAR sales team undertook was really exciting. And our students got to see firsthand how that sales team executed on service after the sale, which is something not a lot of sales students get to see," commented Cedric Burkhardt '20, who was hired by the Centurion Sales Program after earning his BBA from Stetson last May in professional sales and marketing.
Burkhardt was instrumental in establishing the partnership. Several months ago, he reached out to NASCAR, by virtue of contacts he had made in motorsports while interning twice with Mazda Motorsports. He first contacted Stetson alumnus Jacob Iler '18 BBA, sports business and senior sales manager for NASCAR Southeast. Iler put him in touch with David Campbell, director of Group Sales at NASCAR.
Now, Stetson's Centurion Sales Program at the School of Business Administration is a collegiate sales partner of NASCAR and part of the company's new initiative called NASCAR University. The partnership enables Stetson students to join NASCAR's Group Sales team during race events and receive instruction. Students also can sell tickets to customers — with the top-performing sellers guaranteed an interview for internships and jobs.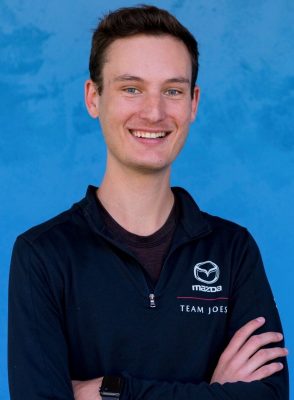 "Our students, when they come through the Centurion Sales Program, get to see everything that leads up to the sale and the execution of the sale. But they rarely get to see what happens after a sale, and how they get those clients to renew," Burkhardt continued. "It was really great for our students to get that hands-on experience and to be able to see there's also a different side of sales. One of the comments I got most frequently was our students were kind of blown away at the fact that this type of sale actually exists."
The students shadowed members of NASCAR's sales team as they greeted groups at the entrance of the speedway, with the students then helping "to provide a great experience to the groups and make sure the experience was so good that the groups would renew [their tickets] for next year," said Burkhardt, pointing to the nuances of customer service after a sale.
Specifically, because of the reduced fan capacity at the speedway related to COVID-19, NASCAR targeted dance groups that could attend the races and perform as entertainment at the events. The packages were conceived as win-win propositions, with the groups getting a chance to perform for fans and NASCAR being able to sell additional tickets.
For Stetson students, being part of the action broadened that plan.
"I was able to observe how weeks of planning by sales representatives come to life over the span of several hours," said Isabella DeRienzo '23, who participated at the Rolex 24 and Daytona 500 events. "It was also a great opportunity to get some networking done." DeRienzo is hoping to intern with NASCAR this summer.
Jamie Hardy '23 agreed, also pointing to opportunity.
"This is such a great opportunity that no other university has," said Hardy, who participated at the Rolex 24. "Being able to represent Stetson somewhere that is known worldwide is amazing.
"To be able to see how a real team operates behind the scenes of such a big event was really interesting and helped me see what I want to do in my future career. The best part was being able to network with NASCAR's sales team. They were all so kind to us and allowed us to see the real deal — there was no sugar-coating, and we got to participate like we were a real member of NASCAR."
Further, the partnership has expanded beyond its original parameters, as NASCAR recently was asked to be the "live client" for Stetson's first annual Sport Sales Case Championship. The virtual case competition, April 8-9, is sponsored by Stetson's Sport Business and Sales programs. The competition will allow Stetson business students to compete in a real-life scenario that benefits NASCAR and executives.
Call it another win-win.
-Michael Candelaria