Stetson Receives 'Voter Friendly Campus' Designation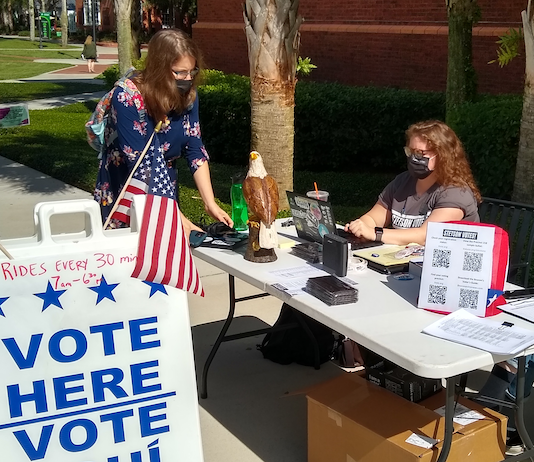 Thanks to the efforts of a dedicated group of Stetson students and administrators, the university has been named a "Voter Friendly Campus" for 2021-2022.
The designation comes from the Voter Friendly Campus Initiative, led by two national nonpartisan organizations, Campus Vote Project and the National Association of Student Personnel Administrators – Student Affairs Administrators in Higher Education. Stetson was one of 234 colleges and universities across 37 states and the District of Columbia to be selected.
The announcement by the Voter Friendly Campus Initiative was made on March 9.
The award recognizes the work of groups that set goals, form a coalition and successfully implement and execute their plans, as well as establish new goals. The Voter Friendly Campus designation program, established in 2016, helps institutions develop plans to coordinate administrators, faculty and student organizations in civic and electoral engagement.
"The completion of the Voter Friendly Campus designation process speaks to the unwavering commitment of campus administrators who ensure students are educated about, have access to, and ultimately are empowered to have their voices heard in the democratic process," commented Kevin Kruger, president of the National Association of Student Personnel Administrators.
Amelia Maulfair' 22, director of Stetson Votes, reacted to the selection with pride.
"Everyone was just phenomenal this past semester," she said.
Maulfair, a political science and philosophy honors major who has been a part of Stetson Votes since 2019, cited the group's quantitative approach, which uses statewide databases to improve voter registration and voter turnout. The approach helped to increase voter registration by 5% and increase turnout by 18%, compared to the presidential election of four years ago.
"We now have something we can point to that means our work is making a difference," Maulfair added.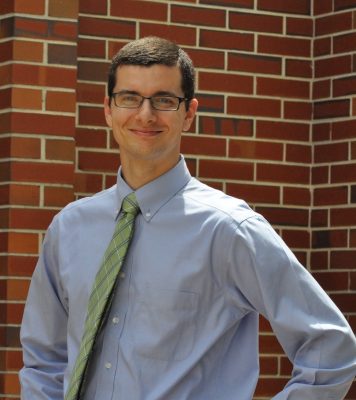 Kevin Winchell, associate director of Stetson's Center of Community Engagement, agreed.
"Our [Stetson Votes] students poured themselves into this work this election cycle," Winchell said. "They found every opportunity they could to engage our students in this election despite the challenges brought by COVID-19."
The students adapted plans to accommodate virtual environments. Also, they ensured that if their fellow students wanted to speak to someone, they could have that opportunity. Such in-person contact is especially important for students who may be voting for their first time and/or might feel intimidated, Winchell noted.
In addition, on Election Day, the group set up a "Get Out The Vote" booth from 7 a.m. to 7 p.m. on campus, providing information, directions to polling locations and even free rides to those sites. Winchell drove a rental van that day — allowing for social distancing — and also provided rides during one early-voting day.
The effort, Winchell believed, was well worth it.
"We know if someone votes in the very first election in which they are eligible, they are 30% more likely to be a habitual lifelong voter," he explained.
"Our job is to make sure that [students] start off with a healthy habit of civic engagement as early as possible so that it continues for the rest of their lives."
One first-time voter was Emily Derrenbacker' 22, actually a member of Stetson Votes. The sophomore joined four other first-timers from Stetson to mark the occasion.
"We wanted to show people how enthusiastic we were about voting. So, on the first day of early voting in Volusia County we went to the polling station at 5:45 a.m. — so we could be the first in line when the polls opened at 7 a.m.," Derrenbacker said.
The other members of the Stetson Votes leadership team were Ryan Clifton '22, Madison Skelton '23, Carlye Mahler '24, Reed Barkowitz '22, Ani Martikyan '23 and Alejandra Correa '24.
In the end, the perspectives of many students changed about elections, and their voices were heard.
Said Clifton, who majors in political science, economics and is part of Stetson's Program in Russian, East European and Eurasian Studies:"We [were] able to transform how students view their relation to politics and their communities, creating lifelong voters and activists."
-Laura Sikes