Gillespie Museum Explores Gigantic Glowing Granite During Virtual Armchair Geology Science Café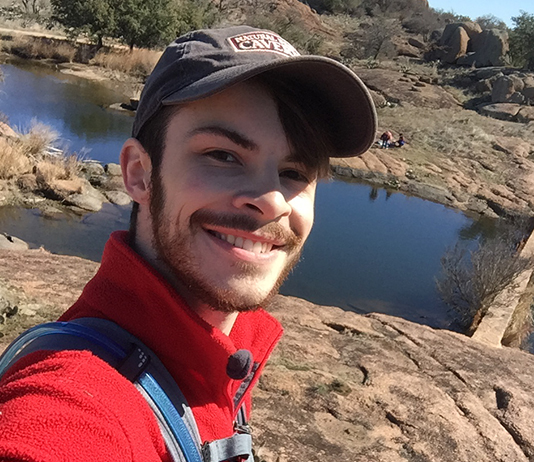 Editor's note: This virtual event originally was set for Thursday, April 15, at 5 p.m. but has been rescheduled to Thursday, April 22, at 5 p.m.
The Llano Uplift is a geological wonder that features gobs of glowing granite from the Precambrian era, which predates the oldest dinosaurs.
The geologic record of the Llano Uplift is crucial to the North America tectonic plate, or outermost layer of rock, that is part of the Earth's crust and uppermost mantle.
The granite found in that area encompasses the oldest rock exposures in the state of Texas. It also provides evidence that the development of a significant metamorphic core complex or rock that is transformed by heat, pressure or other natural occurrences is a pertinent puzzle piece in interpreting the geologic history of Texas.
Ethan Fagan, a geology senior at The University of Texas at San Antonio, will be discussing "Granites in the Llano Uplift of Central Texas" during a livestreamed event on Thursday, April 22, 5-6 p.m. The free Science Café is the fourth presentation in the Gillespie Museum's Armchair Geology series. Cultural credit will be provided.
"It has been an exciting experience to explore and conduct research on the Llano Uplift for a second time," said Fagan. "I'm also thrilled to be joining the ranks of other researchers in the field of geology."
During the Fall 2020 semester, Fagan donated llanite specimens to the Gillespie Museum's permanent mineral collection. Llanite is named after Llano County in Texas, and is an igneous rock that contains blue-quartz crystals. He also gifted the museum with perthitic feldspar, a light gray- and orange-colored stone.
"It was fascinating to hear a knowledgeable field researcher discuss his work and discoveries with fellow students," said Karen Cole, PhD, director of the Gillespie Museum. "I realized after I talked to Ethan that others need to learn more about his research and understand the adventure and science of field work."
Fagan will be speaking on the origin and nature of the metamorphic complex and Llano Uplift and its bordering rock formations, which are the Streeter and Grit Plutons.
He will be presenting his graduate-level research on the plutons or deep-seated intrusion of igneous rock, along with explaining how rock samples are processed in a laboratory to determine its age and composition.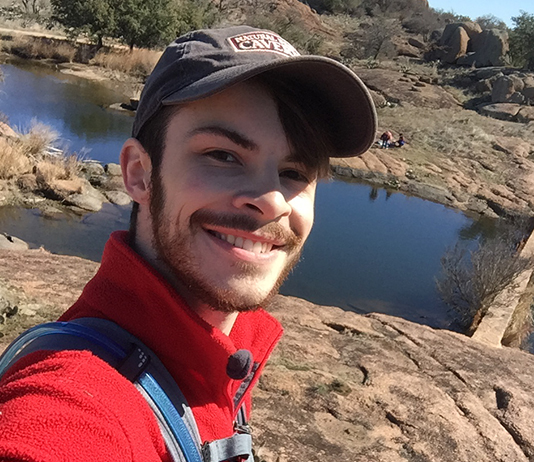 Fagan's presentation also will include his field research that he has been conducting with a team of fellow students, which is led by Walter Gray, PhD, an affiliated faculty member at The University of Texas at San Antonio, who is part of the Geoscience Pathways Program.
Besides conducting research on the Llano Uplift, Fagan educates visitors and tour guides and is training to become a spelunker at the Natural Bridge Caverns in San Antonio, Texas.
Over the past decade, Gillespie Museum Science Cafés have promoted scientific literacy by encouraging relaxed, open conversations among scientists and nonscientists of all ages and offering participants an opportunity to view current exhibits.
The Armchair Geology series is co-sponsored by the Gillespie Museum and Stetson's Environmental Science and Studies Department. Participants can register for the Science Café Series: Armchair Geology and receive the Zoom link and information after sending an email with Armchair Geology in the subject line to the Gillespie Museum: [email protected].
-Sandra Carr