'Let's Cook and Eat and Talk at the Same Time'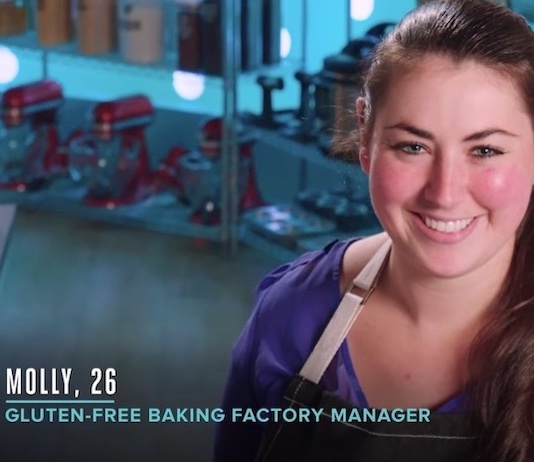 When Molly Winsten was a first-year student at Stetson in 2011, she remembered "eating a lot of bagged potato chips and canned frosting."
Winsten, a member of the women's rowing and club softball teams, wasn't loading up on carbs to compete, nor was she willfully trashing her diet because she was free from her mom's reminders to eat her veggies.
"I had been having digestive and stomach problems to the point that it was affecting my sport," Winsten said by phone from her home near Boston. "I was just sick all the time. Kudos to Stetson's athletic training staff — I ended up seeing a gastroenterologist in DeLand and getting diagnosed with food allergies."
Winsten was allergic to wheat, peanuts and sesame seeds, plus a severe lactose intolerance.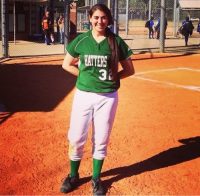 "Being 18 and a freshman in college, it wasn't easy to accept," she continued. "I was thrown for a loop, to say the least. But it sent me on this trajectory."
Trajectory? It was a path that eventually landed Winsten on two TV culinary competition shows: the Food Network's "Bakers vs. Fakers," which aired in 2017, and "Best Leftovers Ever!" currently airing on Netflix. (Shown above: a screen shot of Winsten as she was introduced on the Netflix show.)
Following that first year on campus, the chips and frosting, which she ate "because at least it was labeled, and I could see that there was no wheat or peanuts in it," soon disappeared. And in their place came what she exuberantly called "food-inclusive cooking."
"By my senior year at Stetson, I was cooking for other people and delivering food around campus in my ancient 2004 mini-van," Winsten said. Her entrepreneurial business sold allergen-free dishes of risotto, sushi and "random stuff."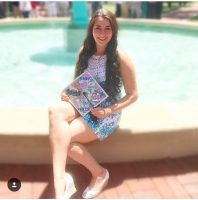 She earned her health science degree in 2015, and then a master's degree in nutrition and a registered dietician's license from Boston University. In 2019, she co-founded Freedom Gluten Free Bakery in metro Boston, which makes a variety of donuts.
Landing roles on those TV cooking competitions was a natural for Winsten, a self-proclaimed "theater nerd."
"I'm one of those people who thrives on any sort of stage, whether that be an athletic field or natural stage or in front of the camera," she explained. "That doesn't give me anxiety — that gives me excitement. Coupled with the fact that I'm extremely competitive, these shows combine my three favorite things: Theater, right? It's a performance. Sports, right? You're competing. And food. It's like everything I love bundled into one."
When the Food Network's "Bakers vs. Fakers" was filmed in 2016, "I really was pretty green. I was just a baby grad student," Winsten said. "I was barely 23. I had a lot of learning to do. But it was a great experience, and that was when I realized how good I was on camera. I don't mean that in a way of 'Oh I'm so amazing.' I mean that because the producer said to me, 'You are so good at soundbites.' That was when I realized I could really talk and cook at the same time."
The Netflix website describes "Best Leftovers Ever!" as "Skillful cooks transform tired leftovers into tantalizing new dishes in this wildly creative culinary competition." While the Food Network show was taped in one "marathon day," the Netflix show, with winners of each episode earning $10,000, was taped over three days in Los Angeles in November 2016.
"It was totally fun to be treated like a celebrity" during the tapings, she commented.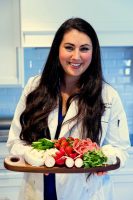 Winsten believes her appearance in Episode 5, titled "Down-Home to Uptown," may be a first in foodie TV history. Maybe it should be called the "Gluten Episode."
"When I applied for the show, I said, 'Look, I'm gluten-free — if I can't taste my food, I can work with it if that's what it comes to,' " Winsten recalled. "But they made the decision on their own to make it an even playing field. It wasn't the premise of the show. It just so happened in my episode. They said it wasn't a problem to provide gluten-free ingredients."
Netflix describes Winsten's episode as "Bacon-wrapped brats and blueberry cobbler get a second look as late-night snacks, and duck confit and cassoulet evolve into entirely different dishes."
"My ingredients were the same as everybody else's, but mine were gluten-free," Winsten said. "To my knowledge, there has never been that kind of representation on a food competition show. You've seen vegetarian chefs or chefs with food allergies who can't taste what they're cooking. But for the judges, host and producers to say we're going to give you gluten-free versions, so you can compete on an even playing field and taste as you go, that in my opinion is a huge win for the diversity-diet community."
Winsten conceded there was "some stress" involved.
Her words: "Within two minutes of me cooking, the judges mentioned that they can feel how competitive I am. Some of my high school and college friends think that is absolutely hysterical. They say, 'They got your number immediately!' The male judge calls me feisty, and I am so sick of males calling females in the kitchen feisty. Why can't I be passionate? Why can't I be competitive? Why can't I be tough, right? … Why does it have to be this term that sometimes has a negative connotation?
"To her credit, the female host comes to my defense. She's like, 'No way, that's a girl after my own heart, I love it, blah blah blah.' And that was the majority of the response I got from all of my friends, family and random people — people from all over the country. I got a decent following on social media."
With applications already out in hopes of appearing on other shows, Winsten is ready to get in front of TV cameras again.
"My dream job would be to have my own cooking show, whether it's a gluten-free show or a culinary competition show," she concluded. "But I'm totally open to being a judge on a gluten-free competition show, or hosting something, or touring the country trying gluten-free eats. Whatever it is, I'm ready to rock 'n' roll. Let's cook and eat and talk at the same time."
-Rick de Yampert