Nearly 700 Stetson Students Graduate during Weekend Commencement Ceremonies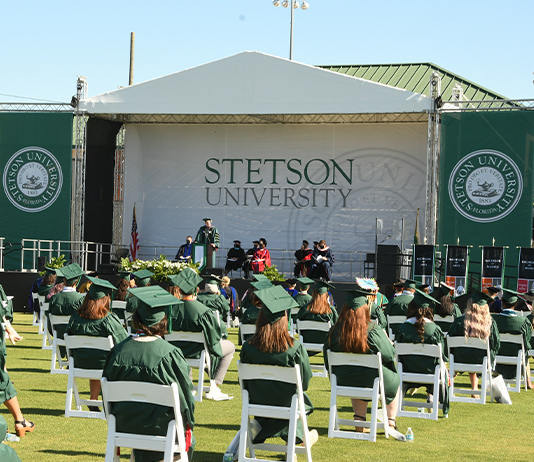 The Class of 2021 "will forever be etched" in Stetson University history for persevering through the past year and graduating during a global pandemic, President Christopher F. Roellke, PhD, told graduates during the weekend Commencement ceremonies.
Stetson awarded bachelor degrees to 599 undergraduate students during three outdoor Commencement ceremonies at Spec Martin Memorial Stadium on Saturday and Sunday, May 8-9. Another 83 graduate students received master's degrees at a ceremony Friday night, May 7.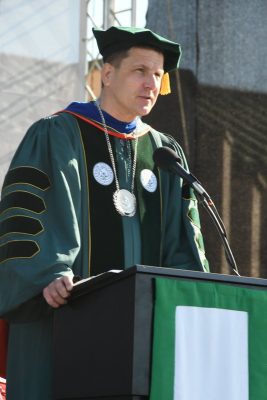 "You absolutely should celebrate what you have accomplished," Roellke said in his charge to the graduating class Saturday morning. "Not only have you survived the demands of a Stetson University education, but you have succeeded in accomplishing something quite remarkable during a time of great difficulty.
"In fact, there is no doubt in my mind that your class – the amazing Class of 2021 – will forever be etched in Stetson's history for your resilience, your collaborative spirit, your care for one another and for your tenacity in reaching this moment," he said.
Stetson has a long tradition of selecting graduating students to serve as Commencement speakers, and to be selected is considered a high honor by students, faculty and administrators.
Several of this year's speakers talked about the added challenges brought on by COVID-19 and what they learned along the way. In the School of Music, for example, student musicians no longer could perform at live concerts before a live audience.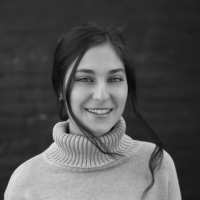 "In order to continue sharing music with the world, the School of Music has been making recordings instead of giving performances," explained student speaker Taylor Gelb, who graduated summa cum laude with a Bachelor of Music Education. "This takes quite a bit of work for a seemingly small product. Each person in the ensemble records themselves individually while listening to a backing track, then it's all edited together."
Gelb was asked to record the backing track for her fellow choir members to hear as they recorded their own parts. She felt nervous, but her choir Director Andrew Larson, DMA, associate dean and professor of Music, put her at ease.
"He said, 'Taylor, don't make it perfect. Make it beautiful.' … Such simple words, and yet they have stuck with me ever since," she told fellow graduates Saturday morning. "We don't have to go out there and be perfect people. … We just have to find the moments that we can create beauty in our careers and in our lives."
Gelb said she felt fortunate to have had professors who strive to help people and bring beauty into the world, "each embodying Stetson's values in their own way."
"One of my professors, Dr. [Rajni] Shankar-Brown, provided a role model for finding the joy and beauty in everyday life. She always had a huge, welcoming smile on her face, and she emphasized the importance of helping others. She led by example, showing us how to be kind, empathetic, advocating educators," Gelb added.
At Graduate Commencement on Friday night, speaker Shannon Gryntysz said she learned grace under fire as she worked to complete her MBA degree.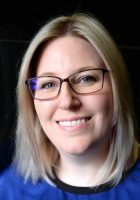 "Going to school while working full time was always an insane plan, but doing it in the middle of a pandemic, with all of the extra hours, stress, grief and frustrations of this specific moment in time. Well, it definitely hasn't been easy," she said.
But with the support of classmates, faculty and others, she found strength amid obstacles and a sense of purpose. While attending Stetson, she and her cohorts founded two graduate-level courses, Equity and Inclusion, and Crisis Management, to help future Hatters.
"I learned that it's possible to take a crazy idea and flesh it out with help, and to rely on the strengths of my peers to effect real change," she said. "Our cohort worked together to build a proposal for new classes that would allow us to learn how to address things that we are truly experiencing every day – crises of justice, equity, leadership."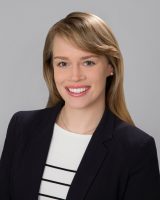 Added speaker Casey Williams, who earned a dual Master's of Science in clinical mental health counseling, and in marriage, couples and family counseling, "I think the most humbling reminder this global pandemic/grad school mash up has provided is that no matter how much learning or studying one can do in the classroom, life will always be the ultimate teacher.
"But with the privilege of a Stetson education and the support of our loved ones, I am confident that each of us is prepared to take on whatever challenges life may throw our way," she added.
-Cory Lancaster