Football Season Tickets On Sale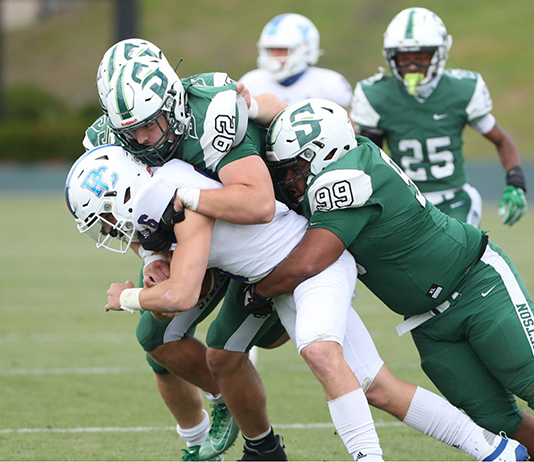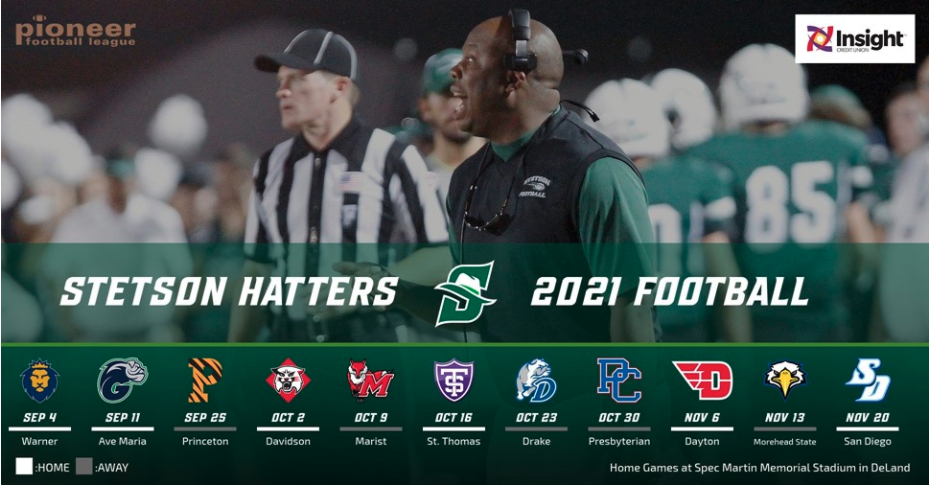 As the summer weather continues to heat up, it is time to think about the fall and Stetson Football.
New Hatters head coach Brian Young and his team will face a schedule this fall that includes some familiar names as well as some first-time opponents. With the start of training camp not long away, and with the 2021 season set to begin on Sept. 4, it is time for Stetson fans to show their support for the Hatters by purchasing season tickets.
During his introduction, Young, who was known for his high-energy style of attacking defense during his eight seasons as the Hatters' defensive coordinator, said he plans to bring the same philosophy to the offensive side of the ball.
"We are going to play with a lot of energy," Young said. "We are going to be an exciting team to watch and we are going to play a very competitive brand of football. We are DeLand's team, and we will need everyone in DeLand to get behind these kids. One of the best ways to do that is to buy season tickets, and encourage your friends and neighbors to buy season tickets.
"Nothing helps a team more than having a large, enthusiastic crowd in the stands for home games. We want to make Spec Martin Stadium a place no one wants to come play in, and our community will be a big part of making that happen."
Season tickets for the 2021 Stetson Football schedule went on sale on Thursday, July 1. Fans who want to renew their seats for the season on the home (West) side of Spec Martin Stadium can do so at a discounted price through July 30.
Tickets in the John B. section in front of the press box are available for just $250 each. Tickets in the Hatter Gold section are priced at $225 each while regular reserved seats on the West side of the stadium are just $150 each. For fans who are renewing their seats from the 2019 season, those tickets will cost $225, $200 and $140 through the end of July.
Special ticket pricing is also in place on the West side of the stadium for members of the Stetson Faculty and Staff for just $90 each. General admission seating for Faculty and Staff is available for just $55, which is less than $10 per game.
Other pricing includes a $60 season ticket for young or recent alumni who have graduated within the last five years and a $99 general admission ticket for the general public.
Discounts are also available for families. The Family Four Pack includes four general admission season tickets and parking for all six games for just $200.
Hatter fans who want to have the ultimate experience can purchase Hatter Village VIP season tickets for $375 each. This special includes two West Reserved tickets and a parking pass for every game.
The Hatters will open the 2021 season with consecutive home games against Warner and Ave Maria. The game against Ave Maria, which will be played on the 20th Anniversary of the 9/11 attacks, will be part of Hometown Heroes Week for Stetson Athletics as we honor members of the military, police, firefighters and other first responders.
Following an off week, the Hatters will go on the road to face one of the oldest and most historic programs in the nation when they play at Princeton. That will be the first game of a home-and-home series, with the Tigers scheduled to visit DeLand during the 2023 season.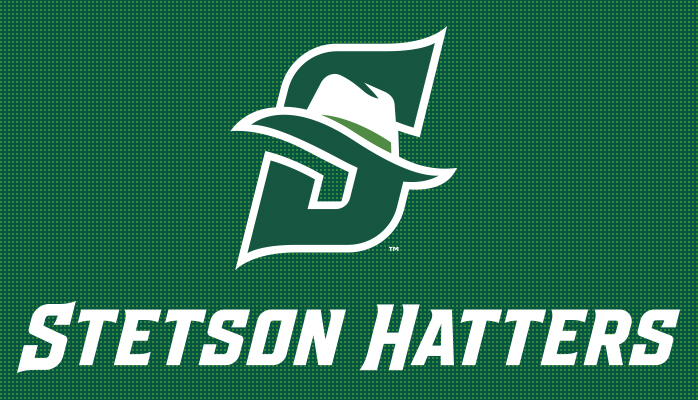 The Hatters will open the month of October with a home game against defending Pioneer Football League champion Davidson. That game, on Oct. 2, will be the annual Breast Cancer Awareness Pink Game.
League play will continue at Marist on Oct. 9 before the Hatters play host to the newest member of the PFL when the University of St. Thomas (Minnesota) makes its first trip to DeLand. The Tommies are making the jump from Division III to Division I for 2021 after not playing at all during the COVID 2020-21 season.
Stetson will go on the road for consecutive PFL games to close October with a game at Drake on Oct. 23 and at Presbyterian on Oct. 30.
Those back-to-back road games will be followed by Homecoming on the Stetson campus. A week of activities will be capped on Saturday when the Hatters host Dayton at Spec Martin Stadium.
The Hatters will play their final road game of the regular season on Nov. 13 at Morehead State before hosting San Diego on Nov. 20 in the regular season finale.