For Melissa Ramos Loredo, Guts + Fortitude = Success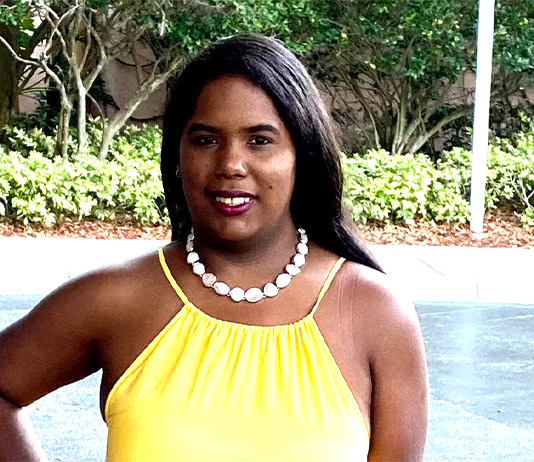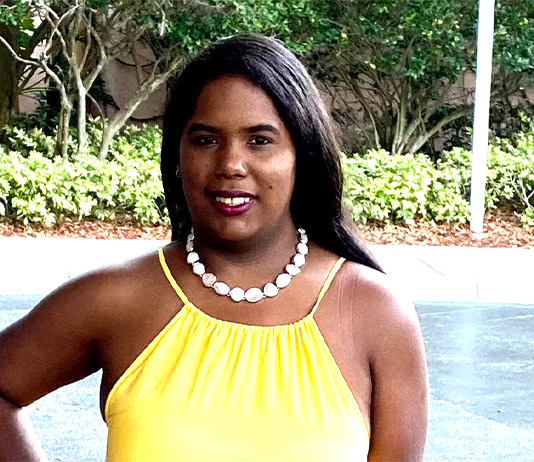 Rags to riches? Maybe that play on words doesn't exactly fit this equation, but it's an approximation.
The gist: Student arrives in the United States speaking no English after her parents left Cuba seeking a better life for their only child. Then adversity steadily drives classroom success, beginning early and continuing through college, where the student graduates and subsequently receives a national scholarship in accounting that will ensure graduate education at her alma mater, Stetson.
In sum, that tally equals Melissa Ramos Loredo '21, an accounting major who now is pursuing an accountancy master's degree — thanks to admirable, perhaps even remarkable, diligence and a $10,000 scholarship from the Public Company Accounting Oversight Board.
The scholarship comes from PCAOB by way of the Sarbanes-Oxley Act of 2002, which mandates that funds generated from the collection of PCAOB monetary penalties be used to fund a merit scholarship program for students in accredited accounting degree programs. The PCAOB Scholars Program was created to identify eligible students and to award funds through the students' educational institutions.
Loredo is one of only 253 students from U.S. colleges and universities nationwide to receive the award for the 2021-2022 academic year.
That's a far cry — and likely there were tears — from her earliest days in Miami, age 9, living in a tiny apartment with her parents. Her mother had been an attorney in Cuba, and her father was an airport director. Concerned about their daughter's future, they looked elsewhere, first landing in Spain for six months before Miami.
The family went from the penthouse to the basement, as Loredo described it, with her having to wear oversized, borrowed pants from a male cousin. At the outset, her mother, Vianka, was a homemaker; her father, Marco, worked at a print shop.
While her father helped to teach her English at home, a fast friendship with a classmate in elementary school proved to be a savior for Loredo, speeding her badly needed cultural adjustments. And a move across the state to Naples brought more change along with substantial advancement.
Squaring the Equation and More
Loredo, then in seventh grade, could understand "about half of what the teacher was saying." Nonetheless, she persisted until words from a visiting principal, heard one day in her middle-school class, truly altered her trajectory. The principal touted his high school as a place of distinct academic challenge, particularly with the possibilities of dual enrollment. And her light went on.
The school was Lorenzo Walker Technical High School, where she wound up graduating with a diploma along with certificates of completion in two postsecondary programs (legal administration and accounting operations). Almost at the same time, she also had graduated from Florida SouthWestern State College, earning an associate's degree with a 4.0 GPA.
If you're counting, that's an AA degree plus two certifications in addition to a high school diploma.
Never mind that the high school wasn't near her home or where her friends were attending.
In retrospect, the decision to go there reflected three Loredo characteristics: guts, fortitude and, of course, smarts.
"My thought was I'll be fine, and I'll make new friends," she remembers. "I've always been that kind of person. I don't care going to new places; I don't care changing my routine. … I'm OK with change. If anything, I embrace it."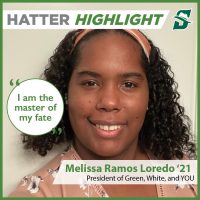 Stetson brought another embrace, but one that took her by surprise. A new world beckoned upon her arrival on campus in August 2018.
"I fell in love with Stetson, the campus, the people. It was like, 'Oh, my God, this is where I'm supposed to be," Loredo says, adding that there were several other school options.
Also, prompted by a friend, she joined the student philanthropic organization Green, White, and YOU. She ascended from general member to vice president and became president as a senior.
"I didn't have a chance to be involved in high school [because of her focus on academics]. So, I tried it [the group], and I think I found my second family," Loredo describes. "I met beautiful people, and I love what they do."
In similar unexpected fashion, Loredo found accounting by virtue of an Introduction to Accounting class taught by Bonnie Holloway '73, MBA '82, visiting professor of accounting. After a few weeks, Loredo's conclusion: "OK, this is what I'm meant to be doing."
Not surprisingly, more success followed.
"Melissa is incredibly hard-working, demonstrating success as a student by earning high grades in her accounting classes," comments Maria Rickling, PhD, associate professor of accounting and director of Stetson's Master of Accountancy program. "Additionally, she presents characteristics necessary to be successful as an accounting professional, including critical thinking and demonstrating an awareness of ethics in business decision-making."
Rickling nominated Loredo for the Public Company Accounting Oversight Board scholarship.
Loredo, who hopes to become a CPA and possibly obtain a doctorate degree, returns the praise to Rickling and other faculty members.
"I love the School of Business Administration," she says, almost gushing. "… And I'm very grateful for the education I got out of it. I think it prepared me for the world."
Ditto for Stetson, she adds: "It actually exceeded my expectations. … Stetson gave me something that I didn't expect. It gave me the opportunity to make new friends and get involved. It definitely changed my view."
-Michael Candelaria
New Financial Planning Track in Undergraduate Accounting
Stetson's M.E. Rinker, Sr. Institute of Tax and Accountancy, with cooperation from the Department of Finance, will begin offering its accounting major with an optional financial planning concentration, beginning this fall.
The new concentration enables students to complete an accounting major while at the same time taking financial planning coursework offered by the Department of Finance. The concentration is intended for students who wish to study accounting and perhaps become CPAs, but who also are interested in financial planning.
Many small and medium-sized CPA firms are now including financial planning as part of their range of services, and the concentration provides coursework in financial planning that will useful when servicing clients. Also, the courses will assist students who decide to eventually pursue the American Institute of Certified Public Accountant's Personal Financial Planning (PFP) designation.
Financial planning courses for the concentration are a subset of the required courses leading to Certified Financial Planning (CFP) exam qualification. Students may take additional financial planning courses to qualify to sit for the CFP exam.
The addition of this concentration is an example of the Rinker institute's continuing commitment to providing students with an array of exciting, high-demand career opportunities while assisting the accounting profession to meet the evolving needs of its clients, according to Michael Bitter, PhD, professor of accounting and incoming chair of Stetson's accounting program.