Intern spotlight: Verania Sosa gets hands-on experience at Marine Discovery Center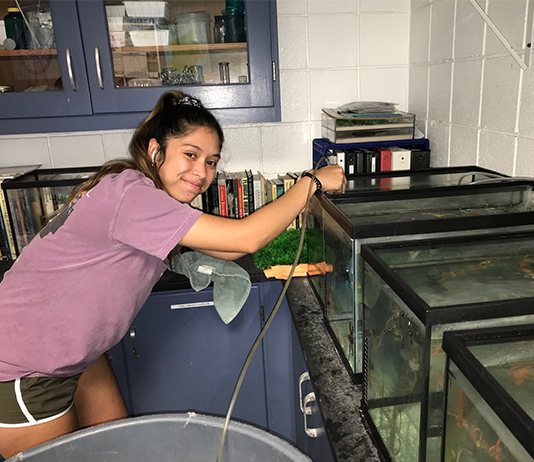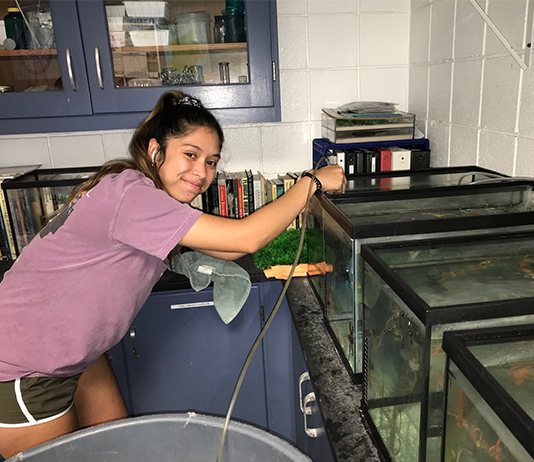 Verania Sosa is a senior at Stetson and began her internship for academic credit at the Marine Discovery Center in May as an assistant aquarist/educator. She helps maintain and enhance aquaria and exhibits, while also assisting in MDC's marine science education programs.
Sosa, 21, will graduate next spring following another internship at Clearwater Aquarium where, beginning this month, she will work with sea turtles and dolphins. That internship will end in January 2022.
She will return to Stetson early next year, complete classwork and will continue her internship at MDC during her final semester of college before graduating in the spring of 2022.
Sosa speaks Spanish, English and Italian, and is minoring in anthropology because she enjoys learning about different cultures. She was featured in MDC's August 2021 Intern Spotlight interview with staff writer Lisa D. Mickey:
Q: Where did you grow up?
A: I was born in Miami and grew up there in the Kendall area. My mom is from Nicaragua and my dad is from Guatemala. They both left their countries because of civil wars and got their U.S. citizenship after a few years.
Q: How did you get interested in marine biology?
A: I went to a marine biology high school in Key Biscayne called Maritime and Science Technology. It wasn't the closest school to where I lived, but it's where I wanted to go because of my love of marine life.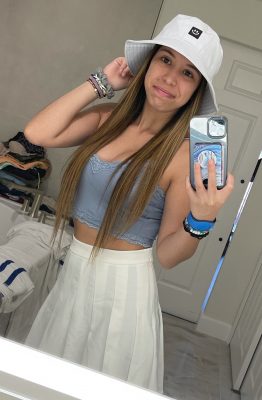 Q: What was the spark that got you so interested in marine life?
A: I went on an overnight field trip to SeaWorld in Orlando in the seventh grade. They split the kids up into different exhibit areas and I spent the night in the Beluga whales exhibit. They told us all about the species and that night, we were there with them. We saw the Beluga whales sleeping. They are known as the "Canaries of the Sea" and we could hear them singing at night. After I heard that, I decided that I wanted to work with these animals and I started volunteering and looking for internships.
Q: How did that lead into finding where you wanted to go to college?
A: I looked at marine biology schools in Florida and outside of the state, but I learned that I wanted to be close to home and needed to go for in-state tuition. Stetson had specific tracks for aquatic biology. I got a Presidential Scholarship [the highest merit-based award given by Stetson] for full tuition. When I first went there, it was for the marine biology veterinary track, but I realized I was interested in research with the animals, rather than veterinary science.
Q: How do internships help prepare you for your future career?
A: Obviously, I'm still taking classes at Stetson and each class teaches you something different. I've taken a marine vertebrate class and we've learned about animals that live in the ocean, such as dolphins, sea turtles and whales. I've also learned about marine invertebrates, which helped me understand more about the hermit crabs and a lot of the things I needed to know when I came to the Marine Discovery Center. My classes at school feed into what I'm learning here and what I've learned here is more like the hands-on part of what I'm learning in class. As an intern, I'm putting everything I've learned into practical use.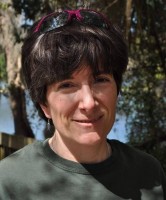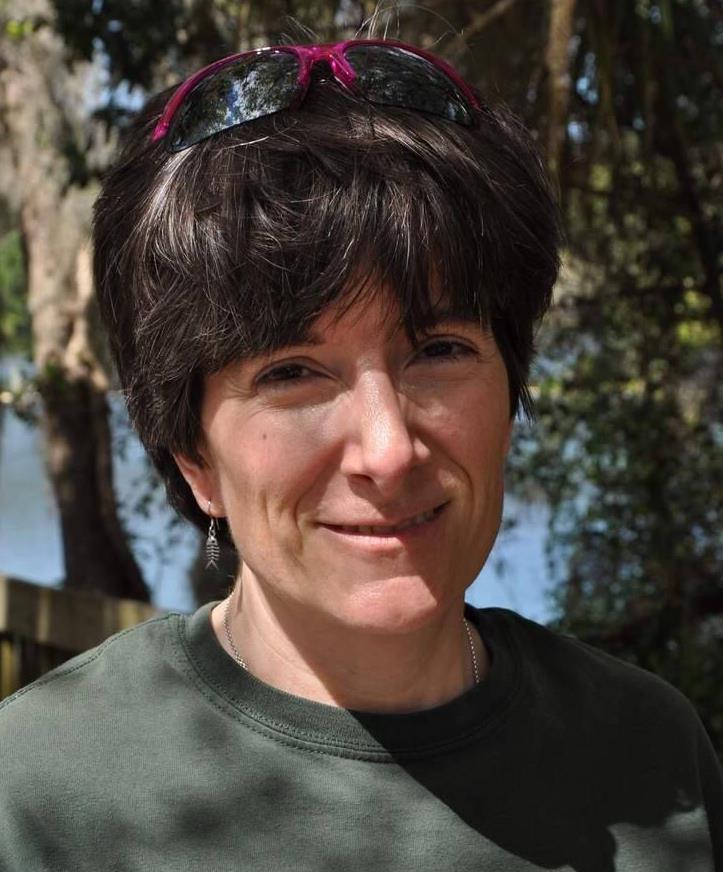 Q: How did you end up with an internship at the Marine Discovery Center?
A: My professor at Stetson, Dr. Melissa Gibbs, always sends information to students about internships and jobs. She told me about the internship at MDC and suggested that I apply, wrote a recommendation for me, and I've been here since May.
Q: What kind of things have you learned here?
A: I've learned about pH and acidity of the water for the animal tanks. I have to add salt and create the perfect salinity for the animals. If it's too high, it can affect them and also messes with the nitrate and pH of the water, and if it's too low, it can harm them. With the lion fish, I've learned that they can actually survive in no salinity or higher salinity. By putting them in low salinity or no salinity at all, you can expose them to protozoans in the water. I didn't know that and that's not something you learn in class. In this field, the smallest things matter.
Q: Do you think it enhances your ability to find a job after you graduate by working in a place like the Marine Discovery Center?
A: I would say it does. I think the main reason I got my internship at Clearwater Aquarium is because I told them about my experience with the animals I work with here. They said their position is very similar — just more in-depth with sea turtles and dolphins, whereas here, the animals are much smaller. I think my experience here definitely gave me a big boost in that application process. That internship starts in August and goes to the first week of January 2022. I will return to MDC in the spring of 2022, when I come back for my last semester of school at Stetson.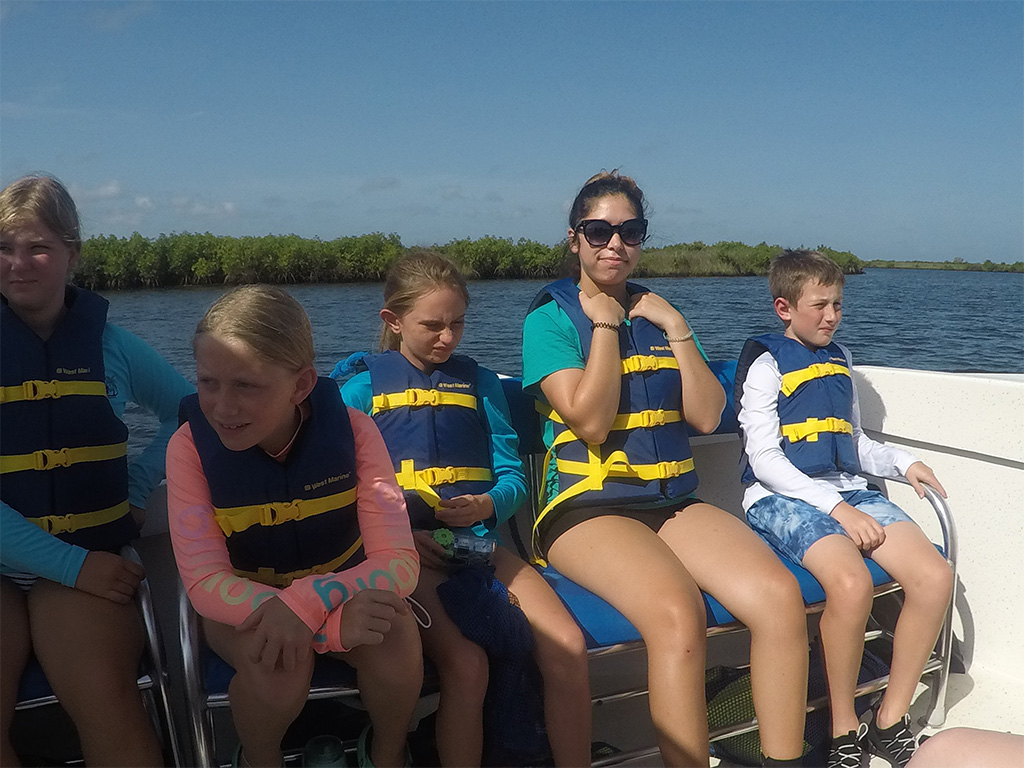 Q: Was there someone who mentored you and your interest in science?
A: It was my fifth-grade science teacher. I was in elementary school and didn't know much English, so it was hard for me to learn a lot of things, but I found a passion for science. My science teacher helped me so much that by the next year in the sixth grade, I received an award for being the only student in my class to receive a 4.0 grade point average every semester. I took two high school science classes in middle school, so I thank her for helping me figure out what I wanted to do.
Q: How important do you think it is for women to be in science fields now?
A: It's very exciting because I remember watching documentaries on Albert Einstein and Galileo, and they would mention the female scientists who had made discoveries, but they were always partnered with men. The men were the only ones who got the credit. Growing up now in this generation, there are more women in science and they're getting recognition for their work. I'm excited to potentially be one of those people who does research and discovers something important. It's great to see that things are changing and that more women are being acknowledged.
Q: When it comes to inclusion and diversity, how important is it for other Latinas to see you doing what you are doing?
A: I think it's very inspiring and important. My mom tells me stories about her life and always tells me that she wants me to have opportunities that she didn't have. I am the first person in my family to go to college. Being Hispanic in the science field, and also being a woman in the field, I haven't let anything stop me. Hopefully, I can be inspiring to other women and other Hispanics to just follow their dreams and make them happen.
Q: Where do you see yourself in five years?
A: After I graduate from Stetson, I want to continue my education in graduate school and eventually earn a doctorate degree, working with marine mammals. I want to do research on whales because the whale populations are going down. It was the Beluga whales that got me on this track. I want to go study them specifically and help figure out why there are fewer of them.
–Marine Discovery Center
New Smyrna Beach
Reprinted with permission