Ceramic art by Cindy Leung on Exhibit at Gillespie Museum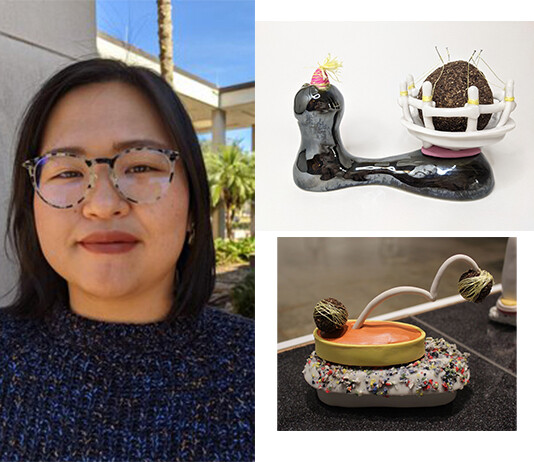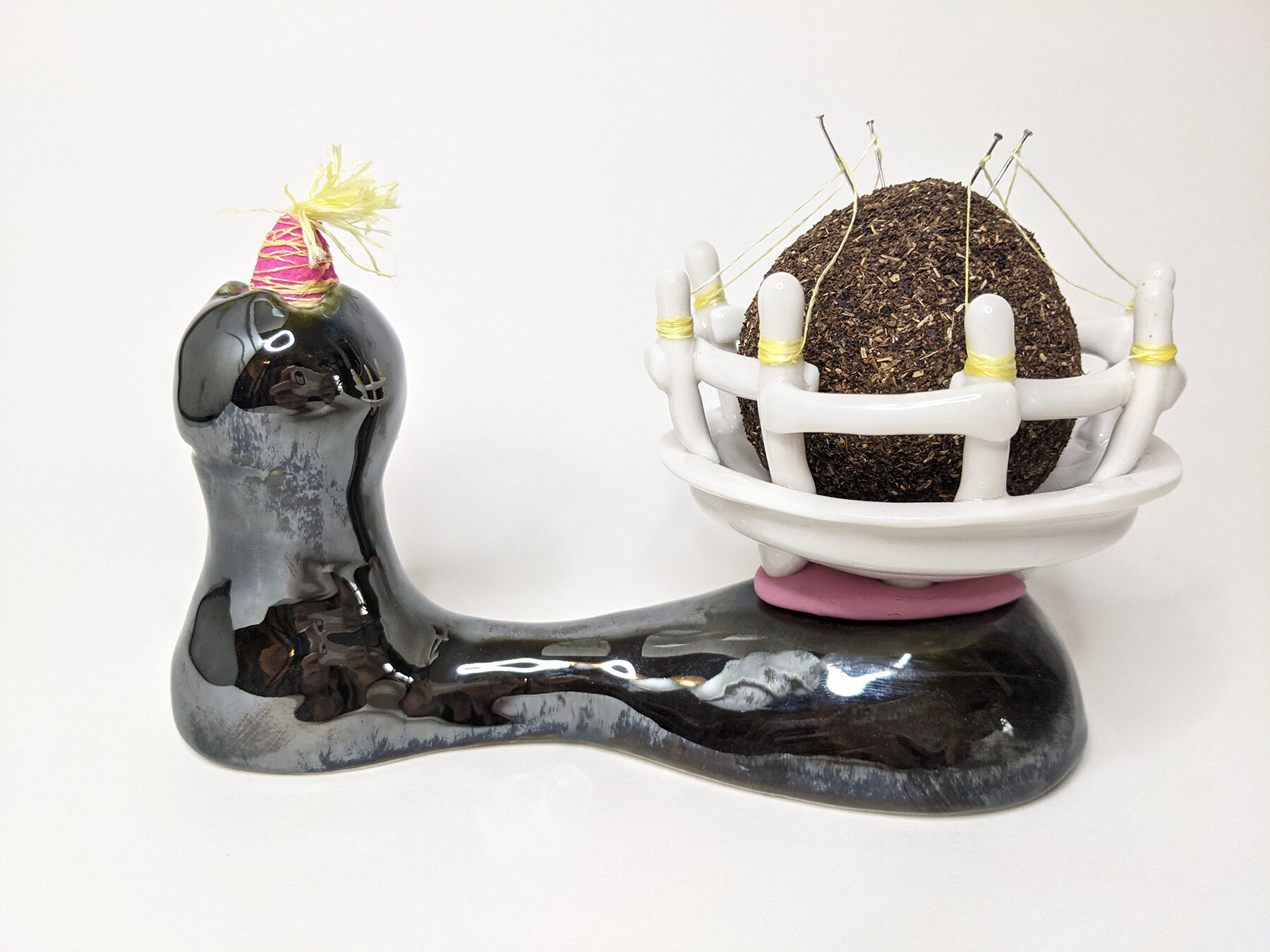 Ancient China's porcelain, silk and tea were popular goods that were sold to other countries on the Silk Road. During the 19th century, Great Britain invaded China and took over its trade and crushed its prosperous economy.
China's exports are featured in artwork on display by ceramist Cindy Leung, MFA, who is a multilingual artist from Hong Kong and inspired by her Chinese heritage. She received her Master of Fine Arts in ceramic arts from the University of Florida this past May.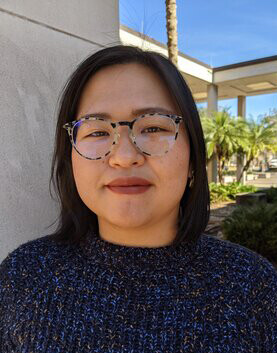 Leung's "On the Road" exhibit includes 26 hybrid-object sculptures, now through Friday, Dec. 3, at Stetson's Gillespie Museum. Cultural Credit is available for exploring both this exhibit and Meteorites & Tektites.
Leung's use of traditional Chinese materials, such as porcelain, silk and tea, explore post-colonialism while the forms that she has chosen, which correspond to the computer-input method Sucheng, reflect on her multilingual identity.
"The constant migration in my life leads me to never fully feel American, British or Chinese," said Leung. "My hybrid identity leads me to code-switch or use multiple languages in a conversation."
"The Sucheng system demonstrates English and Chinese interactions and emphasizes the essence of code-switching," explained Leung. "It's crucial for me to create objects out of mixed materials to highlight my hybrid identity."
The sculpture that was selected for the "On the Road" exhibit is integrated with minerals from the Gillespie Museum's collection, including kaolin specimens from China and Central Florida.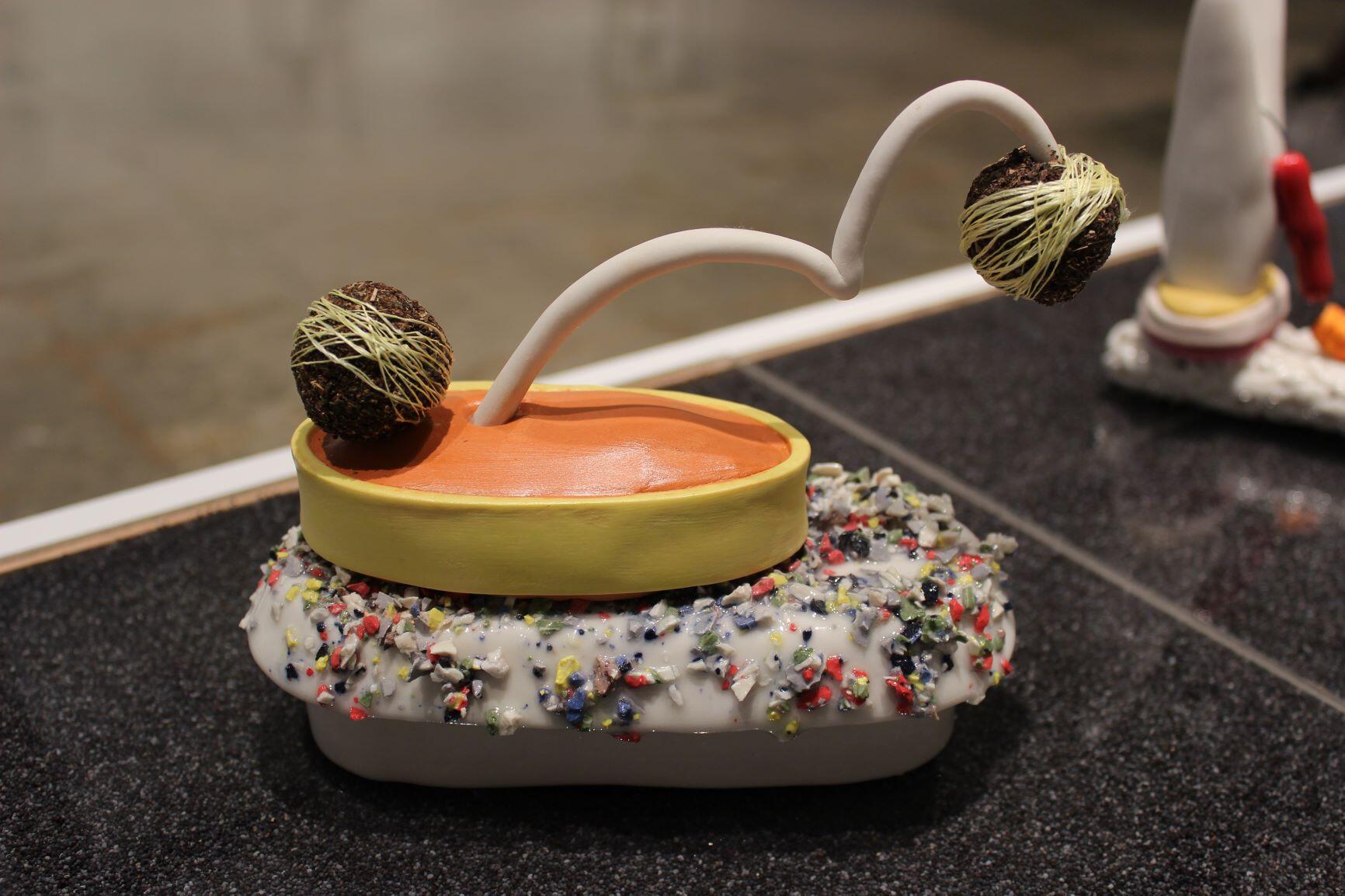 The clay mineral Kaolinite (Al₂Si₂O₅ [OH]₄) is refined from the sedimentary rock kaolin, which was historically mined in the Gaoling District, Xi'an, Shaanxi Province in China. This fine, porcelain clay, often called China clay, also is mined from deposits that are found along the Lake Wales Ridge in Central Florida.
"We are fortunate to have Cindy Leung's provocative work in our earth science museum," said Karen Cole, PhD, director of the Gillespie Museum. "Her sculptures highlight the cultural history of the clay mineral Kaolinite and connects its beauty to geology."
Leung visited Stetson in early September as part of the Creative Arts Department's Dr. Charles White Speaker Series. She visited art-studio classes and presented a virtual artist talk on her current sculpture collection, "A Borrowed Place on Borrowed Time." Her week on campus culminated during a pop-up solo show as part of the garage gallery series, "Still Life with Fruit," at Tom's Auto Repair in downtown DeLand. The display was curated by Stetson faculty Katie Baczeski, MFA, visiting assistant professor of art, and Chad Serhal, MFA, adjunct professor of art.
Visitors must wear masks and maintain social distancing to view the "On the Road" exhibit and other displays at the Gillespie Museum. The museum is located at 234 E. Michigan Ave. in DeLand. For more information, call 386.822.7330 or visit www2.stetson.edu/gillespie.
-Sandra Carr