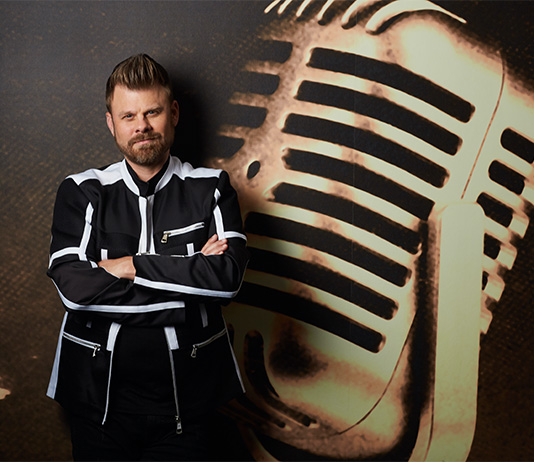 Editor's note: The full length of this article about David Wise appears in the Fall 2021 issue of Stetson University Magazine.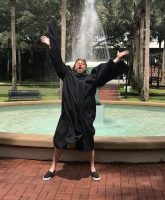 Craig Maddox, DM, associate profes­sor of music and voice, remembers his student David Wise '21 "up there on the stage doing gymnastics, full cart­wheels and backflips across the stage — literally."
Maddox chuckles at the memory from back in the day when students in Stetson's School of Music created, directed and performed an annual Broadway revue.
"Purely a student-run thing," Maddox says. "David was … one of those wiry guys who could just pop out 25 pullups. He was just a bundle of energy all the time.
"By the time David was an upperclass­man, he was the top tenor in his class. He was singing the principal tenor role in whatever opera we were doing."
That Class of 2021 designation beside Wise's name, however, masks an unlikely story: His graduation comes roughly 24 years later than expected. Emphasis on roughly.
Wise attended Stetson from fall 1993 through spring 1997. Two days before he was set to walk — or cartwheel — across the commencement stage and receive his diploma in June 1997, he got a call from his academic adviser and was told he had failed his German language course. That left him five credit hours short of the requirements needed for his vocal performance degree.
Wise wasn't able to graduate, and he was devastated.
What followed was a 24-year odyssey in which a music video created by Wise early in the pandemic, along with some Stetson serendipity and a father-son bond, all com­bined to finally give Wise reason to do a few handsprings again. He completed his degree this summer.
Never mind that he had long ago estab­lished himself as a respected, Nashville-based, full-time vocalist, session singer, music arranger and producer. Wise's credits include working with country superstar Dolly Parton and gospel legend Sandi Patty, plus on the "Jersey Boys" movie soundtrack and the Macy's Thanksgiving Day Parade, among many other highlights.
Yet, that elusive piece of paper, that Stetson diploma, was something special. And it didn't exist.
'Couldn't Back It Up'
Lacking a degree "didn't keep me from my career. But I always wanted to feel that pride of being a Stetson alum," Wise says by phone from Nashville during a break from working on the music for "Into the Spotlight," an upcoming Christian film. "I've done so much in my career that I'm proud of — and there's so much of my career that I owe to the teaching and foundation that Stetson gave me.
"I would always say in my bio 'attended Stetson University with a vocal performance emphasis.' But I always wanted to be able to say, 'graduated from Stetson University.' I never wrote that sentence, ever, because I was always ashamed because I couldn't back it up."
Wise grew up in Crestview, a town in the Florida Panhandle. His father was an engi­neer at nearby Eglin Air Force Base, as well as a part-time pastor and an accomplished musician himself who played acoustic guitar, upright bass and clarinet.
From the age of 2, Wise was a singer in church. He began playing piano at 7, and French horn at 11. "I was never going to be a straight-A student, but I knew from as early as I can remember that music was really all I was ever going to do," he says.
In high school, he took private voice lessons from Penny Tolbert, a Stetson alumna (Class of 1987, Bachelor of Music) who recommended he check out the univer­sity. Wise enrolled as a vocal performance major, and his studies went well, gymnastics and all, until the day of that fateful news from his adviser.
So, Wise would simply extend his Stetson tenure through that summer, buckle down and pick up those remaining credit hours, right? No.
Instead, the real world intervened.
Wise had been working as a singer at the Walt Disney World Resort in Orlando since October 1996, and he was scheduled to start work two days after graduation as a singer in a show at Six Flags in Atlanta. Even before that job ended, he had landed a gig singing on a cruise ship in Italy. While still aboard ship as that job was ending, Disney called and hired him back as a full-time singer at the park. He was a busy performer.
"And the rest is history," Wise says, "because that was my career."
Stetson Serendipity for David Wise
He periodically inquired with Maddox and a succession of music-school deans about completing his degree, but each changing of the guard necessitated virtually starting over from scratch. And besides, "There was never an opportunity for me to go back and get it," Wise remembers. "I got married; we started having children. I was working full time in the industry, and there was no way for me to stop."
Then Stetson serendipity arose.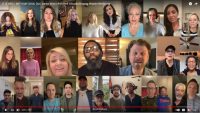 When the COVID-19 pandemic hit in March 2020, Wise was firmly ensconced in the Nashville music scene. Like multitudes of Americans, though, he suddenly found his career on lockdown, too.
"I was sitting in my bed, and I thought, 'I just sang a session with all these people in a room, and I have no idea when I'm going to be in a room with them again,'" Wise recalls. "I thought, 'Wouldn't it be great if we could still find a way to make music together?'"
That night, a new arrangement of "It Is Well With My Soul," the old gospel hymn, "just poured out" of him. He emailed dozens of his session-singer friends, who each enthu­siastically agreed to video themselves singing seven- to 10-second snippets of the lyrics into their cellphones and text back the clips to him. The video, also including Wise in song, was completed with help from a video pro­ducer and an audio engineer.
"From the moment I had the idea to the day that it was released was one week [in March 2020]," Wise recounts. "Within three days, we had over a million views."
At least one of those viewers was Woody O'Cain, then-assistant vice president of Alumni and Parent Engagement, who shared that YouTube video on the Stetson University Alumni Facebook page. Serendipity.
In February 2021, 11 months after that video's release, O'Cain saw it once again on his Facebook feed and was once again pro­foundly moved. Only this time, he was struck by the belief that his father, Joe O'Cain, a retired Presbyterian minister living in Bethany Center for Rehabilitation & Healing, a Nashville nursing home, should see this version of the song. (Woody O'Cain is now vice president of enrollment at Presbyterian College in South Carolina.)
So, O'Cain arranged for his father to see the video via an iPad that his father's church, Glendale Baptist, had given him so that he could still continue to watch their Sunday services online. O'Cain quickly heard back from the nursing home that his father had gotten "really emotional" when he heard the song.
Also, O'Cain recalled someone had mentioned that Wise once attended Stetson, but O'Cain couldn't find him in any records. He tracked down Wise's website and emailed him with a note that the video had brought tears to his father's eyes. And O'Cain asked Wise if he actually had attended Stetson. Wise's response was almost immediate.
"[Wise] was so excited and mentioned that he had often tried to figure out how to finish his degree. That was not only his dream but also his father's dream, and he would love nothing more than to finish it," O'Cain says about Wise's return email.
At Long Last
O'Cain contacted Timothy Peter, DMA, then-interim dean of the School of Music; Andrew Larson, DMA, associate dean and professor of music and choral conducting; and Maddox. Not long afterward, Wise was on his way to becoming, finally, officially, a Hatter.
(The article on David Wise is continued in the Fall 2021 issue of Stetson University Magazine.)
– Rick de Yampert