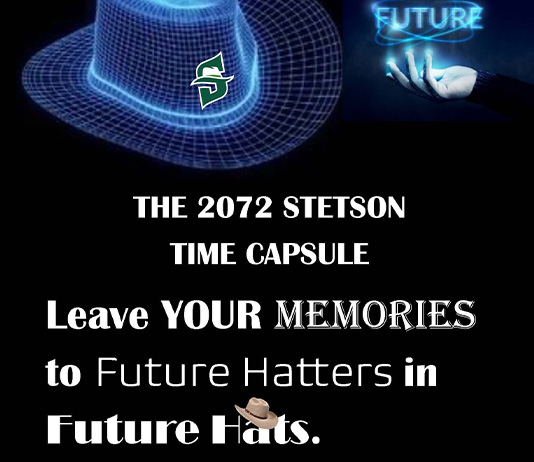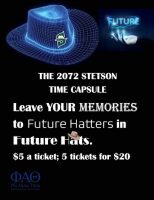 Want to go down in the university's history? The 2072 Stetson Time Capsule, sponsored by the Phi Alpha Theta History Honor Society, is a guaranteed way to make that happen.
The time capsule will be placed under the new construction of the Cici & Hyatt Brown Hall for Health & Innovation — and will be opened 50 years from now.
Think of all the changes we have gone through in the past two years — a global pandemic! — let alone how much the world will change in the next half a century.
This is an opportunity to literally cement a physical object and a personal message for historical preservation.
How? Twenty lucky members of the Stetson community will be selected to contribute to the time capsule via a random drawing of tickets sold. Tickets sales began in early October and continue through November. The random drawing will take place on Jan. 14. (Look for the table outside the CUB Oct. 14-15.)
The entire Stetson community is invited to participate. There will be two different ticket colors, with the tickets of 10 students and 10 non-students selected. Tickets holders receive the chance to include an object in the time capsule plus a message of up to 100 words, which will be placed in a separate, adjacent time capsule on archival thin paper. The capsules will be assembled in March.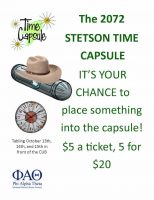 Tickets can be purchased for $5 each or five tickets for $20 by completing the Time Capsule Form.
Consider these words from history major Madison Goff '22: "As a student and historian, the idea of being able to influence what is remembered about the era we are living in is incredible. Being on a college campus throughout a global pandemic is an experience unique to us, and it is imperative to document the experiences we have had and the items that have shaped our time at Stetson during COVID-19. The items placed in this capsule will eventually serve as primary artifacts. These objects selected by our community will be analyzed and then situated in the conversation of cultural history on college campuses during a pandemic. The objects preserved could eventually be cited in scholarship, and the idea of recognition as a primary source is appealing."
Added fellow history major Abigail Arient '22: "The time capsule is a way for students and community members to not only leave a legacy at Stetson, but to be a part of history as well. The time capsule serves as a celebration to how much Stetson has grown with the addition of the new health science building and will remain to follow the further growth of Stetson after 50 years."
And here's another benefit: All proceeds from the sale of tickets will go to fund the Phi Alpha Theta State Conference, hosted by Stetson this spring, as well as academic travel for history students, such as to the 2023 Phi Alpha Theta Nationals in Long Beach, California.