Masks Optional in Residential Hallways When Moving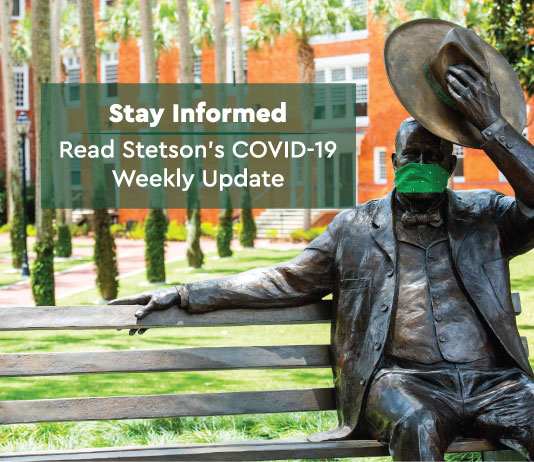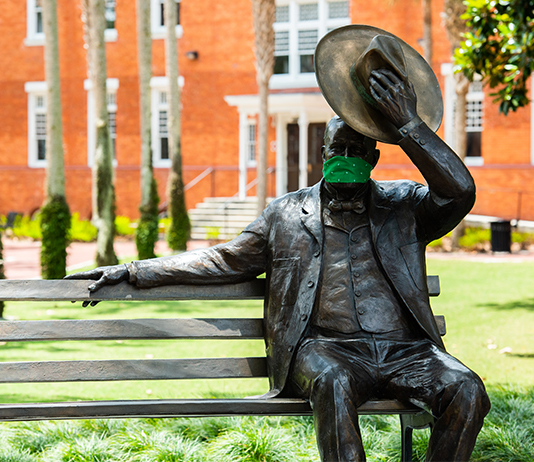 Safer Campus Task Force Update 
Overview
Face Coverings Update
COVID-19 Vaccination and Booster Opportunity
On-Campus COVID-19 Testing
Latest Test Results
Face Coverings Optional in Residential Hallways
Effective immediately, face coverings are no longer mandatory in residential hallways when actively moving. In response to sustained positive COVID-19 trends, Stetson University has authorized less restrictive protocols for face coverings in residential living areas. Previously, masks had been required in all hallways.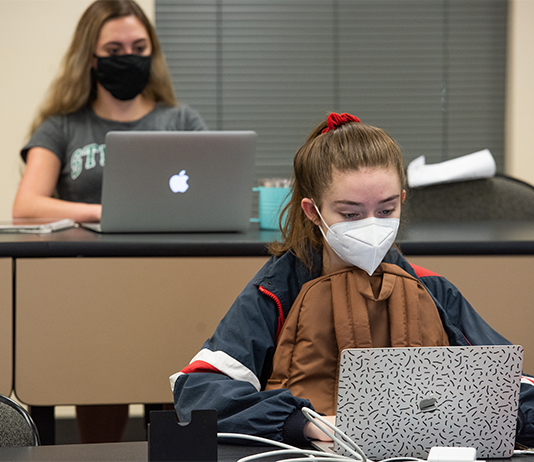 As a reminder, face coverings continue to be required in:
Classrooms.
Meetings of more than four people (and four or fewer if unvaccinated).
Common areas, shared offices and hallways in all areas other than residence halls.
All discussions and other prolonged social interactions in residential hallways continue to require face coverings. In addition, Stetson recommends all unvaccinated persons wear face coverings in higher risk situations. The university reserves the right to alter these protocols based on COVID-19 trends and health guidance.
On-Campus COVID-19 Vaccination and Booster Opportunity
As a reminder, Stetson University will be hosting a campus COVID-19 vaccination clinic on Monday, Nov. 22, at the Rinker Field House, Hollis Center. First and second doses, as well as boosters will be available. However, if individuals are unable to receive a second dose on that date, they may receive the second dose off campus. After that,  submit the vaccination record to Stetson by using the online form. At this time, the Volusia County Health Department is unable to accommodate specific vaccine preference. Participants will receive either Pfizer (two doses), Moderna (two doses), or Johnson and Johnson (one dose). Walk-ins are welcome.
As a bonus, the Volusia County Health Department will provide a $10 food voucher for first-dose recipients. In addition, COVID-19 boosters will be available for qualified individuals.
Sign up for your appointment today!
On-Campus COVID-19 Testing
SalivaDirect PCR-based testing is free for students, faculty and staff with a Stetson ID.  No insurance is required. COVID-19 testing will be provided every other Tuesday, 8:30-9:30 p.m., and Wednesday, 8:30 a.m.-3:30 p.m., in the CUB Faculty/Staff Lounge. Please make a note of your registered testing date(s) and time(s). Appointment verification is only provided upon registration and via email 24 hours prior to your test(s).
Latest COVID-19 Test Results
Asymptomatic On-Campus Testing
Nov. 9-10 – Ongoing general testing results: 87 tests, 0 positive, 0% positive.
Oct. 27-Nov. 4 – 91 PCR tests of student-athletes and Athletics staff, 0 positive, 0% positive.
A full list of Stetson University's COVID-related statistics is available on our COVID-19 Tracking webpage.