Booster Shots, Face Coverings and Getting Tested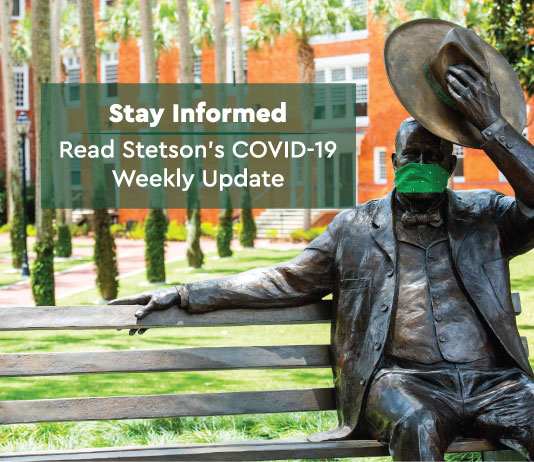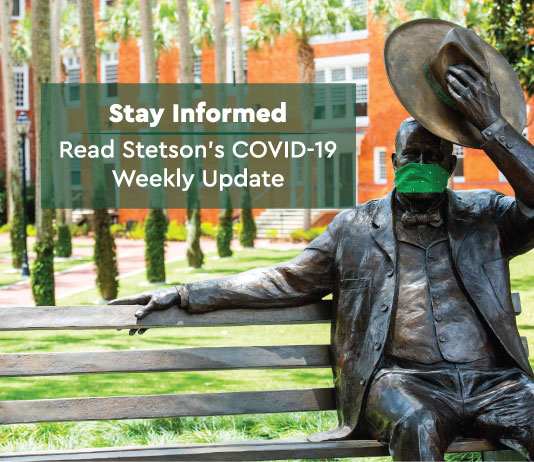 Safer Campus Task Force Weekly COVID-19 Update
Overview
Get and Report Your Booster
Stetson Encourages Use of Higher Quality Masks
What to Do If You Think You Have COVID-19
Latest Test Results
Get Your Booster Shot!
The American College Health Association now recommends COVID-19 booster shots for all university students, faculty and staff. Boosters and vaccines remain the best public health measure to protect people from COVID-19, slow transmission, and reduce the likelihood of new variants emerging.
Boosters help you with potential quarantine if you are exposed as, currently, boosted individuals DO NOT have to quarantine following direct exposure, whereas even fully vaccinated individuals do need to quarantine if a booster is due.
Do You Qualify?
Anyone 12 and older who received their initial Pfizer series more than five months
Anyone 18 and older who received their initial Moderna series more than five months
Anyone 18 and older who received Johnson and Johnson more than two months
According to the Centers for Disease Control and Prevention, data from South Africa and the United Kingdom demonstrate that COVID-19 vaccine effectiveness against infection for two doses of an mRNA vaccine is approximately 35%. A booster dose restores vaccine effectiveness against infection to 75%. COVID-19 vaccination decreases the risk of severe disease, hospitalization and death from coronavirus.
If you have tested positive for COVID-19 within the last 90 days, please report it to Stetson using the Report It form, as this will impact your testing requirements and possible quarantine if exposed.
Find a booster vaccine at COVID-19 vaccine locator. To learn more, visit Safer Stetson's COVID-19 Vaccination webpage.
Report Your Booster
If you already received your COVID-19 booster and/or vaccine, please submit your vaccination record to Stetson by using the online form. This data is a vital component of our decision-making process for several reasons:
Knowing what percentage of our campus population is vaccinated and boosted will help us to make accurate decisions about moving in our tier system.
Knowing your status helps Stetson communicate with the DOH about how many vaccines and boosters we believe we still need for future on-campus events.
Vaccination data is available only to Stetson Health Service, Risk Management and Human Resources staff assisting in the verification process.
Stetson Encourages Use of Higher Quality Facial Coverings
Stetson University strongly encourages the use of respirators (such as N95 and KN95), especially in classroom settings, as they are proven to be highly effective in containing the spread of COVID-19 and all of its variants.
The Centers for Disease Control and Prevention updated its guidelines on masks on Friday, Jan. 14. The update stated, "While all masks and respirators provide some level of protection, properly fitted respirators provide the highest level of protection."
What is the difference between masks and N95 respirators?
Masks, including the cloth and surgical masks that are commonly seen, are designed to contain your respiratory droplets and particles. They also provide you some protection from particles expelled by others.
Respirators, such as the N95, made in the U.S. and KN95, made in China, are designed to protect you from particles, filtering out +90% of respiratory droplets, including the virus that causes COVID-19. In doing so, they also contain your respiratory droplets and particles, so you do not expose others.
What to know about N95's and KN95's:
Filter up to 95% of particles in the air when approved by NIOSH and proper fit can be achieved
Seal tightly to the face when fitted properly
Since they form a seal to the face, they may feel harder to breathe through than a cloth mask
Cannot be washed. They need to be discarded when they are dirty, damaged, or difficult to breathe through
Tend to be more expensive than masks
More information on masks and respirators can be found at CDC – Facial Coverings.
Please remember, Stetson University moved to Tier 3 to better safeguard our community as we return to campus for the Spring 2022 semester due to Omicron. This included mandating the use of masks indoors for everyone. Our current face covering policy and tier status will be reassessed in two weeks.
Get Tested
On-campus SalivaDirect PCR-based COVID-19 testing is free for students, faculty and staff with a Stetson ID and no insurance is required. Below are the ongoing testing dates and registration links for Spring 2022. Testing will be provided every other Tuesday 8:30-9:30 p.m. and Wednesdays 8 a.m.-2:30 p.m. in the CUB Faculty/Staff Lounge. Please make a note of your registered testing date(s) and time(s) as appointment verification is only provided upon registration and via email 24 hours prior to your test(s).
What Do You Do If You Think You Might Have COVID-19?
Any member of the Stetson community who has been to campus in the last 14 days and feels they may have come into direct contact with the virus causing COVID-19 or is experiencing flu-like symptoms (fever over 100.4 F, chills, cough, shortness of breath or difficulty breathing, fatigue, muscle or body aches, headache, new loss of taste or smell, sore throat, congestion or runny nose, nausea or vomiting, or possible hearing loss) should alert Stetson immediately.
For additional information, please visit the Safer Stetson website.
Latest COVID-19 Test Results 
Asymptomatic On-Campus Testing
Jan. 4-9 – Ongoing Gateway Testing results: 465 tests, 50 positive, 10.75% positive
Jan. 5-8 – On-campus voluntary testing results: 298 tests, 30 positive, 10.06% positive
A full list of Stetson University's COVID related statistics is available on our COVID-19 Tracking dashboard.