Face Coverings, Gateway Testing and Boosters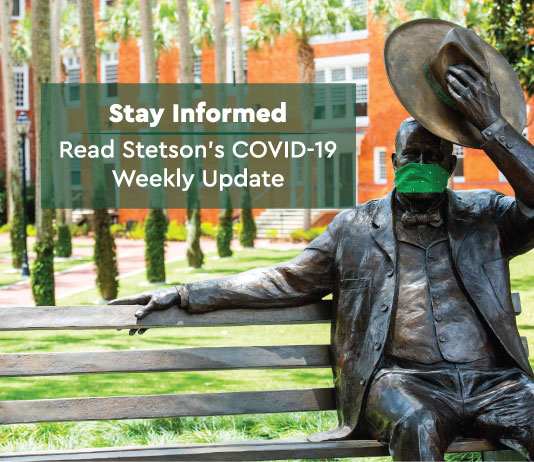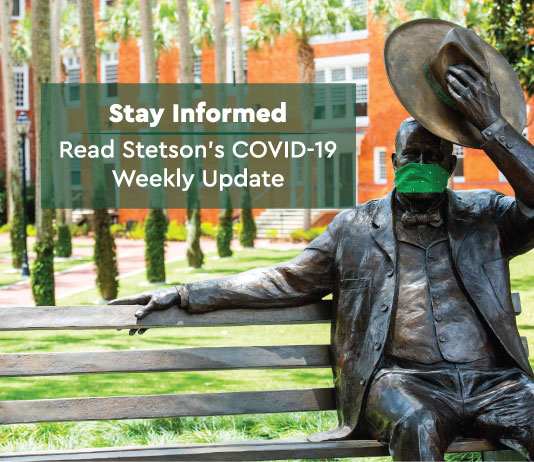 Safer Campus Task Force
COVID-19 Weekly Update
Welcome Back for Spring 2022! 
Here is a quick look at your Top 10 Spring 2022 start information:
Facial coverings are mandatory indoors for everyone – and they must cover your nose and mouth.
Stetson will start Spring 2022 in Tier 3, and reassess two weeks after the Jan. 10 start of classes.
Test regularly!!
If you are not campus cleared, you must complete Gateway Testing before moving about campus.
Given Omicron, we are opening up testing this week for everyone. If you are campus cleared but would like to participate in testing, sign up here.
 Vaccination and boosters remain the best way to protect yourself against COVID-19. If possible, get your booster now at your local pharmacy! You can also sign up to get your vaccine or booster on-campus on Monday, Jan. 10.
Current residential building guidance includes:
Only two Stetson guests or non-Stetson visitors allowed in residence buildings.
One overnight Stetson guest permitted with face coverings, unless sleeping.
Two Stetson guests allowed with distancing and face coverings required.
Non-Stetson visitors are prohibited, with the exception of hall reopening Jan. 8-10.
Group size for registered events is limited to 50 people with physical distancing.
Report exposure, symptoms, positive test results and COVID-19 policy concerns at www2.stetson.edu/reportit, regardless of vaccination status.
Remember to be isolation ready. Pack a small suitcase in advance.
Visit the Safer Stetson website for the most up-to-date campus COVID-19 data.
Practice good virus prevention habits – wash your hands for 20 seconds or more, keep your distance and self-monitor for symptoms. Be mindful of being in large groups, especially inside bars or restaurants.
CDC Changes Isolation Requirements 
On Dec. 27, the Centers for Disease Control and Prevention updated their COVID-19 isolation and quarantine and added a revision on Jan. 4, 2022. According to the CDC, "the change is motivated by science demonstrating that the majority of SARS-CoV-2 transmission occurs early in the course of illness, generally in the 1-2 days prior to onset of symptoms and the 2-3 days after."
Positive cases regardless of vaccination status: isolate for 5 days (if asymptomatic or symptoms are resolving) and wear a mask for the next 5 days after clearance. Testing on day 5 is highly recommended. If test is positive on day 5, extend isolation until day 10.  
Direct exposures: if unvaccinated or fully vaccinated, but booster due – (Moderna and Pfizer – over 6 months from second dose, Johnson and Johnson – over 2 months from single dose) – quarantine for 5 days and strict mask wearing for 5 days after clearance. Testing on day 5 is highly recommended 
Direct exposures with booster or within "no booster due" timeframe: no quarantine needed but should wear a mask for 10 days. Testing on day 5 is highly recommended. 
Detailed Testing Information: Three Options 
1) Spring 2022 Gateway Testing for Those Not Campus Cleared (Unvaccinated)  
Required COVID-19 testing at the start of the Spring 2022 semester, called the Gateway Testing Campus Arrival Process, will take place Tuesday, Jan. 4, through Monday, Jan. 10, in the Rinker Field House, Hollis Center. If you are not campus cleared (not vaccinated), you must participate in Gateway Testing. 
Register for an Appointment: Visit the Spring 2022 Gateway Testing webpage, where you will find registration links for testing.
Reschedule an Appointment: Unable to schedule an appointment during the dates or times offered? Complete the Accommodation Request Form.
Request an Exemption from Testing: Please fill out the Exemption Request Form.
For more information, visit Safer Stetson's Gateway Testing webpage. Please address additional questions and concerns to the Screening and Testing Subgroup at [email protected].
2) Get Tested and Isolate at Home If Necessary
Students may choose to get a COVID-19 test (rapid antigen or PCR) before returning to campus if possible and feasible. Testing prior to arrival on campus allows those with positive test results to isolate at home rather than isolating upon arrival to campus. However, this is not required.
3) Expansion of Free COVID-19 PCR Testing on Campus
Free SalivaDirect PCR-based Testing is now available in the Hollis Center, Rinker Field House. This testing is free for campus-cleared individuals who are not already participating in the Gateway Process. Sign up for your appointment now.
Please address questions and concerns to the Screening and Testing Subgroup at [email protected]. As always, please notify Stetson at www2.stetson.edu/reportit if you test positive.
On-Campus Vaccination and Booster Shots
The American College Health Association now recommends COVID-19 booster shot for all students, faculty and staff. COVID-19 booster shots and even vaccinations are available at an on-campus clinic on Monday, Jan. 10. Appointments are required, but you can sign up for your appointment today! This clinic is sponsored by the Florida Department of Health and Stetson's Office of Health Service.
The booster shots are available for qualified individuals — anyone 16 and older who received their initial Pfizer or Moderna series more than six months ago and anyone 18 and older who received Johnson and Johnson more than two months ago.
According to the CDC, data from South Africa and the United Kingdom demonstrate that COVID-19 vaccine effectiveness against infection for two doses of an mRNA vaccine is approximately 35%. A booster dose restores vaccine effectiveness against infection to 75%. COVID-19 vaccination decreases the risk of severe disease, hospitalization and death from coronavirus.
Vaccinations are available for anyone who is qualified. If you already received your COVID-19 vaccine and/or booster, please submit your vaccination record to Stetson by using the online form. If you can receive a vaccination or booster before coming to campus, we highly recommend it.
Sign up now for your on-campus vaccine or booster appointment!