Stetson University in the News, Jan. 14-20, 2022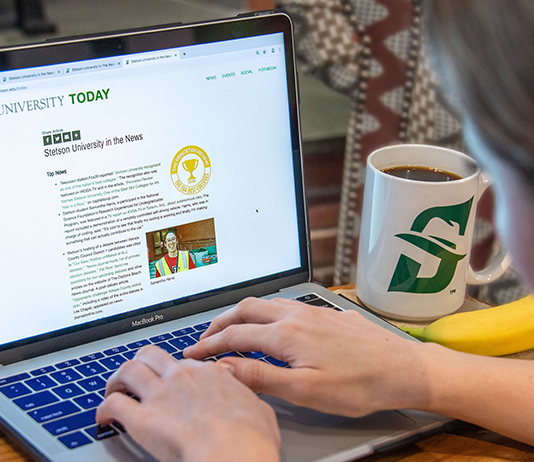 Top Stories: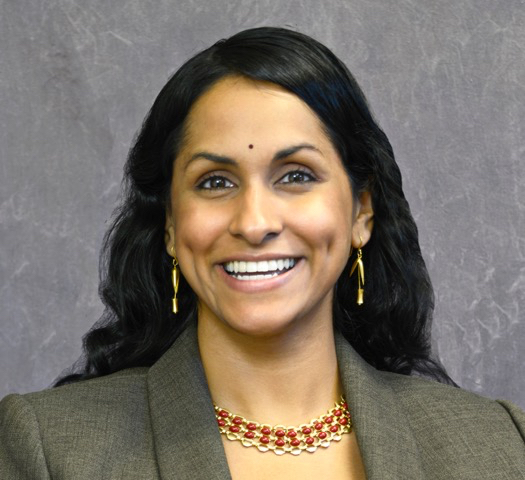 • Professor and Jessie Ball duPont Endowed Chair of Social Justice Education Rajni Shankar-Brown, PhD, was quoted in the Tampa Bay Times story, "The state of Florida promised her help with rent. Then she was evicted," on Jan. 14. The article also quoted Law alumna Mercy Roberg. Versions of the story ran in outlets, including The Bradenton Herald, the Fort Worth Star-Telegram, Myrtle Beach Sun News, The Wichita Eagle, The Charlotte Observer and other outlets throughout the U.S.
• Stetson was mentioned in a Spectrum News 13 segment on Jan. 14 for handing out free KN95 respirators to the students, faculty and staff in an effort to prevent the spread of COVID-19.
• Professor of Political Science William Nylen, PhD, published a guest commentary at the West Volusia Beacon entitled, "Are we suffering without food traditions? No." Nylen discussed the diverse array of food traditions within U.S. cuisine.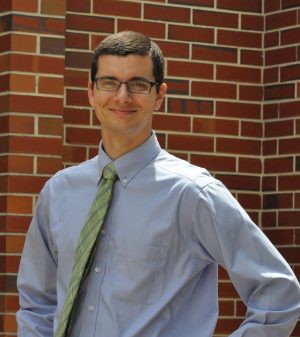 • Associate Director of Community Engagement Kevin Winchell was quoted in the Daytona Beach News-Journal article titled, "DeLand's march on Martin Luther King Jr. Day smaller in stature but not in message" on Jan. 17. "Community is vital for movements like this," he said. "When you're talking about justice, when you're talking about making change, it requires bringing people together and that requires action, that requires movement, literally."
• Professor of Psychology Christopher Ferguson, PhD, was featured on The Big 870, a New Orleans-based radio station, to discuss the lack of a link between video games and violence on Jan. 19.
• Law Professor Ciara Torres-Spelliscy was quoted in a Jan. 17 ABC Action News story called, "How voting rights have changed since Martin Luther King's push," which also ran on dozens of other ABC affiliate channels and websites.
Other News: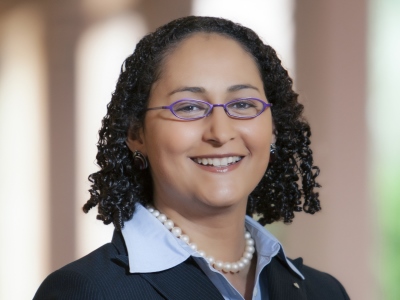 • Law Professor Ciara Torres-Spelliscy was quoted in a Jan. 12 article on the Daily Beast titled, "Mo Brooks is the Jan. 6 Congressman Who Can't Keep his Mouth Shut." Versions of the article also ran on Yahoo! News and other outlets.
• Adjunct Professor and alumnus Jay Wolfson was quoted in a Jan. 14 Spectrum Bay News 9 segment about the legal fight between Florida and the federal government over mandating vaccines for health care workers.
• Law Professor Royal Gardner co-wrote a Jan. 16 op-ed in the Miami Herald that also appeared on Yahoo! News titled, "Some Florida lawmakers want to make it easier to destroy life-sustaining seagrass. Why?"
• Stetson Law was mentioned in a Jan. 10 blog post in the JD Supra blog.
• Law Professor Jason Palmer was mentioned in the International Law Prof Blog on Jan. 10 for his role as the new Section Chair-Elect of the AALS Section on International Law.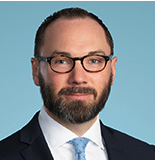 • Excerpts from articles written by Law Professor Andrew Appleby were featured in two Jan. 11 posts on Tax Prof Law Blog:
"Designing the Tax Supermajority Requirement"
"Subnational Visitor Services Taxation"
• Law Professor Rebecca C. Morgan wrote a Jan. 12 post for the Elder Law Prof Blog titled, "Will Medicare Part B Premiums Drop in 2022?"
• Law Professor James Fox's scholarly article, "The Constitution of Black Abolitionism: Reframing the Second Founding," was highlighted on the Originalism Blog on Jan. 13.
• Law Professor Luz Nagle was cited in a Select Bibliography for a Workshop at the Radcliffe Institute for Advanced Study, Harvard University, Operational Guidance to Address Humanitarian Trafficking in Humanitarian Crises, April 2017.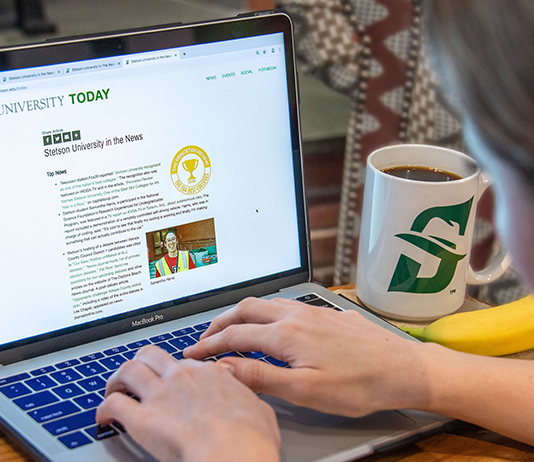 Alumni News:
• Alumnus and 2021 Mrs. Jordan beauty queen Jaclyn Stapp was featured in the National News article, "Who is Jaclyn Stapp? Jordan's Mrs World runner-up," on Jan. 16.
• Pamela Spurrell, a student at Stetson University, was featured in the Palm Coast Observer article, "Pamela Spurrell, who put college on hold for 20 years to raise her children, is three semesters from graduating at Stetson."
• Law alumna Theresa Jean-Pierre Coy, a well-known Tampa defense lawyer, was highlighted in a Jan. 10 Tampa Bay Times article titled, "Prominent Tampa Lawyer to Tackle Wrongful Convictions." This story also ran in Yahoo! News as well as The Florida Bar News.
• Law alumnus Joe Cuffel's recent joining of Green, Schoenfeld & Kyle LLC was mentioned in the Jan. 10 Business Briefs section of the Cape Coral Breeze.
• Law alumna Marissa Milazzo was mentioned Jan. 17 in the Sarasota Herald-Tribune and Yahoo! News for recently joining Berlin Patten Ebling.