Manatees and Underwater Archaeology at Stetson's Gillespie Museum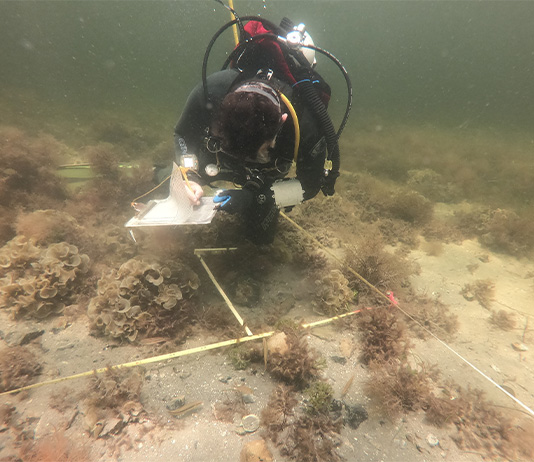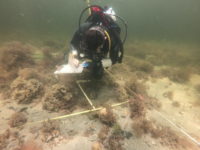 With an eye on the approaching calendar, Stetson's Gillespie Museum is springing into action on campus throughout February, starting Feb. 10 with a Stetson student exhibit about manatees.
Also, the museum opens its spring 2022 Science Café series with a presentation Feb. 17.
Manatee Mortality
In 2021, the mortality rate of manatees in Florida rose to 1,101 deaths — 1.7 times the usual five-year average, resulting in what the Florida Fish and Wildlife Conservation Commission has identified as "an unusual mortality event."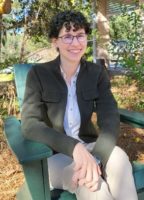 "2021 Manatee Mortality in Volusia County," a ceramic and wood installation, focuses on the plight of the large, slow-moving marine mammals in Volusia County. Created by Casey Ramey, a junior environmental studies major with a strong background in art, the exhibit opens Feb. 10 at 5 p.m. with an outdoor reception and in-museum gallery talk. (To make a reservation for the gallery talk, call 386-822-7330 or email [email protected].) This exhibit will remain open through April 29.
In the past, the primary threats to manatees have been collisions with boats, toxic algae and cold weather. Last year, starvation became a main factor, particularly in the Indian River Lagoon, a 150-mile-long saltwater estuary where more than 90% of seagrass, manatees' main food source, has died. The record number of manatee deaths in 2021 is an estimated 10% of the total manatee population statewide.
Ramey, passionate about manatees since childhood, examined manatee counts in Florida in a GIS-mapping project in spring 2021. Ramey remained focused on this environmental crisis in a Fall Semester 2021 ceramics studio course. As part of the installation, each of the 76 ceramic manatees represent one that died in Volusia County in 2021.
Underwater Archaeology
The Gillespie opens its spring 2022 Science Café series with a Feb. 17 conversation/presentation at 5 p.m. on "Florida Underwater Archaeology." The talk is led by geoarchaeologist Morgan Smith, PhD, assistant professor of anthropology at the University of Tennessee – Chattanooga.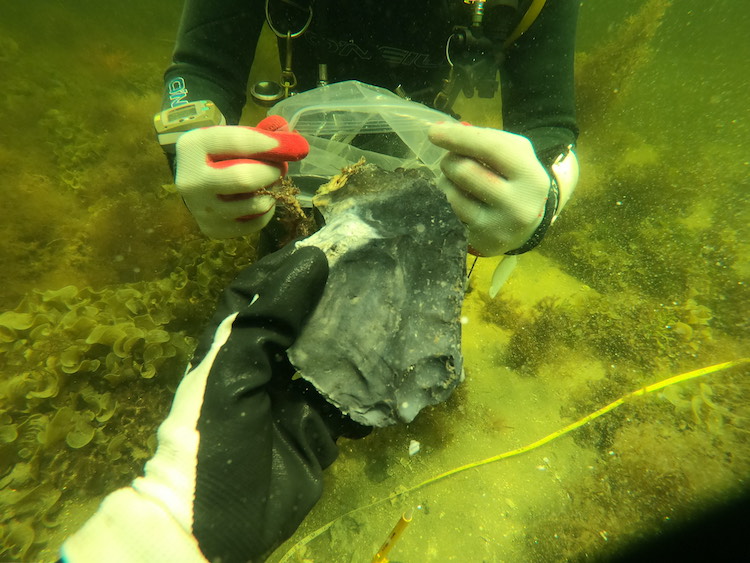 Smith worked in the Southeast Archaeological Center of the National Park Service before receiving his doctorate in anthropology. In the past decade, he has directed full-scale geoarchaeological excavations of underwater prehistoric sites, as well as surveys of terrestrial and submerged lands throughout North America. He has contributed to underwater archaeology by developing methods and models to locate underwater prehistoric sites more accurately and reliably, with an emphasis on mobile forager societies.
Smith's visit to campus is supported by Stetson's Institute for Water and Environmental Resilience and a National Science Foundation STEM scholarship grant (Cohort-Based Interdisciplinary Learning to Increase Retention and Graduation Rates of Undergraduate Students in Science, Technology, and Mathematics).
The Science Café presentations also are available online as part of the museum's Armchair Geology series, co-sponsored by the Department of Environmental Science and Studies. (To register for any of the online Armchair Geology events, contact the museum at [email protected] or 386-822-7330).
Additional Science Café presentations this spring include "Roadside Geology of Earth's Moon," with planetary geochemist and lunar scientist Stephen Elardo, University of Florida (March 17); and "Mars Sample Return Mission," with organic geochemist and planetary scientist Amy Williams, University of Florida (April 14). All events are at 5 p.m. and offer Cultural Credit to Stetson undergraduates.
Note: The Gillespie Museum is free and open to visitors Tuesday through Friday, 10 a.m.-4 p.m. Visitors must wear masks.