The Hand Art Center hosts "Transfiguration: A Black Speculative Vision of Freedom"
The Hand Art Center's Spring opener brings AfroFuturism to Stetson University by way of an art exhibition titled, "Transfiguration." This exhibit showcases dynamic visual imagery, poetry, music and graphic comics from some of the greatest contributors to the AfroFuturist genre.
Curated by Julian Chambliss, PhD, of Michigan State University, with support from the Phillip and Patricia Frost Art Museum at Florida Atlantic University, Transfiguration explores black identity in imagined futures, and provides a recasting of characters from popular culture. The artist duo known as Black Kirby (John Jennings and Stacey Robinson) provide a portrayal of the character "Magneto" from the X-Men comic series, recast as ardent advocate for racial justice and the Nation of Islam, Malcolm X.

Another contributor to the exhibit, Nettrice Gaskins, utilizes an algorithm developed by the artificial intelligence engine Deep Dream. Using their convolutional neural network that finds and enhances patterns in images, Gaskins creates surreal portraits of well-known figures. Gaskins' contributions to Transfiguration includes portraits of Octavia Butler and Stacey Abrams who rose to national prominence during her high-profile run for governor of Georgia in 2018.
Artwork from Kirsta Franklin, the renowned poet and performance artist includes imagery, poetry and a performance piece.  In her work, Franklin takes a conceptual approach to the African diaspora and emphasizes Black bodies as well as the fantastic, popular culture, and mythmaking. Franklin cites the music of Sun Ra, the films of Pam Grier, and the books of Nalo Hopkinson and Octavia Butler as significant influences. Specifically, the artist cites Butler's text Wild Seed as a source of inspiration for her work, including the works featured in this exhibition.
Known for his much-heralded comic, Matty's Rocket, Tim Fielder's contribution to Transfiguration consists of three panels that are a part of Fielder's new graphic novel, Infinitum: An Afrofuturist Tale. Released in January 2021, Infinitum addresses systemic racism, class consciousness, and gender inequalities. Like many Afrofuturist thinkers, Fielder cites science fiction writer Octavia Butler as an influence. His other sources include the films Flash Gordon and Metropolis, the Harlem Renaissance, World War II, and the unjust Jim Crow era. Fielder has worked with Marvel Comics, Tri-Star Pictures and The Village Voice, among others.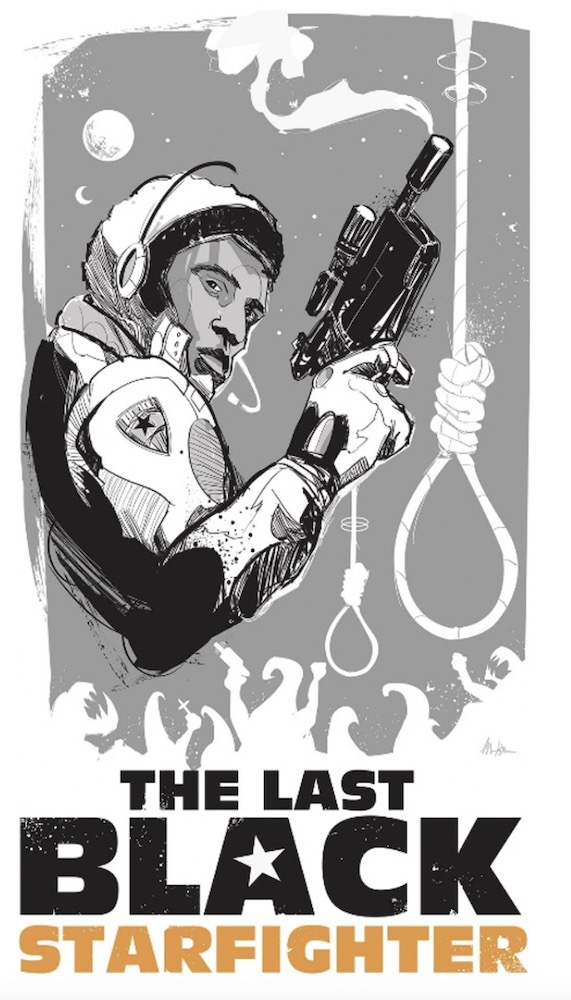 Another collaborative project in the exhibit comes from Intergalactic Soul (Marcus Kiser and Jason Woodberry). This artist duo contributed six framed images from one of the earliest works they created following their new alliance, titled, The Last Black Starfighter. In this narrative, the artists employ comic book aesthetics to portray two children, Astro and Pluto, whose favorite television show, The Last Black Starfighter, features a Black astronaut combatting the gentrification of various planets. Kiser and Woodberry recognize that racism and oppression intersect with economic changes in communities that negatively impact longtime residents through gentrification.
Transfiguration will be on display at the Hand Art Center through Feb. 19. Visitors to the Hand Art Center are required to wear masks as part of the Stetson University COVID-19 protocols. Cultural Credit for Stetson University students is available either in person or by visiting the HAC website: www.HandArtCenter.org/transfiguration
-James Pearson
Director, Hand Art Center