'Home of Hatter Golf' to be Officially Dedicated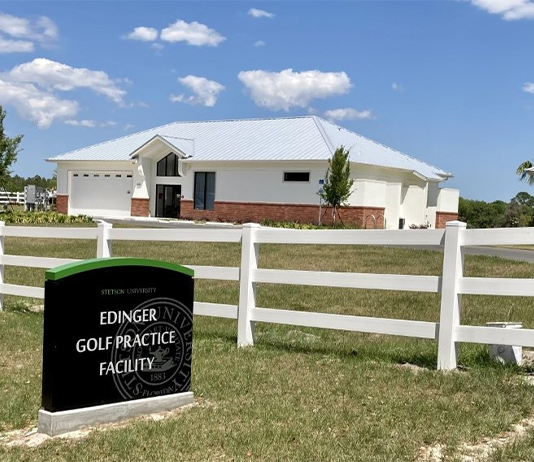 Two years after its opening, the Stetson community finally gets the chance to officially celebrate the "Home of Hatter Golf."
An open-house dedication event is planned for the Edinger Golf Complex on Saturday, March 26, 10 a.m.-2 p.m. Exhibitions begin at 10:30 a.m., followed by a putting contest at 12:15 p.m. and the formal dedication at 1 p.m.
The $3 million complex is located at 4255 Marsh Road in DeLand.
Much of the facility's funding came from its namesakes: former Hatter golfer Sandy Edinger '65 and his wife, Martha, of Bradenton. (The complex's webpage on gohatters.com lists other naming opportunities for potential donors.)
Among the complex's highlights is plenty of advanced video technology — the type more typically used by golf professionals than college student-athletes, noted Danielle Shelburne '10, head coach of Stetson's women's golf team who was a standout golfer for the Hatters from 2006 to 2010.
"My players are using [the technology] to analyze the data of their swings and of how the ball reacts — different spin rates, miles per hour on your clubhead speed, ball speed," Shelburne  explained. "Using the data you gather over a session or several weeks' worth, you analyze it to see where your game is and how you can improve it. All the players enjoy using it."
Additional highlights include two pitching greens, a large putting green, five target greens (at 20, 30, 40, 50 and 60 yards). As a result, Hatters have the opportunity to improve their short game as well as hit target greens up to 310 yards away. From under roof cover, the golfers are able to hit outside onto the golf range, rain or shine.
Also notably, the course features no grass. Instead, the Edinger Golf Complex sports synthetic turf, which offers greater opportunities for skill development and lower environmental impact, according to Shelburne and former men's coach Larry Watson. A former touring pro, Watson was an integral part of the facility's design before retiring from Stetson in July 2021.
The clubhouse, meanwhile, has locker rooms for both the men's and women's teams, plus a common area for players to study and have meetings, coaches' offices, a kitchen, and an oversized garage to house the travel vans for each team.
So, the Hatters have a new home — an actual place of their own.
"Having your own practice facility — where the student athletes feel like, 'Hey, I belong, this is something I can use' — is huge," Shelburne said. "You're free to practice. If you have just a little bit of an imagination, you can hit any type of shot you want. You can be there, within reason, anytime you want, and you can get as good as you can out there."