Stetson Showcase of Excellence and Engagement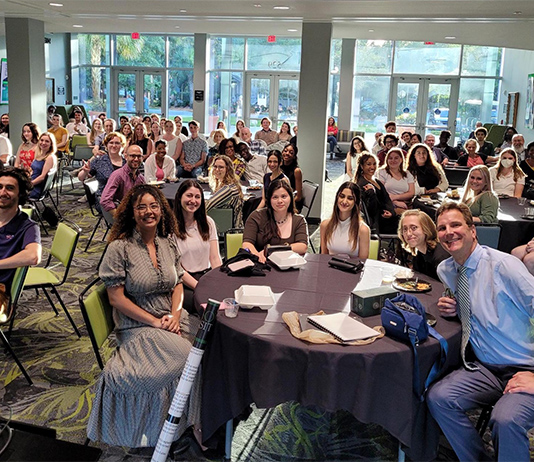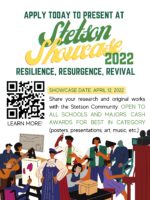 In the words of Kevin Riggs, PhD, professor of physics and the first leader of Stetson Showcase back in 1998, he is "grateful to be associated with Stetson's undergraduate research symposium."
Riggs made that statement about Stetson Showcase 2022 on April 12, during the return of a campus tradition following a two-year absence of in-person activity due to the pandemic. The 2020 event was canceled, and last year was limited to online participation.
"It is certainly the highlight of the academic year for me," added Riggs, who chaired Showcase's faculty organizing committee for 10 years before handing the reins to current chair Kimberly Reiter, PhD. "My favorite part of Stetson Showcase are the poster sessions … . I am consistently amazed by the high-quality research our Stetson undergraduate students are able to conduct with their faculty mentors, much of it publication quality."
Indeed, there was much to be proud of, as nearly 200 students exhibited their academic prowess in a wide assortment of disciplines at venues across campus. Appropriately, the theme was "Resilience. Resurgence. Revival."
There were, for example, poster presentations in the Rinker Fieldhouse; oral presentations at Elizabeth Hall, Sage Hall and Flagler Hall; art and digital arts exhibitions at the Homer and Dolly Hand Art Center; musical performances at Lee Chapel; plus much more. Notably, the students had begun preparations for this day last summer, or even earlier, each with the help of faculty mentors.
In all, as many as 10 concurrent sessions were held throughout the day —  with robust demonstrations of curiosity and intellect evident among students, faculty, staff and campus guests.
In turn, presenters received the chance to engage with visitors eye to eye.
Audience Interaction
"I definitely liked presenting in person instead of in an online format. … . Also, being able to see how the audience was reacting to what I was saying was a big benefit," said Liam Leider, a junior majoring in political science who might continue that research as a senior and plans to attend graduate school.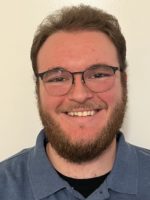 Leider's oral presentation was titled "SNAP and Social Media: Making More Effective Welfare Advertisements," and was an extension of research papers he had written about food stamps in his Public Health Policy class as a sophomore. And he won an Honorable Mention for his efforts.
In his oral presentation, "The Toxicity of Positivity in the Modern World," Jeremiah Rosario, a junior entrepreneurship major, was able to display his research on "how toxic positivity can negatively affect your life."
"I'm glad I had the opportunity to present my topic for my final paper for Evidence-Based Management [class]. It allowed me to test out the waters of how my research could go with more collected data," said Rosario, who found that toxic positivity is very common. The next stops for him are study abroad in Innsbruck, Austria, and a fall internship.
"I think it is wonderful to engage with peers on our research agendas critically and in person," agreed senior Ryan Clifton, a double major in political science and economics.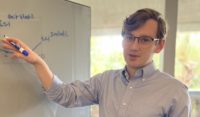 His oral presentation was titled "Political Incentives and Provision: Patterns of Public Good Provision Across Regime Types," involving the analysis of a 157-country panel data set. "My conclusions indicate that regime consolidation is an important mediator for public good provision, leading democracies and authoritarian regimes to provide more public goods," said Clifton, who is headed to Duke University's political science doctoral program.
Student Achievement
Research excellence, clearly, was everywhere.
Feeling "like I really pushed myself," Stevie Simpson is set to graduate in three years. Majoring in biology, she presented a poster on the "Differences in Flower Preference for Pollen Collection between Male and Female Agapostemon splendens."
As such, Simpson became something of a bee expert, even as her research results proved inconclusive.
Simpson hypothesized that if pollen types were collected and examined on male and female Agapostemon splendens, males would have more diverse set of pollen, and females would have overall more pollen on their bodies. In the end, the differences were not considered "significant."
"That was a learning experience," she said, "because I didn't realize that just because your results aren't 'significant' doesn't mean the results are bad. It just means there are plenty of opportunities to continue the study." Also minoring in sales, Simpson plans for take a step back after graduation in May and assess the possibility of merging biology and sales as a career.
Similarly, senior marine biology major Lauren Baker isn't quite sure if marine mammals or terrestrial animals will be in her future. Having already completed an internship in the marine world, she chose a Showcase project called "Strains of Pathogenic Bartonella Among Central Florida Rodents."
Baker studied 140 rodents to measure the presence of Bartonella bacteria strains. For about four months, she spent approximately two hours weekly in the field (near Lake Woodruff and Blue Spring) plus one hour per week of lab time.
Baker's hypothesis that Bartonella strains would differ among rodent species was supported by her research. "Studies such as these can better our understanding of the mammalian immune system for illness prevention," she said, later adding that "now I have a sense of what's required for [marine mammals and terrestrial animals]." Baker hopes to go directly into a job involving animal care.
For Kirsten Pruim, a senior majoring in biology with a minor in public health, research on "The Effects of Artificial Light on Antioxidant Capacity in Ilex vomitoria," has illuminated her world since last July. The study centered on antioxidants in yaupon holly plants and how certain types of light impact their antioxidant capacities.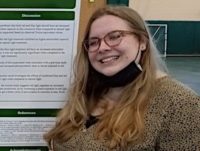 The overall data trends showed the antioxidant capacity of the yaupon holly grown in red light was significantly higher than the plant grown in natural light, among other results.
"The goal was to get a better understanding of how light regulates antioxidant production," she said, pointing to the hope of potentially increasing antioxidant yields for humans in consumables such as teas and fruits.
Ryan Dockery, a junior majoring in business systems and analytics, said he's in the process of getting a job for United Airlines over the summer that "will hopefully lead me into a corporate position with Delta Airlines." Yet, as a Bonner student, that didn't prevent him from helping to assess service needs of the Chisholm Community Center in DeLand.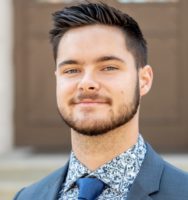 His research uncovered a need for a system to identify when students are falling behind in their studies before it becomes an issue on their school report cards. His oral presentation earned him an Honorable Mention. As a Bonner scholar with minors in management and community engagement, Dockery is now working to address that need.
Impressed? Reiter, associate professor of history and chair of the Stetson Undergraduate Research Committee and Stetson Showcase, offered deep appreciation and respect to the participating students for a promising restart to a time-honored event.
"The Undergraduate Research Committee is delighted that everything went so well!" Reiter commented. "The judges all confessed that the presentations were hard to evaluate, and two venues — Music and Art — insisted on two first-place Maris Awards, as they simply could not decide. That's what we like to hear. The students enjoyed themselves. One told me she had looked forward to this since she was a first-year student, and was thrilled that Showcase returned in time for her to present.
"All in all, Showcase 2022, a cold jump-start of a Stetson tradition, lived up to the theme of Resilience, Resurgence, Revival. It laid the foundation for a stronger and anticipated Showcase next year. Now that students have once again seen a full Showcase, many look forward to next year."
Showcase Reception and Awards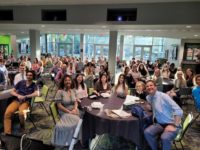 As the nightcap to Stetson Showcase 2022, a reception and awards ceremony was held at the Marshall & Vera Lea Rinker Welcome Center. Approximately 110 students attended the event, which featured a keynote address by Stetson President Christopher F. Roellke, PhD. In addition, presentations were made for the Maris Awards for Excellence in Showcase, the Dr. Leonard Nance Award for Excellence in Justice Research and grants to 2022 SURE scholars.
Roellke's speech was titled "Higher Education at the Crossroads" — detailing that as the global COVID 19 pandemic penetrated the United States in early 2020, colleges and universities found themselves scrambling to address the ongoing public health crisis. (Officially, Roellke was the 2022 Grady Ballenger Lecturer, named after Grady Ballenger, PhD, former dean of the College of Arts and Sciences, who arrived at Stetson in 1998 and established Stetson's first undergraduate-research symposium.)
Award Winners
LEONARD NANCE PRIZE
Emily Keck Expanding Access to Black History in Volusia County Through Digital Storytelling
MARIS FIRST-PLACE POSTER PRESENTATIONS
Kaira Thevenin Exploration of Merkel Cell Polyomavirus Small Tumor Antigen in Transformation & Tumorigenesis
Maria Snee The effects of habitat on the prevalence of Borrelia burgdorferi in rodent reservoirs
Jay Stearman Students' Perception of Campus Green Spaces and Community Gardens
HONORABLE MENTION POSTERS
Emily Baillargeon The effects of elevated supplemental magnesium on axolotl embryonic development
Justin Piel JETSCAPE: Interfacing with Rivet and Comparisons to Pythia
Ashley Russell Comparison of arbuscular mycorrhizal fungi inoculation potential among Pine Flatwood sites that vary in time since fire
Sinai A. Ramos Planas Emotion Regulation Mediates the Relationship Between Neglectful Parenting and Anxiety
MARIS FIRST-PLACE ART AND DIGITAL ARTS PRESENTATIONS AND EXHIBITIONS
Andy Ramirez-Garcia The Hidden Forest
Jade Ammones e.g.
MARIS FIRST-PLACE JUNIOR MUSIC RECITALS
Abbey Brodnick, Piano
Kaylan Hernandez, Voice (Soprano)
MARIS FIRST-PLACE ORAL PRESENTATIONS
Kendall Buck Improving Food Waste to Drive Sustainability
Meghan Landsberg The Ones We Lose to Lies: The Role of QAnon in the Destruction of Personal Relationships
Bec Hett Interfaith Relations on Stetson's Campus
Kellie Baier Identifying the primary reservoir of Borrelia burgdorferi present in central Florida
Madison Wilkerson Family and Friends' Influence on Internalized Stigma of Mental Health
HONORABLE MENTION ORAL PRESENTATIONS
Liam Leider SNAP and Social Media: Making More Effective Welfare Advertisements
Maria Gaglio Did You Remember that Correctly? Analyzing the Effects of Leading Questions and Stimulus Modality on Memory Recall
Heather Osterhouse Leitmotifs and Topic Theory in Undertale
Ryan Dockery  Academic Analysis of Elementary Students Performance
Moomal Jatoi Analysis of Fos-immunoreactive Neurons in the Gustatory Cortex and Behavioral Responses in Rats to Intra-Oral Infusion of a Sucrose-Quinine Mixture
Shadia Muñoz-Najar Does compulsory voting affect COVID mortality rates?
SURE Awards for 2022
Stetson Undergraduate Research Experience Grants (with mentor):
Yahia Adla (Michael King, PhD) The Effects of Spilanthol on Behavioral Responses to Salty Taste.
Chloe DeYoung (Jean Smith, PhD) Analyzing the function of Fus1 during cell fusion in Saccharomyces cerevisiae,"
Brandon Evans (Cynthia Bennington, PhD) Effects of competition and fire suppression on the growth of two sandhill understory plants, Aristida stricta and Pityopsis graminifolia
Molly James (Jason Evans, PhD) The Potential Effectiveness of Vertical Rain Gardens in the Mitigation of Stormwater Runoff and Pollution.
Catherine Kraft (Leander Seah, PhD) Speaking of Dictators: Stalin's Soviet Union, Mao's China, and the Language of Personality Cults
Alexa McDonough (William Nylen, PhD) Legacies of War: Argentina's Catholic Church During the Dirty War and Beyond
Andrea R. Mingo (Danielle Lindner, PhD) Food Allergies, Anxiety, and Disordered Eating
Lily Paternoster (Ekaterina Kudryavtseva, PhD) Uneasy: Commodification of Jean-Michel Basquiat
Lauren Radesi (Michael Eskenazi, PhD) An Exploration of the Effectiveness of Virtual Reality Nature Based Therapy
Osmara Rodriguez (Emily Mieras, PhD) Domesticity in Nineteenth Century Suburbia; Ideal vs. Reality
Dylaney Sabino (Nathan Wolek, PhD) Investigating The Daisy Patch Using Max Gen~
Mario Saponaro (Luca Molnar, MFA) Living in a State of Mind
Madison Skelton (Sarah Cramer, PhD)  How do agricultural and food practices and identity interact with one another within Mayan culture?
Nicole Steiniger (Terence Farrell, PhD) Do pygmy rattlesnakes exhibit behavioral fevers in response to infection by a fungal pathogen?
Tom Sussan (Corie Charpentier, PhD) Examining the comparison of substrate location for eastern oyster Crassostrea virginica spat settlement and the effect of boat wake on settlement in the Mosquito Lagoon, Florida.
Grayson Taber  (Dr. Holley Lynch, PhD) Imaging Early Developmental Stages of Butterfly, Vanessa cardui
Kaira Thevenin (Kristine Dye, PhD) Exploration of Merkel Cell Polyomavirus Small Tumor Antigen Localization in Transformation and Tumorigenesis
Nicole Verdecia (Corie Charpentier, PhD) Quantifying the Diversity and Settlement Rate of Organisms Along a Living Shoreline in Mosquito Lagoon
Katie Wedderstrand (Kimberly Reiter, PhD) The Bone Wars as a Study of Paleontological Growth in Western America
– Michael Candelaria