Hand Art Center Exhibits Dan Gunderson's Half-Century in Art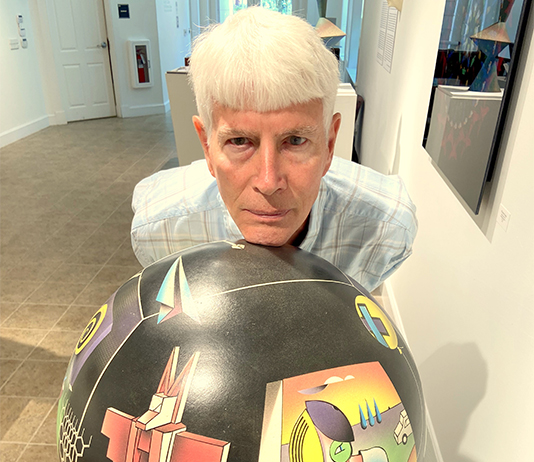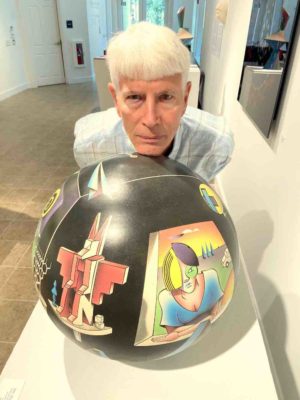 When now-retired Stetson art professor Dan Gunderson was moved to immortalize his love for his wife, Astrid de Parry, he sought help from some old friends: Shrek, George Jetson, Mutant Ninja Turtles, Mike the Monster, the Beast and other creatures.
The result: "The Proposal," a 2012 three-dimensional artwork composed of granite, wood and — yep — plastic toys! The piece is on display at the Homer and Dolly Hand Art Center as part of the exhibition "Dan Gunderson: 50 Year Retrospective," which opened July 1 and runs through Sept. 24.
Gunderson, who retired from Stetson in spring 2019 after 43 years, will give an artist talk Aug. 26 at 5 p.m. at Hand Art Center, followed by a reception and signing of his glossy, coffee-table art book, "Dan Gunderson: Collector-Creator," from 6-8 p.m.
"I've always been interested in toys," Gunderson said, simply.
Toying Around
His statement is akin to saying the Pope is "interested" in religion. Anyone lucky enough to have entered Gunderson's standalone, hermit-like former studio in the heart of the Stetson campus was treated to a Dan in Wonderland experience, highlighted by — no kidding — thousands of small Pokémons, Sponge Bobs, Curious Georges, Supermans, plastic spiders and a plethora of other name-brand toys.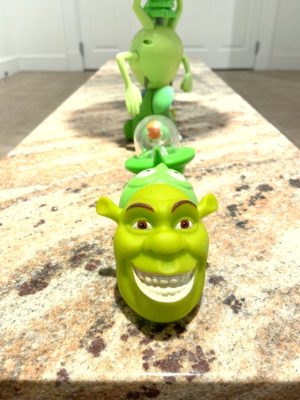 Gunderson even "toyed" himself, creating small, white, astonishingly accurate "Dan heads," using the 3D scanner and 3D printer in Stetson's Innovation Lab at the duPont-Ball Library.
"Toys are a real unusual part of life," Gunderson said during a July interview surrounded by his work at the Hand Art Center. "People make choices early in life about the things they like, so I always view toys as being a training ground for adulthood."
Indeed, toys — and yes, those "Dan heads," too — found a home in Gunderson's art, both 3D and two-dimensional works. However, as the half-century retrospective exhibit proves, Gunderson is more than the Toy Man whose art encompasses plastic pop-culture icons. His forte, since earning his BFA from the University of South Dakota in 1968 and his MFA from the University of Wisconsin in 1974, has been ceramics.
'Memory Mask' and More
His current show includes such earthenware and stoneware 3D works as the aptly titled, "Memory Mask," with its pictogram depictions of dogs, camels and trumpets; the modernist "Peace Power Plant"; the Art Deco-inspired "Classic Column"; and a number of whimsical, somewhat M.C. Escher-like spheres painted with a plethora of images. The images include dragonflies, a stylized Transformer (yes, one of the cartoon characters), what Gunderson confesses is a female version of himself, and his own, personal, symbolic hieroglyphics.
Nonetheless, Gunderson is, in fact, known as the Toy Man, just as a 15-minute 2014 documentary was titled, due to the nature of the work that has obsessed him during the latter part of his career.
Gunderson's passion for toys was rejuvenated as he raised his sons, Taylor and Tanner, with his second wife, Tami. Gunderson would watch cartoons with his sons, and then he keep the boys' toys when they outgrew them. Further, Gunderson's love for collecting "well-designed unique objects" — Native American crafts, broomsticks, antiques and more — spread to include toys and pop-culture collectibles.
Thus, Gunderson's muse led him to arrange toys in symmetrical, mandala-like spreads on a large table, photograph them from a birds-eye view and print the images to create sizable two-dimensional artworks.
Gunderson's retrospective exhibition also includes such mandala toy works as "Transcendence," "Down the Rabbit Hole" and "Target Practice," the latter composed using plastic Dan heads, skulls, mice and fish scales, some of which are his own creation.
"I've made more 3D printer stuff than anybody at the school," Gunderson said.
"I'm all about symbolic use," Gunderson continued, peppering his observations on his art with side-trip conversations about the stunning cosmic images from the James Webb Space Telescope, 19th-century political cartooning, cows' horns and how dragonflies are the most difficult insects to catch.
"I'm not a realist as you can obviously see. I like the idea of abstracting things and letting you interpret it."
'Witty and Playful'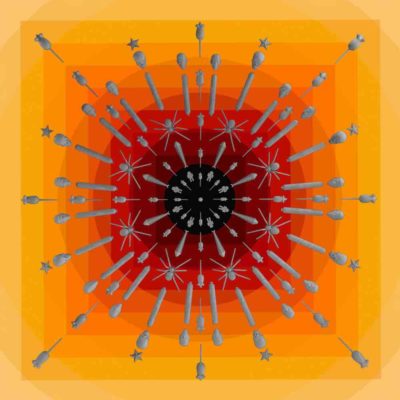 Roberta Smith Favis, Stetson professor emeritus of Art History, said Gunderson's "love of pristine forms, machine-like precision, and strong and coherent composition has always been combined with a witty and playful sensibility."
"Inspirations gleaned from an early love of Cubism, Constructivism and Art Deco resurface continually in his work, constantly re-blended with updated elements of popular culture, including the latest in comics and children's toys," Favis added.
Gunderson's art has won numerous awards and has been featured in solo exhibitions at museums across Florida, as well as galleries in New York, Chicago and Washington, D.C. His work has been included in group exhibitions and/or in museum and private collections in New York, Pennsylvania, Arizona, Texas, Germany, Tokyo and many other locales.
Accidental Career
Not bad for a sports-loving lad who, growing up in Milwaukee and later in Ohio, took no art courses in high school, and who entered college hoping to become a coach in football, basketball and/or track.
Gunderson met a cheerleader in college who was majoring in art, and asked, 'Why don't you see what the art department is doing?'"
"So I went over, and I go, 'This is kind of interesting," Gunderson remembered. "I like that people just do what they want to do.'"
Gunderson made a timid foray into business, spurred by his father's advice that he needed to pursue a practical degree that would make money. At the University of Wisconsin-Whitewater, Gunderson decided on a middle road — he would pursue interior decorating.
Gunderson recounted the story: "I went to sign up for classes, and the woman says, 'We don't have any interior decorating here, but the next closest thing would be an art major.' I said, 'Whatever, OK.' I didn't even try to search around for a school that would have interior decorating."
Gunderson discovered he had an aptitude for "throwing," which is ceramics jargon for fashioning clay on a pottery wheel. Bolstered by the enthusiastic support of his art professors, who quickly recognized their student's talent despite his utter lack of any art portfolio, Gunderson's life path was set.
After a year of teaching at Washington University in St. Louis and a year at the State University of New York in Fredonia, he was hired as an art professor at Stetson in 1976.
Following Gunderson's retirement in 2019, he served as an artist in residence at Stetson for two years. He's still creating art in a warehouse-sized studio he recently acquired from a fellow DeLand artist, but Gunderson noted he and wife Astrid have enjoyed traveling to Africa, the Galapagos Islands, Monument Valley and elsewhere during recent years, and they plan to do more.
"I miss talking and working with students," Gunderson said of his Stetson tenure. "I enjoyed what I did a lot."
-Rick de Yampert