Students Travel to Mexico for Immersive Experience in Mayan Culture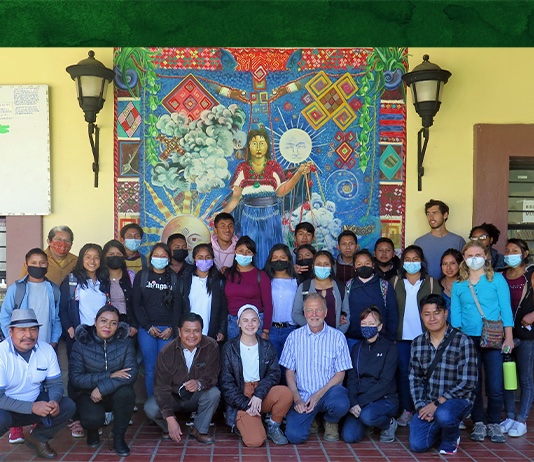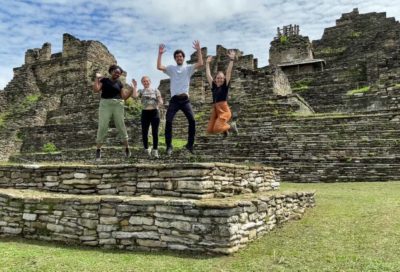 Chiapas, the southernmost state of Mexico bordering Guatemala, was the travel destination for Robert Sitler, PhD, professor of World Languages and Cultures, and four Stetson students this past May. The Mentored Field Experience in the Mayan World was a study abroad course offered particularly for those working on a minor in Latin American and Latino Studies.
Sitler, who has taken groups to Guatemala, Belize and Yucatán, chose Chiapas for the 16-day trip because of its rich diversity of Mayan people.
"I like the idea of exposing the students to a variety of different ethnicities. The Maya really are a diverse group of people. They speak 30 different languages," he explained.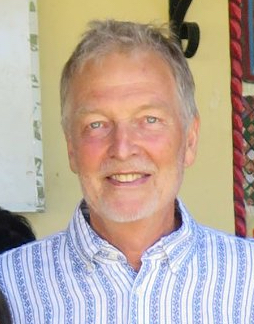 Sitler, who has cultivated friendships and connections in Chiapas over some 40 years, was able to take the group to a Tzeltal-speaking area, where they participated with indigenous people in a private ceremony giving thanks to Mother Earth for their survival.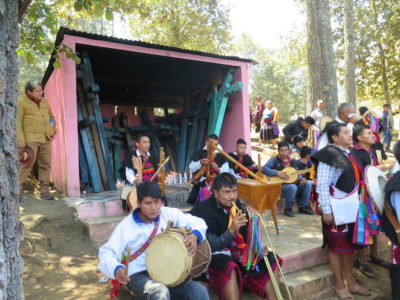 Zaikeria Pathas, a third-year student majoring in International Studies and World Languages, recalled the experience: "We hiked up the mountain with the indigenous population while they were playing their musical instruments. I was very nervous during that time as I didn't know what to expect. When we got up to the top of the mountain, we entered a little church and took seats. I was surprised at how welcoming they were to a bunch of foreigners watching the ceremony. It was an amazing experience."
Another highlight from the trip was a visit with the Lacandón, who live in the remnants of a rainforest.
"Less than a thousand of these people are still alive," Sitler noted. "Until relatively recently, they were very remote; hardly anyone went out there. My wife and I went 45 years ago, and it took us three days to walk there. Now you can drive."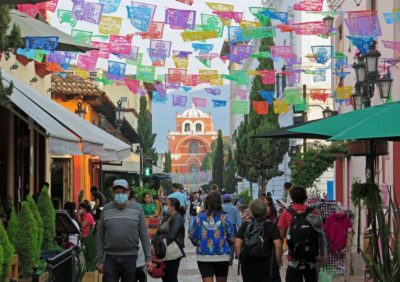 The Stetson group stayed in cabins; hiked the rainforest, observing monkeys and indigenous plants; and frolicked in rivers, waterfalls and mysterious swimming holes.
The students also learned about the role art plays in the Mayan world. Visits to ancient murals in the Lacandón community and the archaeological site of Bonampak as well as a stop at Sna Jolobil, a cooperative of weavers in San Cristóbal de las Casas, were on the itinerary.
"It's a culture that makes a lot of use of symbolism, and that symbolism makes itself very apparent in all sorts of art forms, including and maybe especially in the textiles that the women weave," Sitler said, adding that frogs, harbingers of rain, are a prominent symbol appearing often in the woven cloths. "Everybody bought some … because they are so beautiful."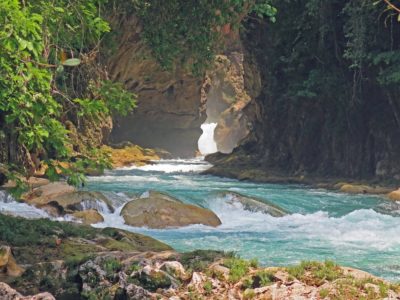 Skye Cronje, a World Languages and Cultures major on a translator track with Spanish, joined the trip because it aligned with her studies. The field experience focused on language and cultural studies, but for her it also presented the opportunity to both practice Spanish and learn some of the indigenous languages through conversations with tour guides. One tour guide, Alonso Mendez, spoke Spanish, English, Tzeltal and Tzotzil.
"This type of experience is embracing reality by immersing yourself in another culture or society that's completely different from what you are used to," Cronje said. "This is a trip that entails getting out of your comfort zone."
Sitler would agree.
"No outsiders, I want to emphasize, get to experience what these students experienced," he concluded. "It presented what would be for most people, an overwhelming cultural challenge. That was not the case for these students. They were remarkably calm and collected and able to deal with things with a great deal of grace."
– Patricia Letakis