Stetson's Fall Internship & Career Expo Matched Students and Employers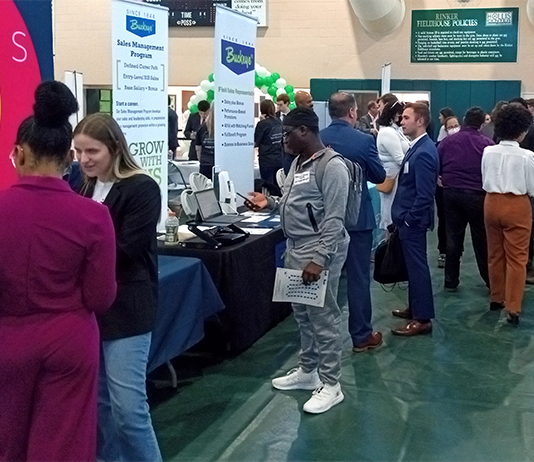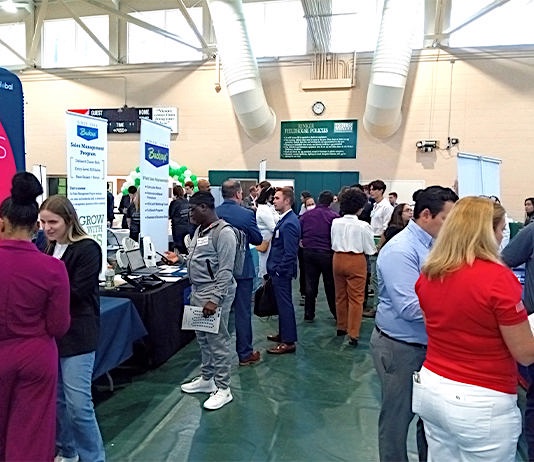 Stetson's Fall Internship & Career Expo was back, following a two-year, in-person COVID-19 hiatus, on Oct. 21, and a total of 359 students attended at the Hollis Center in the Rinker Fieldhouse.
In October 2019, the Expo set a record for attendance, as 446 students met with 64 employers that nearly spanned an A-to-Z company range (AdventHealth to Withum). The numbers were just a bit lower this time, but the enthusiasm was just as high, with students seeking to match up with employers and vice versa.
Students were advised to both do their homework about prospective employers and present themselves well. They listened well, according to Pammy Parent, a human resource associate at Purvis, Gray and Company, one of the employers present.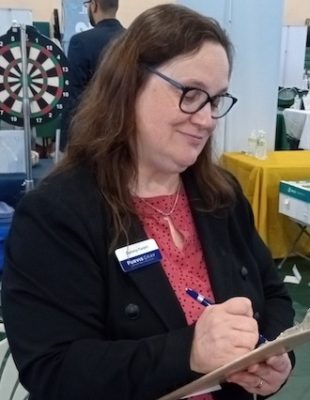 "I've been very impressed, absolutely," Parent said during the event. "They have been put together well, approaching me and shaking my hand. They give their name right away and explain who they are. I can tell right away from that [behavior] they are serious about knowing more."
"This [event] was good because I'm looking for somebody who is a go-getter. It's more about personality and what they do outside of college. I want to see that they can be flexible and be able to assimilate in different situations."
Miya Dunlop, a human resource recruiter at Security First Insurance, agreed, citing that Security First Insurance has hired numerous Stetson graduates and will continue to seek more. "This has been very, very beneficial," said Dunlop. "We're looking for people across any major. So, it's really about a fit with [company] culture. It's really about the person."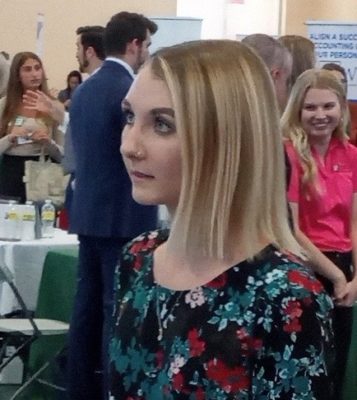 International studies major Colin Kennelly '23 arrived at the event fluent in French and with the goal of finding a fit with a global company. That didn't quite happen, but he did "start conversations" with other employers. "This gave me some direction. This gave me some places [companies] to go," he said, walking away with a bag of brochures and business cards in hand.
Valentina Laverde '24, majoring in finance and accounting, might already have landed a position — at least she had interviews lined up even before the event began. She had researched companies and targeted some of them with emails prior to the expo to "break the ice." Then, when she introduced herself in person, she was a step ahead.
"A few companies actually were really impressed by that, and they immediately called me [after receiving an email]. Now, I have possible internships with great companies," Laverde said.

As first-year students, Jessica Nguyen, an economics major, and Nicholas Mauck, studying marine biology, won't graduate until 2026. Still, they attended with eyes wide open.
"I'm actually into real estate law. That's why I major in economics," said Nguyen. "They didn't have law opportunities here [at the expo], but I definitely visited companies to learn about different things. It's always great to be open and learn and have a backup plan. … Maybe you want to change your major, maybe you want to try something different. You can keep your options open."

"I don't think it's too early [to explore careers]," Mauck said. "This is actually a really good time to get involved. I never think it's too early."
Mauck's search might have paid off with the Walt Disney World Company, as he made a connection that could lead to an internship. "I didn't know that Disney opportunity was there until today," he added.
All of the engaging interaction brought a smile to the face of Stacy Collins, Stetson's executive director of Career and Academic Success. Collins noted that although virtual expos were held the past two years, this event was decidedly different.
"This is a more welcome and open environment for students to connect and maybe even talk to employers they've not heard of or they might not think fit with their major," she commented, scanning the busy room. "So, my impression of this is that students are very hungry for in-person interaction. And so are our employer partners."
Collins was especially impressed by the many younger students — in their first and second year — who attended. "We want our students to make connections that are going to pay off down the road. By the time they get to their senior year, they're pros talking to employers. And, our employers have said, 'This is different. This doesn't happen at other schools.' So, that's been really exciting, too."
-Michael Candelaria
Fall Internship & Career Expo Employer Partners
Berman Hopkins CPAs & Associates
Charles Schwab
Consolidated Electrical Distributors Inc.
Duerr & Cullen, CPAs, P.A.
Enterprise Rent-A-Car
EY
Fortiline WaterworksFull Sail University
GellerRagans
Keyes, Stange & Wooten CPA Firm LLC
MSL CPAs & Advisors
Northwestern Mutual
O'Quinn Insurance Services
SEI
T-Mobile
Employers Also Attending
AdventHealth
Batts Morrison Wales & Lee, P.A.
Brown & Brown Inc.
Buckeye International Inc.
Carr Riggs & Ingram
City Year
CLA
Clean the World
Community Partnership for Children
Daszkal Bolton LLP
David Vaughan Investments
DaVita Labs
Devereux Advanced Behavioral Health
Encore
Fastenal
FFT Helping Others
Florida Auditor General
Florida Department of Health in Volusia County
Florida United Methodist Children's Home
Girl Scouts of Citrus
Insight Global
IRS-CI
James Moore & Co., CPAs
KIPP Jacksonville Public Schools
Kmetz, Elwell, Graham & Associates CPAs
Lake County Schools
Lockheed Martin
New York Life
Orange City United Methodist Church
Orange County Public Schools
Purvis, Gray and Company
Security First Insurance
Spicer Jeffries LLP
Stetson University Graduate Admissions
Total Quality Logistics
U.S. Army Medical Recruiting – Orlando
Volusia County Schools
Votran
Walt Disney World
Withum