Hatter Food Pantry Receives $3K Grant to Help Students in Need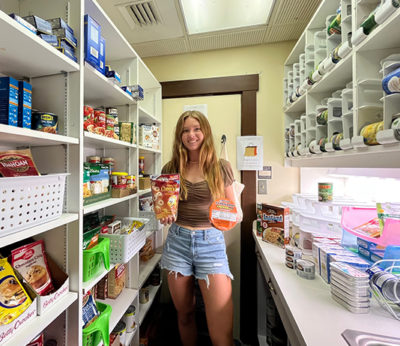 The Hatters Helping Hatters Food Pantry has received a $3,000 grant and soon will receive a donated, small refrigerator that will allow it to expand its food offerings to Stetson students in need.
The Hatter food pantry is located in Student Counseling Services and is open to Stetson students facing food insecurity. Students can visit the pantry confidentially and fill one bag per visit with canned goods, pasta, cereal, snacks and other food, as well as personal hygiene products.
The pantry recently received its first grant — $3,000 from Swipe Out Hunger, a national nonprofit devoted to ending hunger among college students. Stetson's pantry was one of 30 pantries at colleges nationwide, including Florida State University, Rutgers and Northwestern, to receive a grant.
"I am so incredibly happy and grateful to receive our first-ever grant on behalf of the Hatter Food Pantry here at Stetson University," Nicole Currie, administrative specialist and founder of the Hatter Food Pantry, told Swipe Out Hunger in a story on its website.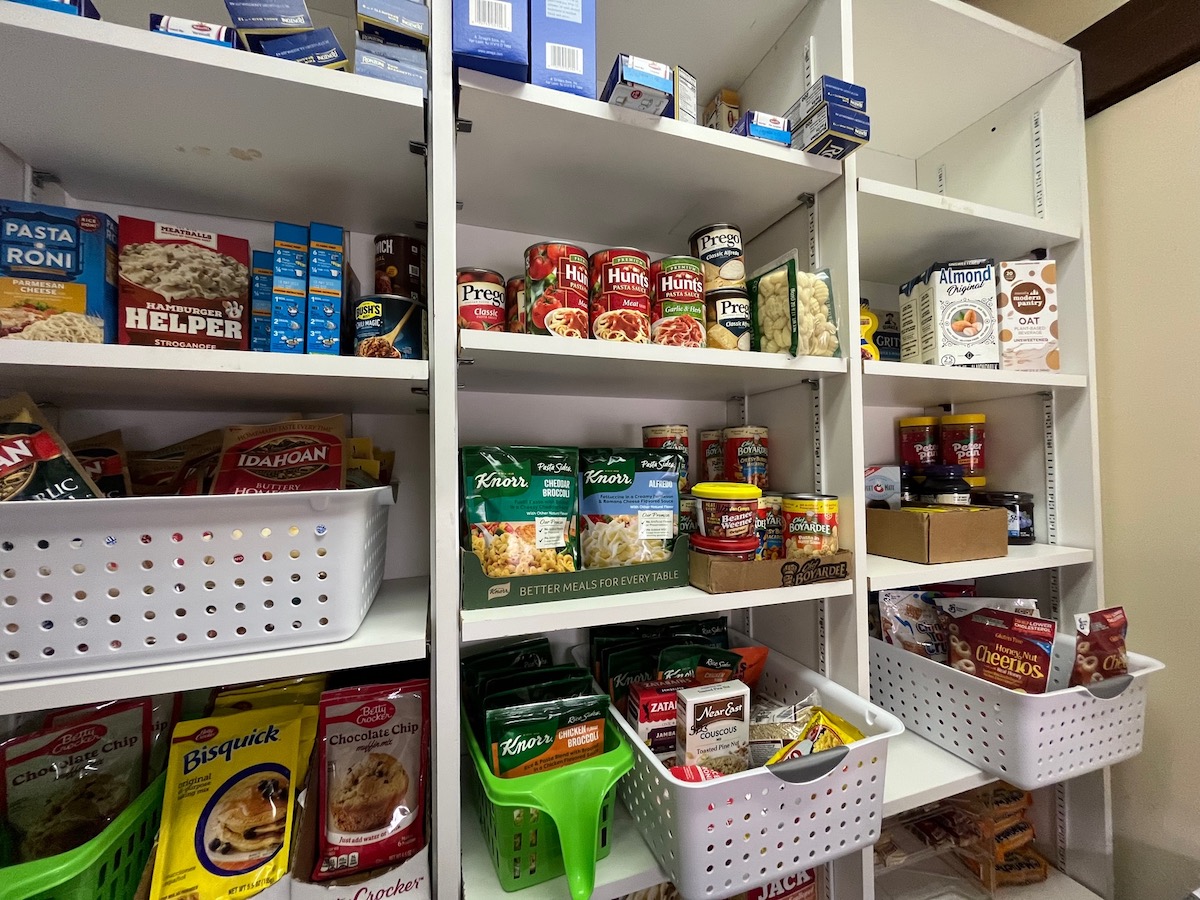 "When the pantry was founded in 2013, I never imagined that we would be able to serve students through not only donations and then gift cards, meal swipes and now this amazing Swipe Grant from Swipe Out Hunger that will assist in the ability to purchase more meal swipes, nonperishables and hygiene products for our students," she said.
Swipe Out Hunger also will pay for a small refrigerator, which will allow the pantry to stock cheese, yogurt and other perishables.
About 250 Stetson students visited the food pantry between February and mid-October of this year. The number has been increasing recently, with an average of five or more students a day coming in for assistance, Currie added.
The pantry operates on financial donations, as well as donated food and toiletries. From February to mid-October, it spent about $10,000, including $5,150 to purchase items to stock the shelves, and $3,600 for meal swipes to provide hot meals for students in the Lynn Dining Commons. Another $1,220 went toward Publix gift cards in $10 and $20 denominations.
This semester, the food pantry has added its first student worker, Gabriella "Gabi" Bramante, a junior marketing major and member of Stetson's Beach Volleyball team, who is being paid through Stetson's Center for Community Engagement. She has been tabling in front of the Carlton Union Building and working to raise awareness on campus about the food pantry.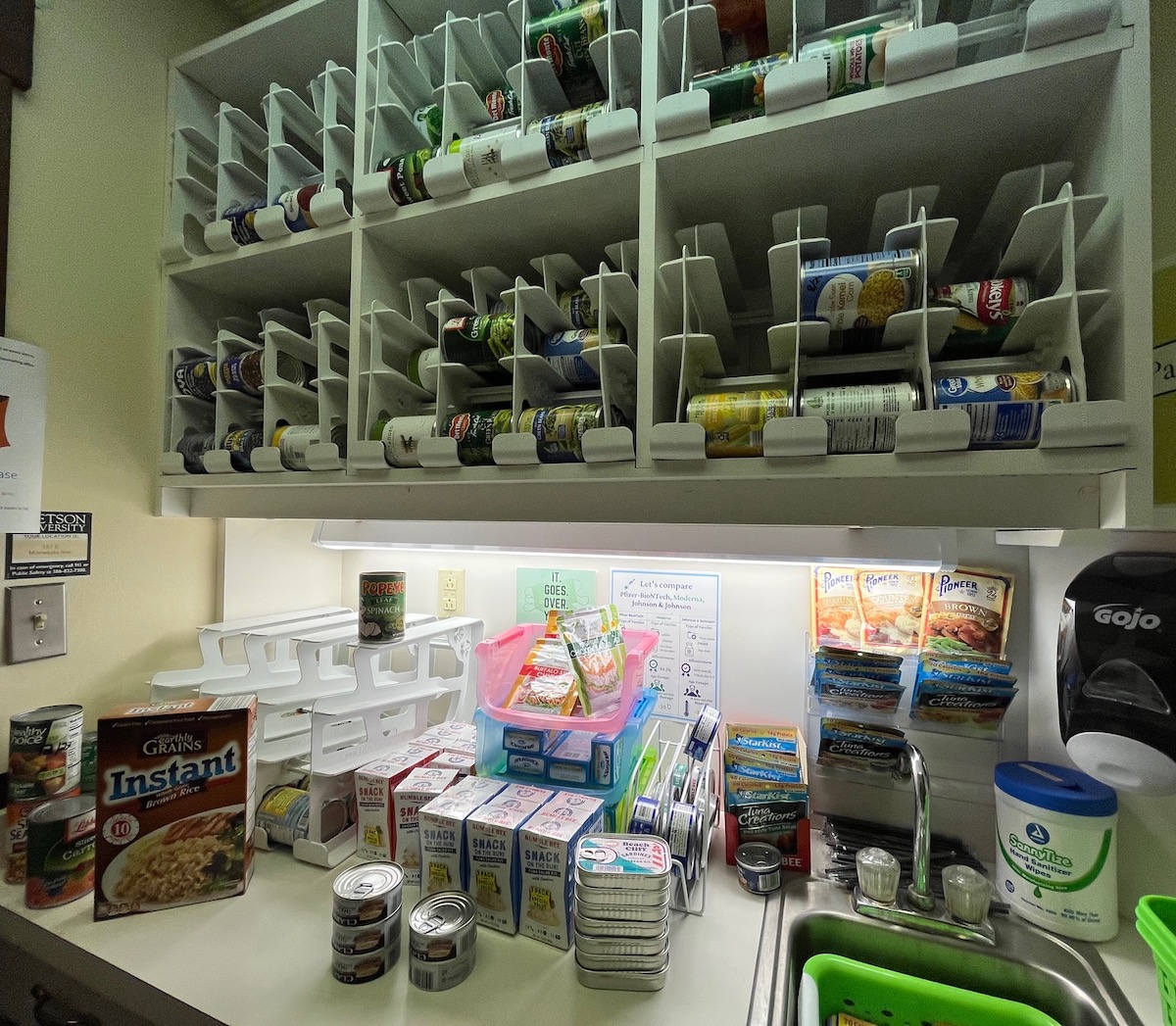 "It's really important to me to focus on giving back to my community and just being there for other people because I know that everyone's going through hard times in different circumstances, especially in today's world," said Bramante from Apex, North Carolina.
"And I feel like this especially hits really close to home because we are in college, so it could be fellow classmates and my own friends who need help. … It's a great resource that is here on campus and that students have a place to go if they're suffering from food insecurity or they need that emergency resource," she explained.
Students needing assistance can visit Student Counseling Services in Griffith Hall between 8 a.m. and 4:30 p.m. on weekdays (closed for lunch from 12-1 p.m.). The pantry also is available after hours and on weekends by calling Public Safety at (386) 822-7300.
For more information, visit the Hatters Food Pantry webpage, call Student Counseling Services at 386-822-8900, or email Nicole Currie at [email protected] or Rajni Shankar-Brown at [email protected].
The pantry accepts financial donations online and 100% of the money goes to purchase items for students in need. Donations of nonperishable items are accepted, such as: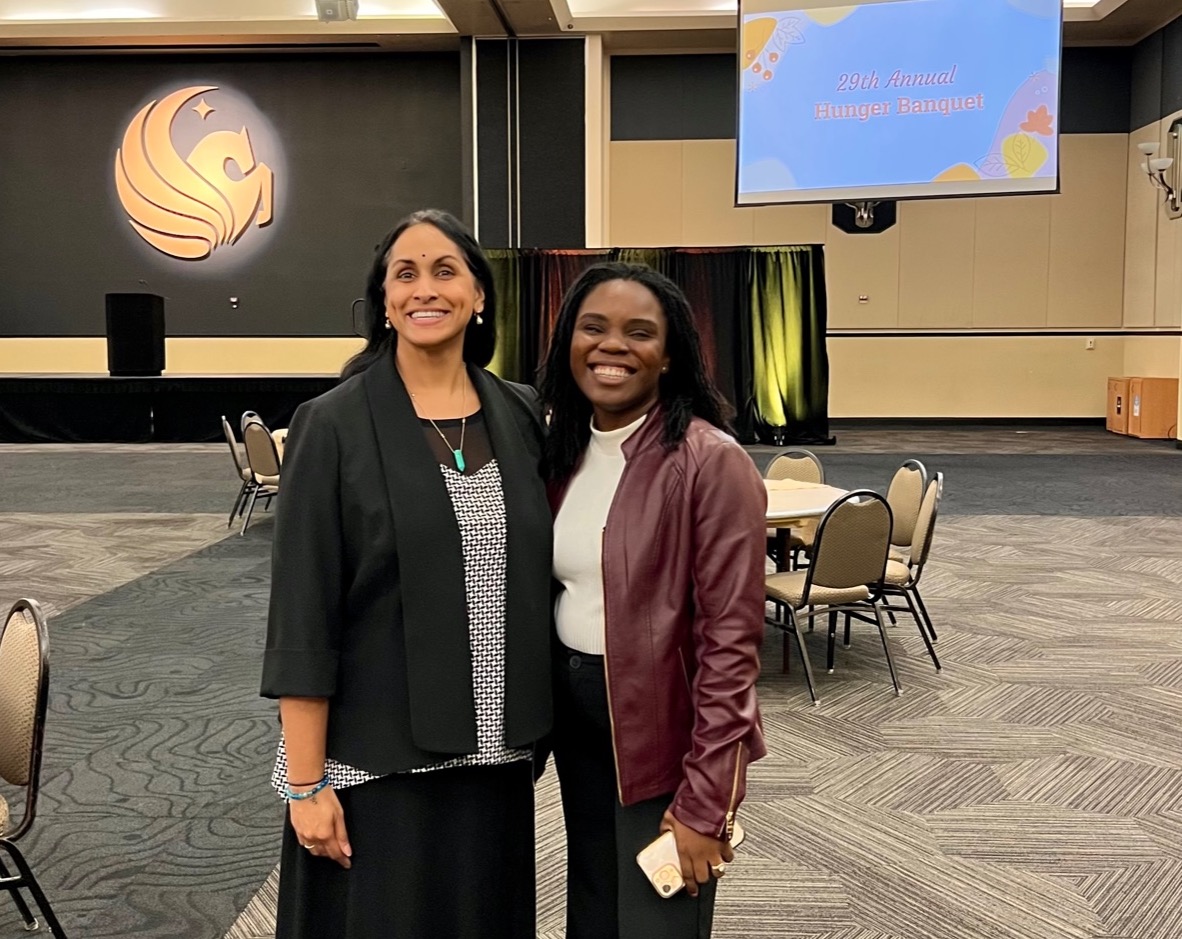 • Peanut butter
• Almond butter
• Sunflower seed butter
• No or low-sugar jams
• Low-sodium canned vegetables and fruits (light syrup or preferably in natural juice)
• Low-sodium canned tomatoes, pasta sauce
• Rice
• Low-sodium canned beans
• Quinoa
• Whole grain pastas
• Applesauce
• Multigrain cereals, oatmeal, grits, pancake mix
• Crackers
• Baking mixes (such as for biscuits or muffins)
• Instant coffee
• Teabags
• Healthy snacks (tortilla chips and salsa; nuts; dried fruit; low-sugar protein bars; granola; peanut butter crackers)
(Note: non-glass containers are preferred.)
Household items
• Paper towels
• Tissues or Kleenex
• Toilet paper
• Hygiene items (dental products, soap, body wash, deodorant, lotion, etc.)
• Feminine products (pads and tampons)
• Laundry detergent
• Dishwashing detergent
Other items:
• School supplies (pencils, notebooks, folders with pockets, book bags, etc.)
• Reusable tote bags
-Cory Lancaster