Professor and Students Quantify the SARS-CoV-2 Virus Where It Cannot Hide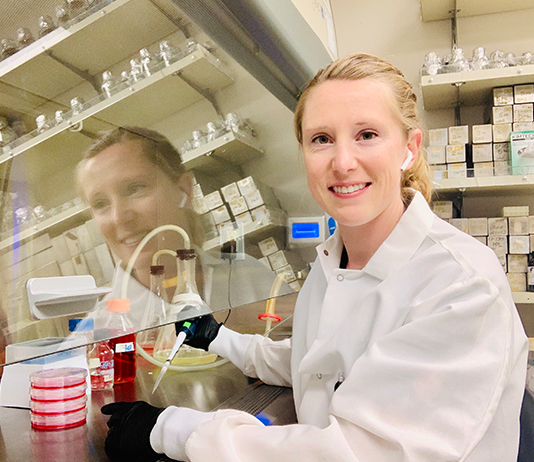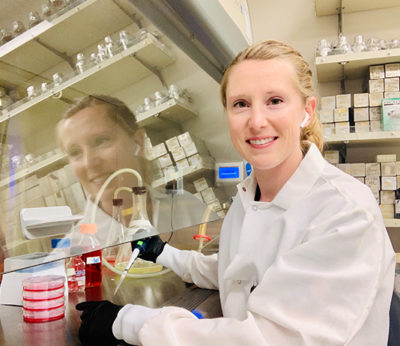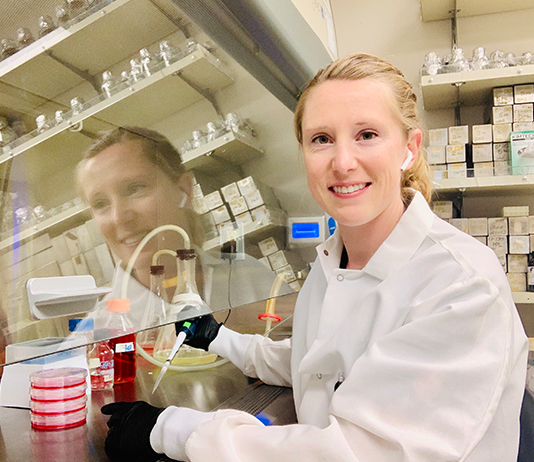 A Stetson University professor and 10 of her students have undertaken a project that would make Mike Rowe of Dirty Jobs fame proud: detecting levels of SARS-CoV-2, the virus responsible for the COVID-19 pandemic, in Volusia County's wastewater.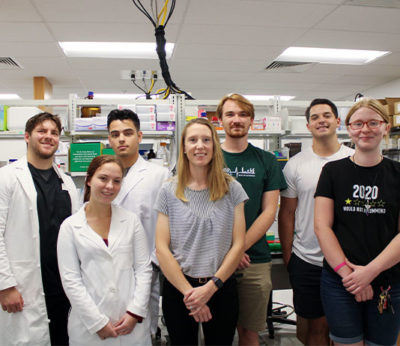 The virus, it turns out, is shed in feces regardless of whether its host is symptomatic. According to Assistant Professor Kristine Dye, PhD, a virologist and molecular/cellular biologist in Health Sciences and Biology, wastewater surveillance provides accurate, unbiased, time-specific data on community virus levels. And the job is less unpleasant than it sounds.
"I don't think it's really as bad as you would expect it to be because the original sample is diluted with a lot of water and chemicals," Dye explains. "The smell is gone, and it is a clear liquid after the first processing step to isolate and concentrate the virus."
Wastewater surveillance has been long used in other countries to track viruses, Dye says, but the United States only began using the technique more often since the onset of the pandemic. The Centers for Disease Control and Prevention has launched its own national surveillance system in collaboration with local laboratories. Dye hopes the CDC system will include data from her own lab.
After months of consulting with wastewater researchers in New York, Dye recruited Health Sciences majors Bryan Sanchez, Trinity Sterling and Austin Brown who began work on the project as volunteer research assistants over the summer. Seven other students, including students from her Health Sciences Research Courses, are also working on the research.
Every two weeks, the team receives a 40-milliliter sample from a DeLand wastewater treatment plant that services much of Volusia County. The four-day, six-hour-a-day process isolates and concentrates the virus a thousand times over into a 40-microliter sample.
The work is time-consuming and precise. "You pipette hundreds of times. In any of those, if you mess up by just a factor of 1 microliter—one thousandth of a milliliter—it ruins the entire process," Dye says. "It's a very involved, very lengthy graduate-level protocol. These three students are able to do that, which is really amazing because it's not easy."
The research has taken lab protocols to a new level for Dye's students. "The process is more conceptually challenging and difficult to execute than my other lab experiences," Sterling says.
After four days of preparing the sample, the team quantifies the virus, so they can determine the number of SARS-CoV-2 viral genomes present in the wastewater. In addition, the team also sends processed samples to an outside lab that conducts whole-genome sequencing. Sanchez says the results show "what mutations they found and which ones were prevalent at the time of the sample."
The first two sequencing results identified the Omicron BA.2 and BA.5 variants, in addition to a handful of mutations not currently found in circulating variants of concern and, therefore, may be mutations of a future variant, Dye says. With wastewater virus levels increasing with the onset of fall, the team is awaiting new genome sequencing results that will show which variant is predominating.
"Our wastewater surveillance has already seen a rise in SARS-CoV-2 viral genome copies in the wastewater even though clinical test positivity rates have not yet begun increasing," said Dye. "This suggests that wastewater surveillance can be used as a tool to predict upcoming surges/waves before clinical tests are able to."
Dye has collaborated with Stetson's Institutional Research and Effectiveness and Web Services to produce an online tracker that compares the number of positive cases reported in Florida with the actual amount of viral genomes found in each milliliter of wastewater, in addition to the variant identified through whole genome sequencing. These experiments will continue through Summer 2023 and the online tracker will be continually updated until then.
Eventually Dye's team will also begin to look for the polio virus—a virus that continues circulating despite the prevalence of vaccinations—in wastewater. "The point is not to alarm people that polio is in our community," Dye says. "The message we want to get across is that polio is and always has been here. If you are vaccinated, you are not at risk of disease upon exposure. If you are not vaccinated, it is a threat and our research will serve as a reminder to be vaccinated against polio."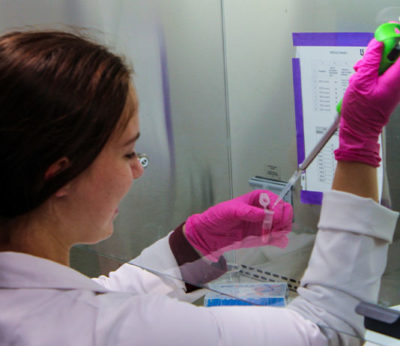 As for Sanchez and Sterling, their work on the wastewater surveillance project may change the course of their careers. "I came into Stetson wanting to pursue a medical degree," Sanchez says. "Up until I started this research with Dr. Dye, I never thought research was an option for me."
Sterling, whose original career goal was to become a nurse, is also considering a career in research. "Throughout this project, I've definitely fallen in love with research and working under Dr. Dye," she says. "I'm definitely more interested in the public health sphere as a career goal."
—Cheri Henderson