The Year In Review: Pushing Past Pandemic Times with Ample Examples of Vibrancy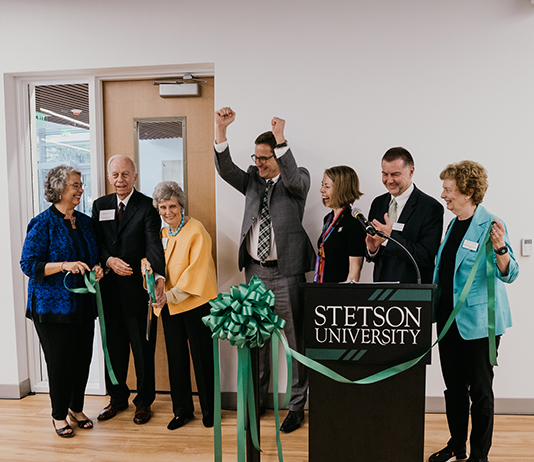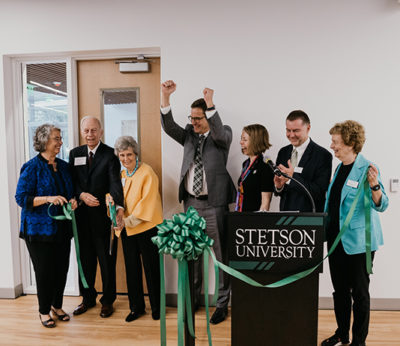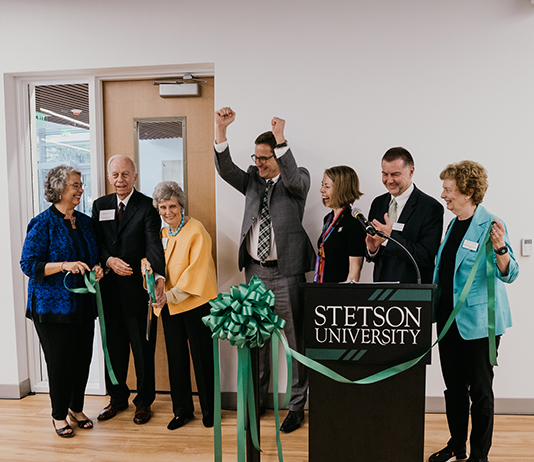 As the calendar turned to 2022, the effects of the COVID-19 pandemic showed signs of slowing across the nation's universities, but they continued to linger. And Stetson University wasn't immune. Last January, Stetson began distributing free better-quality masks, called KN95 respirators, to students, faculty and staff to stop the spread of the Omicron variant. Also, as the new year and the Spring 2022 semester began, Stetson temporarily moved to Tier 3 to better safeguard the community from the highly contagious Omicron variant. Under Tier 3, face coverings were made mandatory in all indoor settings on campus.
Safety protocols remained in place through most of the spring semester and into the start of the new 2022-2023 academic year. At that time, campus guidelines encompassed COVID-19 testing, facial coverings, what to do if you test positive, new student isolation and tracing protocols, and other topics. Finally, those guidelines loosened significantly in the fall with the campus discontinuation of the COVID track-and-trace process in October.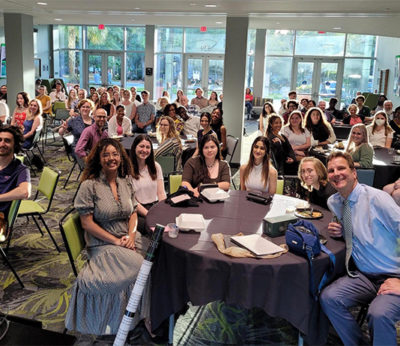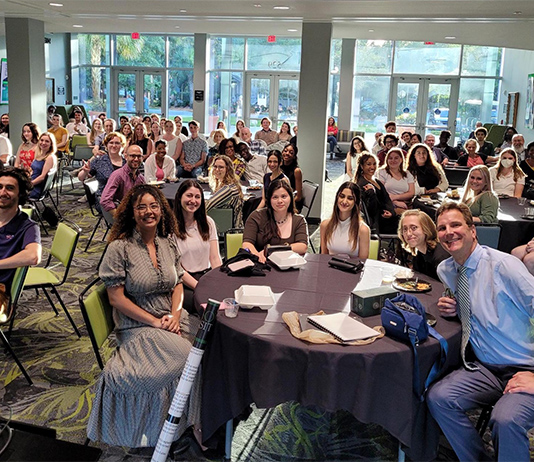 Yet, despite the cautious university approach, ample examples of vibrancy also surfaced early in 2022, and they continued both on campus and across the Stetson community throughout the year. October's ceremonial ribbon cutting on the much-anticipated Cici & Hyatt Brown Hall for Health & Innovation highlighted the activity and encouragement on campus. A month earlier, the U.S. News & World Report's 2023 ranking placed Stetson higher in the Top 5 of Best Regional Universities (South). In the spring, Stetson announced plans to sponsor displaced Ukrainian students; the Digital Arts Program was recognized as being among the best for game design by The Princeton Review; and Stetson Showcase was back in a big way, displaying uncommon student excellence and engagement.
Athletics was part of the action, too. By the end of the year, the Hatters men's basketball had traveled to Ireland and made a bit of national news with the arrival of hotshot transfers. In addition, Stetson earned more distinction by getting selected as one of the nation's most environmentally responsible colleges.
JANUARY 2022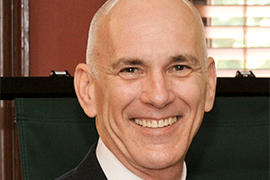 The Passing Of Trustee Emeritus Nestor De Armas
With great sadness, Stetson announced the death of Nestor De Armas, a 1973 alumnus and university treasure.
Topping Out The Cici & Hyatt Brown Hall For Health & Innovation
Stetson celebrated a milestone in the construction of a game-changing new academic building on campus.
FEBRUARY 2022
Stetson Meeting 100% Of Demonstrated Financial Need For Presidential Scholars
The move was part of a strategic priority to minimize student debt; reduce the financial barriers for low-income, historically underrepresented populations; and allow students to focus on their future.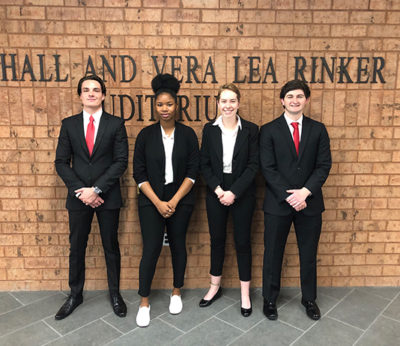 Stetson Business Ethics Team Makes Finals At Georgetown University International Business Case Competition
Students traveled to successfully test their skills in a competition that brought together top business-school students from throughout the world.
MARCH 2022
U.S. News Ranks Stetson Law Near Top in Key Areas
The College of Law remained a top destination for Trial Advocacy, tying for No. 3 and missing the No. 1 spot by one-third of a point.
Professor Lynn Kee Receives $300K NSF Grant To Teach Gene Editing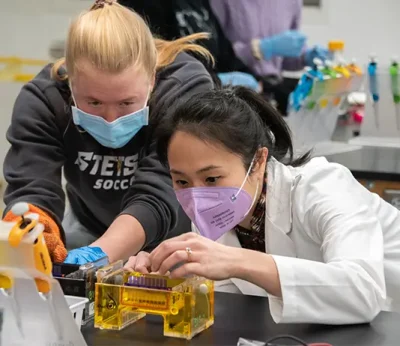 Science at Stetson took another step forward, as students learned about important new technology.
Stetson Students To Perform Annually At Carnegie Hall
The School of Music announced the first annual "Stetson at Carnegie Hall Chamber Music and Solo Competition."
Junior Skye Cronje Awarded A 2022-23 Newman Civic Fellowship
The fellowship was given by Campus Compact, an organization that seeks to foster the ability of its member universities "to improve community life and to educate students for civic and social responsibility."
APRIL 2022
Stetson Law Florida Bar Exam Pass Rates Among Top in State
In the first in-person bar exam since February 2020, Stetson Law's passage rate was the second highest in the state.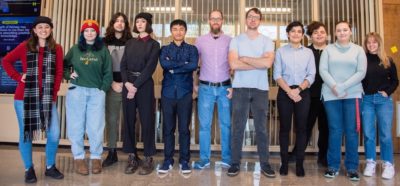 Digital Arts Program Recognized Among Best For Game Design By The Princeton Review
Among 150-plus institutions offering game-design coursework and/or degrees, The Princeton Review included Stetson in its Top 50.
Stetson's Centurion Sales Program Joins University Sales Center Alliance
The move represented another advancement for the School of Business Administration.
Hatters To Face UCLA In First Round Of NCAA Beach Volleyball Championship
Stetson earned its second-ever automatic qualifier bid to the NCAA Championship tournament after winning the sixth ASUN Championship in program history.
Stetson Showcase of Excellence and Engagement
Nearly 200 students exhibited their academic prowess in a wide assortment of disciplines at venues across campus.
MAY 2022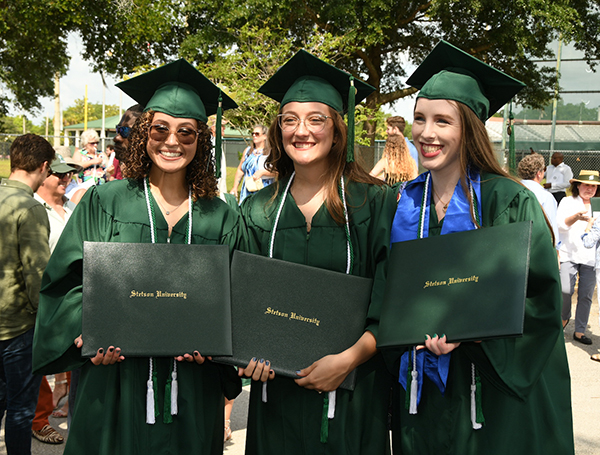 President Roellke Urges Class Of 2022 To Keep Growing, Says Stetson Will Do The Same
Graduates in the Class of 2022 received high marks during Commencement for not only surviving the rigors of a Stetson education, but also "accomplishing something very difficult during a time of great adversity."
Meet New SGA President Ariana Motta And Vice President Erik Eisold
The Student Government Association made plans to focus on mental health and campus vibrancy in the coming year.
JUNE 2022
Construction on New Advocacy Institute Begins
Work commenced on a new state-of-the-art advocacy facility for Stetson University College of Law.
Stetson Board of Trustees Elects Three New Trustees
Orestes V. "Gino" Santos, Megan G. Weinberger and Amy R. Rigdon joined the board.
Stetson Business School Foundation Announces New James H. Maury Jr. Scholarships
The scholarships were created to benefit School of Business Administration students, as well as students in the College of Arts and Sciences and School of Music.
JULY 2022
Stetson Philosophy Club Receives National Attention
The American Philosophical Association's official blog highlighted the club's accomplishments, providing uncommon recognition.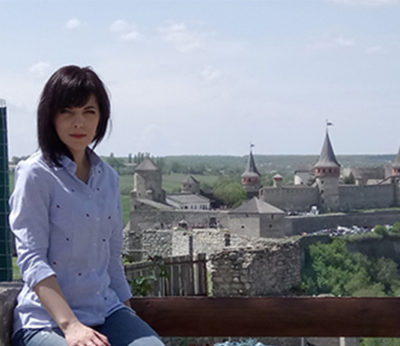 Ukrainian Professor Selected To Teach At Stetson This Year
Journalism Professor Olena Kolupayeva, PhD, arrived on campus as a visiting teacher scholar for the 2022-2023 year.
AUGUST 2022
Stetson Welcomes New Director For The Gillespie Museum
Kristen Marshall Mattson '05 returned to campus with "passion, hard work and gratitude."
American Law Institute Names Professor Podgor A Life Member
Stetson Law Professor Ellen Podgor was honored for 25 years of service to the mission of clarifying, simplifying and modernizing common law.
Stetson School Of Music Announces Scholarship Program For K-12 Students In Central Florida
The Jack and Martha Apgar Young Music Scholars grant award went to benefit the Stetson Community Music School.
Feeding The Soul: Halal Dining Offered At Stetson
Stetson Dining added Halal options that are "permissible" in Arabic and relate to the rules of Islamic teachings.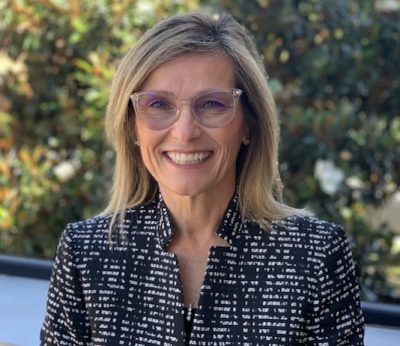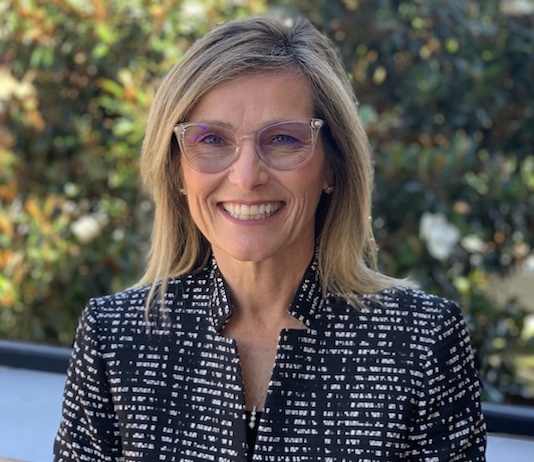 Stetson Raises A Record $52 Million In Fiscal Year 2022
Approximately 75% of the funds were earmarked for scholarships with the remainder supporting academic programs and other areas.
Stetson's PaCE Program Announces New Initiatives For Custom Corporate Education
Changes were made in an effort to meet the newest needs of the corporate community in Central Florida.
SEPTEMBER 2022
Away From Home, Ukrainians Find Peace At Stetson
Ukrainian students Genevia Gayden, Yana Verbova, Veronika Shchur and Yuliia Balan were introduced to the Stetson community.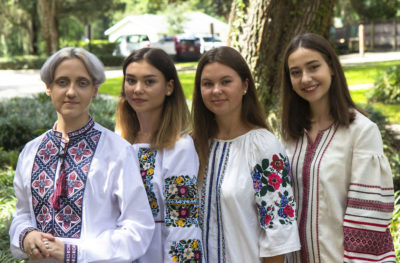 Stetson Set To Launch Public Polling Center
The ambitious center opened with initial plans to focus on Florida issues and politics.
New Hal S. Marchman Chair Of Civic And Social Responsibility Named
Jeremy Posadas, PhD, also was appointed associate professor of Religious Studies and Gender Studies.
Stetson Ranked in Top 5 by U.S. News & World Report
The 2023 ranking placed Stetson higher in the Top 5 of Best Regional Universities (South).
Stetson's Educational Leadership Program Expands To Gulfport Campus
The one-year program enhanced options for educators in the Tampa area.
OCTOBER 2022
Stetson's Fall Internship & Career Expo Matched Students And Employers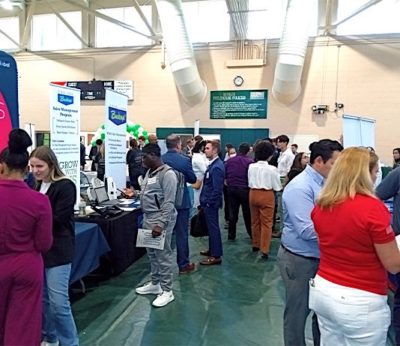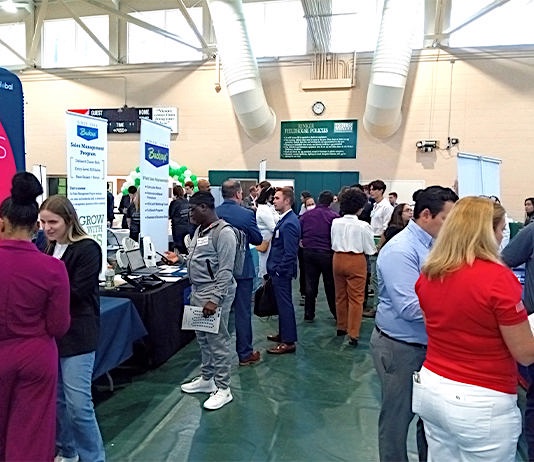 A total of 359 students attended the event on campus.
Stetson University Board Of Trustees Approves Chair-Elect And Renovations
Steven Alexander '85 was announced as Chair-Elect and will assume board leadership on July 1, 2023.
DOJ Grant Expands Stetson's Reach To Promote Student Safety
A nearly $300,000 grant from the Department of Justice targeted domestic/dating violence, sexual assault and stalking prevention on campus.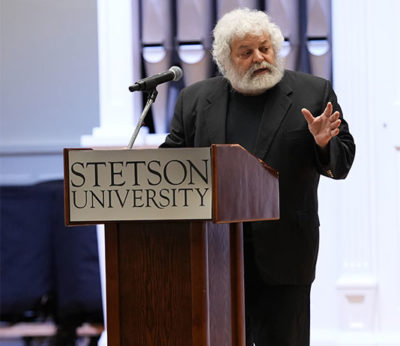 Values Day Represented Engaged Citizenship In Action
A Stetson tradition continued, as a keynote address by bestselling author Ed Freeman, PhD, kicked off a busy day of special activities.
John Downey Named Vice President Of Campus Life And Student Success
John Downey arrived at Stetson from Widener University in Chester, Pennsylvania, where he served as Dean of Students since May 2019.
Student, Veteran Wins National Award for Women in the White-Collar Field
College of Law student Nancy Eriksen won the Women's White Collar Defense Association's Justice Ruth Bader Ginsburg Outstanding Student Award.
'The Future Is Before Us': Stetson Dedicates Brown Hall
The Cici & Hyatt Brown Hall for Health & Innovation was officially christened as a part of the university's foundation for the future.
NOVEMBER 2022
Stetson Adds Official Juneteenth And Veterans Day Holidays
The two new university holidays were announced to begin during the 2023 calendar year.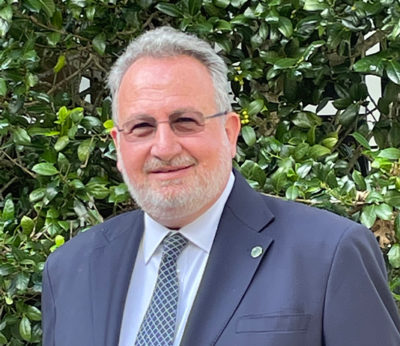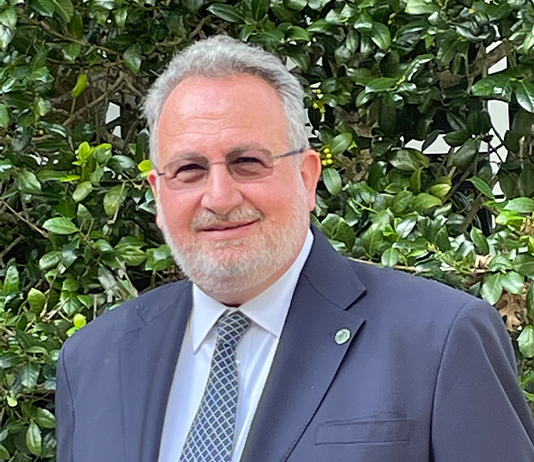 Bakamitsos Selected As New Dean For School Of Business Administration
Yiorgos Bakamitsos, PhD, became the new dean and professor of marketing in the School of Business Administration.
Davion Belk '16 Named Deputy Chief Of Staff And Student Success Advocate
Davion Belk joined the senior leadership team of Stetson President Christopher F. Roellke, PhD.
Stetson Named A 'Green College' Again By The Princeton Review
For the seventh time, Stetson was selected as one of the nation's most environmentally responsible colleges.
DECEMBER 2022
The Return Of Luke Brown: 'Blessed To Be Here'
The men's basketball team began to receive national attention with November wins over FSU and USF, as reported in this story about transfer guard Luke Brown and fellow Indiana high school star Jalen Blackmon.
4 Inducted Into Stetson Law Hall Of Fame In 2022
The Stetson University College of Law's premier annual event celebrated the accomplishments and contributions of alumni, faculty and other members of the Stetson Law community.