Highlights from Stetson Law's December Graduate Celebration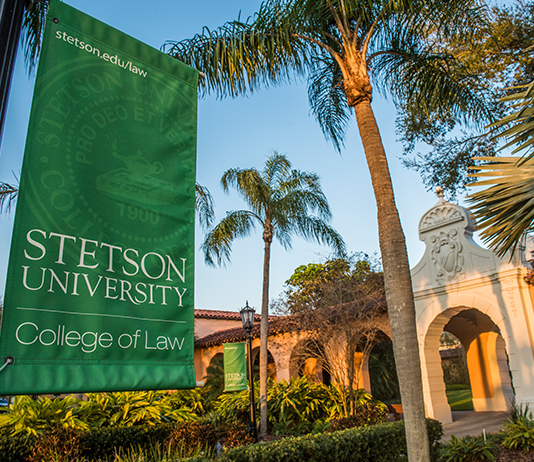 To celebrate Stetson Law students who successfully completed their law school journey over the Fall 2022 semester, officials held an intimate on-campus gathering in their honor (see the full video below).
The event was held Thursday, Dec. 15 in the Great Hall and featured remarks from campus and university leadership. Kicking off the celebration, Stetson Law Interim Dean Theresa J. Pulley Radwan, JD, commended the students for persevering through an unprecedented era.
"You are part of an unshakable cohort who have experienced more in your time in law school than most have in their lifetime," Pulley Radwan said. "You have shined through a global pandemic – all while caring for your friends, family and colleagues. You have weathered many shifts in the last few years and have remained resilient and excellent. We are so proud of you."
The culmination of an unconventional journey
Acknowledging how those who complete their studies in the fall semester tend to be part of Stetson Law's innovative part-time program, Stetson University Executive Vice President and Provost Noel Painter, PhD, congratulated them for growing their careers through legal education.
"Congratulations on all that you have accomplished," Painter said. "Your journey to this point is uniquely your own.  Celebrate the successes and embrace the challenges that made you a better person and a better lawyer along the way."
Welcoming the soon-to-be Stetson lawyers
Stetson Lawyers Alumni Association Vice President Brittany Maxey-Fisher, J.D. '07, told the audience that through exemplary work, Stetson Law alumni help tell Stetson Law's story to the world while helping shape a better society.
"Together we will shine an even brighter spotlight on Stetson's reputation for advocacy, legal writing and our nationally recognized Centers and Institutes," she said. "As you continue to design your footprint, strive for excellence, leadership and purpose. Create environments that celebrate differences and inspire growth in others by empowering them as they travel along their journey."
Following Maxey-Fisher's speech, Radwan called out the names of the students and noted the loved ones who helped them through their law school journey.
A moving speech
Law Professor Judith Scully, JD, a champion of Stetson Law's social justice initiatives, encouraged students to remain committed to bettering society. Noting that many law school applicants say their desire to study law comes from wanting to change the world, Scully offered five key pieces of advice:
Be courageous.
Be filled with gratitude.
Remain hopeful no matter what.
Stay focused on your work.
Learn how to value, embrace and nourish rest.
"I believe that in this December 2022 graduating class there are many small groups of you who will indeed help to change the world for the better," she said. "I have great hopes and dreams for you.  My prayer is that your time as lawyers be well spent.  May you help to balance the scales of justice.  May you be abundantly blessed with good fortune and may you use your good fortune to benefit those around you and continue to be a source of inspiration for others."
Watch the celebration
Media contact: Kate Bradshaw
[email protected] | 727-430-1580